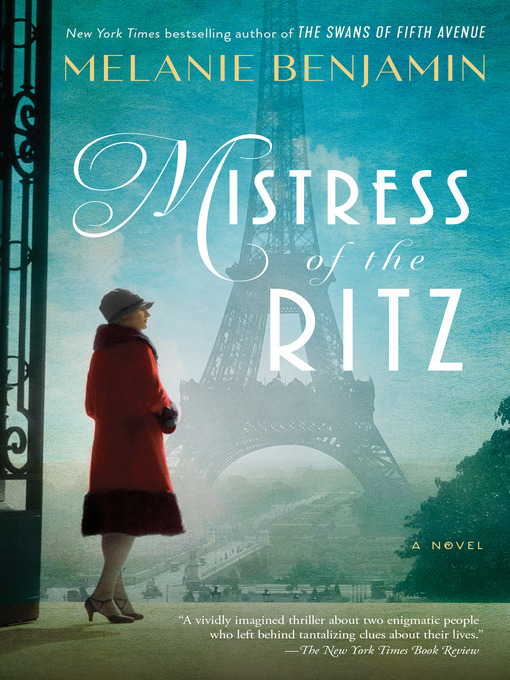 Mistress of the Ritz a novel
Format:

Kindle Book

2019

2019

Adobe EPUB ebook

OverDrive Read

Availability:

Available from OverDrive

5 of 8 copies
Summary
A captivating novel based on the story of the extraordinary real-life American woman who secretly worked for the French Resistance during World War II--while playing hostess to the invading Germans at the iconic Hotel Ritz in Paris--from the New York Times bestselling author of The Aviator's Wife and The Swans of Fifth Avenue. In March 1940, the Nazis sweep Paris and immediately take up residence in one of the city's most iconic sites: The Hotel Ritz. There, under a roof legendary for its unprecedented luxury and for its fabled residents--including Coco Chanel, the Duke and Duchess of Windsor, Cole Porter, Hemingway, Balanchine, Doris Duke, F. Scott Fitzgerald, and now Hermann Göering--the Nazis rule over a paralyzed city. But two residents of the Ritz refuse to be defeated: its director, Claude Auzello, and his beautiful American actress wife, Blanche. They not only oversee the smooth workings of the hotel, but both Blanche and Claude throw themselves fearlessly into the dangerous and clandestine workings of the French Resistance. This is a true-to-life novel of a courageous woman and her husband who put their marriage--and ultimately their lives--in jeopardy to fight for freedom. Intimate, fearless, and moving, it spins a brilliantly and unforgettably vivid human portrait at a time of unimaginable crisis and sacrifice.

Published Reviews
Booklist Review:
"Benjamin, who has made a career out of fashioning compulsively readable historical fiction starring real-life women (among several others, The Aviator's Wife, 2013, about Anne Morrow Lindbergh), does it again here with the life story of American expatriate Blanche Auzello, the titular Mistress of the Ritz, whose French husband, Claude, managed the legendary Paris hotel from the Jazz Age into the sixties and, notably, during the German Occupation. The novel improbably but effectively combines a delectable, upstairs-downstairs look at the operation of a luxury hotel; a many-textured and deeply romantic love story; and a compelling drama of the French Resistance. Driving the whole is the tantalizing premise: that both Claude and Blanche, unbeknownst to one another, were deeply involved in the Resistance despite spending their days catering to the Nazis, who had taken over the Ritz. The mutual deception strains the marriage, as Claude feigns multiple affairs to explain his nocturnal absences, while Blanche, who was famous for downing martinis with the likes of Cole Porter and Ernest Hemingway, pretends to spend her nights awash in gin. Readers of Kristin Hannah's The Nightingale (2015) are the natural audience for this book club-ready historical novel.--Bill Ott Copyright 2019 Booklist"
From Booklist, Copyright (c) American Library Association. Used with permission.
Publisher's Weekly Review:
"This impeccably researched, lyrically told historical about a brash American woman and her French husband during WWII is a remarkable achievement. Blanche Ross Auzello doesn't care for being a proper, quiet wife, much to the dismay of her somewhat stuffy husband, Claude, the manager of Paris's luxurious Hotel Ritz. In June 1940, Claude returns from military service to find that a host of high-ranking Nazi soldiers have commandeered the hotel as their Paris headquarters. For the next four years, he and Blanche play unwilling hosts to the Germans-and, unbeknownst to each other, both begin working in the French Resistance. They narrowly avoid disaster until immediately before the Americans liberate Paris, when Blanche gets into trouble Claude can't resolve, and a shocking secret about Blanche's past is revealed. Benjamin (The Aviator's Wife) skillfully weaves in a host of historical figures-including Coco Chanel, alleged to be a Nazi sympathizer, and Ernest Hemingway-whose vibrant presences make Benjamin's protagonists and engaging group of supporting characters shine all the more. Even readers who aren't big fans of historical fiction might be swayed by this outstanding tale. Agent: Laura Langlie, Laura Langlie Agency. (May) © Copyright PWxyz, LLC. All rights reserved."
(c) Copyright PWxyz, LLC. All rights reserved
Additional Information