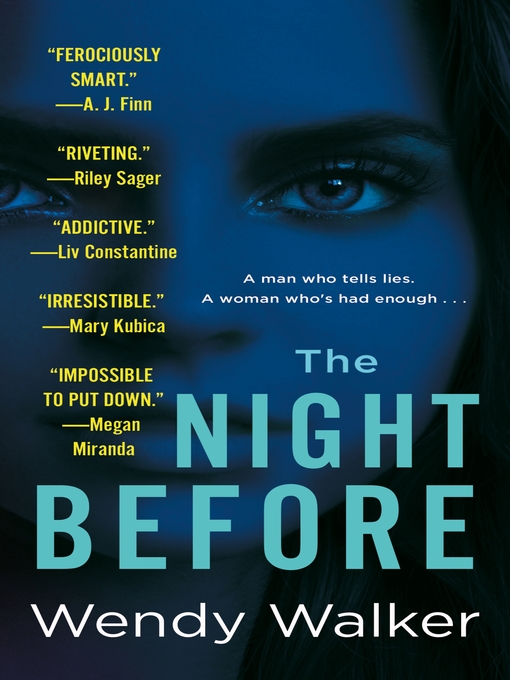 The night before A Novel.
Format:

OverDrive Read

2019.

Adobe EPUB ebook

Kindle Book

Availability:

Unavailable

0 of 8 copies
22 people on waitlist
Summary
A Today Show and New York Post Summer Reads Selection!

First dates can be murder.

"Ferociously smart." --AJ Finn
"Riveting." --Riley Sager
"Addictive." --Liv Constantine
"Wonderfully tense." --Aimee Molloy
"Irresistible." --Mary Kubica
"Impossible to put down." --Megan Miranda
Riveting and compulsive, national bestselling author Wendy Walker's The Night Before "takes you to deep, dark places few thrillers dare to go" as two sisters uncover long-buried secrets when an internet date spirals out of control.
Laura Lochner has never been lucky in love. She falls too hard and too fast, always choosing the wrong men. Devastated by the end of her last relationship, she fled her Wall Street job and New York City apartment for her sister's home in the Connecticut suburb where they both grew up. Though still haunted by the tragedy that's defined her entire life, Laura is determined to take one more chance on love with a man she's met on an Internet dating site.
Rosie Ferro has spent most of her life worrying about her troubled sister. Fearless but fragile, Laura has always walked an emotional tightrope, and Rosie has always been there to catch her. Laura's return, under mysterious circumstances, has cast a shadow over Rosie's peaceful life with her husband and young son - a shadow that grows darker as Laura leaves the house for her blind date.
When Laura does not return home the following morning, Rosie fears the worst. She's not responding to calls or texts, and she's left no information about the man she planned to meet. As Rosie begins a desperate search to find her sister, she is not just worried about what this man might have done to Laura. She's worried about what Laura may have done to him...
Published Reviews
Booklist Review:
"After a devastating breakup, Laura Lochner retreats to her Branston, Connecticut, hometown, hoping to reconnect with her sister, Rosie, and their childhood friends Joe (now Rosie's husband) and Gabe. She has a good feeling about Jonathan Fields, her latest online match, too. But when Laura doesn't come home from her date with Jonathan, Rosie suspects something terrible has happened. As the clock ticks on Laura's disappearance, Rosie appeals to the dating site's female members and learns that nothing about Jonathan Fields is as it seems. Suddenly, her fears turn from concern about Laura's safety to worry about Laura's reaction to Fields' lies. In high school, Laura was found standing over her two-timing boyfriend's battered body but was eventually cleared of wrongdoing. Still, Rosie has always wondered if Laura's legendary rage claimed a victim all those years ago. Is Laura in danger, or has she fled after assaulting Fields? ­Skillfully manipulating tension and using breathless pacing, Walker keeps that question in the air until the final twist unmasks secrets about Laura's disappearance and the murder in her past.--Christine Tran Copyright 2019 Booklist"
From Booklist, Copyright (c) American Library Association. Used with permission.
Publisher's Weekly Review:
"Financial analyst Laura Lochner, the narrator of this devilishly plotted if intermittently heavy-handed psychological thriller from Walker (Emma in the Night), has a disastrous track record with men-dating back to the murder of her first boyfriend in circumstances sufficiently murky that she fled her hometown and created a new identity for herself. A devastating recent break-up has prompted her to take a leave from her job in Manhattan and move in with her sister, Rosie, and Rosie's family in suburban Connecticut. Three weeks after the move, Laura fails to return to Rosie's house after her first date with a man she met online. When the police treat the disappearance as less than urgent, it's up to Rosie, husband Joe and their lifelong best friend, Gabe, to track her down. A frantic race against the clock ensues. While the psychoanalysis of the roots of Laura's feelings of unlovability can get tedious, Walker excels at exploiting multiple timelines and ample misdirection to maximize the suspense of her twist-filled tale. Readers will be eager to see what she comes up with next. Agent: Wendy Sherman, Wendy Sherman Assoc. Literary Management. (May) © Copyright PWxyz, LLC. All rights reserved."
(c) Copyright PWxyz, LLC. All rights reserved
Additional Information