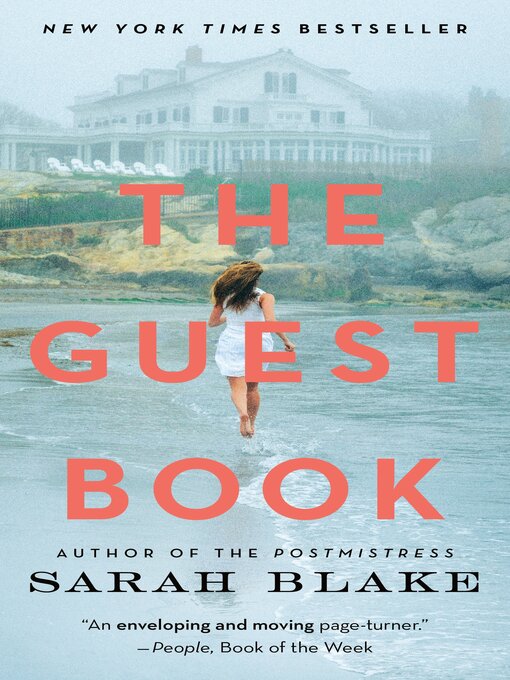 The guest book a novel
Format:

OverDrive Read

2019.

Adobe EPUB ebook

Kindle Book

Availability:

Unavailable

0 of 31 copies
159 people on waitlist
Summary
Instant New York Times Bestseller
" The Guest Book is monumental in a way that few novels dare attempt." -- The Washington Post
The thought-provoking new novel by New York Times bestselling author Sarah Blake

A lifetime of secrets. A history untold.
No . It is a simple word, uttered on a summer porch in 1936. And it will haunt Kitty Milton for the rest of her life. Kitty and her husband, Ogden, are both from families considered the backbone of the country. But this refusal will come to be Kitty's defining moment, and its consequences will ripple through the Milton family for generations. For while they summer on their island in Maine, anchored as they are to the way things have always been, the winds of change are beginning to stir.
In 1959 New York City, two strangers enter the Miltons' circle. One captures the attention of Kitty's daughter, while the other makes each of them question what the family stands for. This new generation insists the times are changing. And in one night, everything does.
So much so that in the present day, the third generation of Miltons doesn't have enough money to keep the island in Maine. Evie Milton's mother has just died, and as Evie digs into her mother's and grandparents' history, what she finds is a story as unsettling as it is inescapable, the story that threatens the foundation of the Milton family myth.
Moving through three generations and back and forth in time, The Guest Book asks how we remember and what we choose to forget. It shows the untold secrets we inherit and pass on, unknowingly echoing our parents and grandparents. Sarah Blake's triumphant novel tells the story of a family and a country that buries its past in quiet, until the present calls forth a reckoning.
Published Reviews
Booklist Review:
"One of those families who used to run the world... WASPs. That's how a man describes the Miltons as he admires the grand wreck of their Maine island estate in a brief, shivery foreshadowing. Blake's breathtaking saga then begins in full with a lush, sweeping overture, though it carries its own kind of chilling undertow. Think Gershwin, Copeland, Ellington. It's 1935, spring has suddenly turned Manhattan verdant and promising, and Kitty Milton, 30 and privileged, can't help but quietly revel in her splendid good fortune. Blake sets out the silver of Kitty and her husband's blue-blood pedigrees and Ogden's accomplishments running the family bank. But intercut with Kitty's satisfaction with her perfectly ordered life are scenes of shocking loss and Ogden's business deals in Germany, which lay the foundation for long-concealed family traumas. As in her best-selling The Postmistress (2010), Blake saturates each scene with sensuous and emotional vibrancy while astutely illuminating sensitive moral quandaries. Tacking between the present, in which Kitty and Ogden's grandchildren may not be able to hold onto the Island, which defines their legacy, and the fateful summer of 1959, when the Milton kingdom is infiltrated, thanks to the younger generation, by two inquisitive men, one Jewish, the other African American, Blake deftly interrogates the many shades of prejudice and the ordinary, everyday wickedness of turning away. HIGH-DEMAND BACKSTORY: Blake's brilliant and ravishing novel promises to hit big, inspiring extensive publicity.--Donna Seaman Copyright 2019 Booklist"
From Booklist, Copyright (c) American Library Association. Used with permission.
Publisher's Weekly Review:
"Blake (The Postmistress) tells the history of the privileged Milton family from 1935 to present day in this powerful family saga. In 1935 New York, Kitty Milton, wife of Ogden, is enjoying the life of a New York society wife with her three children-five-year-old Neddy, three-year-old Moss, and one-year-old Joan-when Neddy dies in an accident. To help his wife heal, Ogden buys Crockett's Island off the coast of Maine, and through the decades, the island becomes the Miltons' summer refuge. In 1959, Moss is working in his father's investment bank and invites his Jewish friend Len Levy, a fellow employee at the firm, and Reg Pauling, a black man and friend of Moss and Len, to visit the island. Len and Joan have been secretly dating, but Len isn't certain if Joan will acknowledge their relationship in front of her family. The tensions of Len and Reg's visit result in an argument that brings family secrets to light and ends in drama that will haunt those present for years to come. And in the present-day, as Milton family members must decide what to do with their island inheritance, they discover some answers to their family's past. Blake has a particular knack for dialogue; she knows exactly how to reveal the hidden depths of the characters both through what is said and what is unsaid. The result is potent and mesmerizing. (May) © Copyright PWxyz, LLC. All rights reserved."
(c) Copyright PWxyz, LLC. All rights reserved
Additional Information