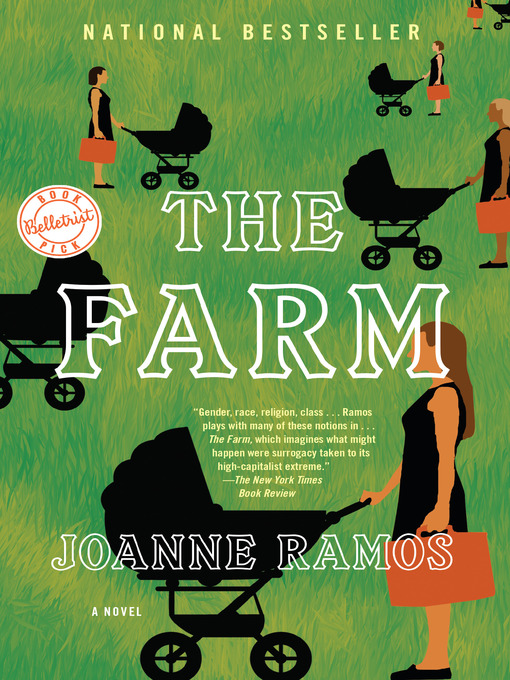 The farm a novel
Format:

OverDrive Read

2019.

Adobe EPUB ebook

Kindle Book

Availability:

Unavailable

0 of 9 copies
29 people on waitlist
Summary
NATIONAL BESTSELLER * Life is a lucrative business, as long as you play by the rules.

Skimm Reads Pick * People Book of the Week * Longlisted for the Center for Fiction First Novel Prize * "[Joanne] Ramos's debut novel couldn't be more relevant or timely."-- O: The Oprah Magazine

Nestled in New York's Hudson Valley is a luxury retreat boasting every amenity: organic meals, personal fitness trainers, daily massages--and all of it for free. In fact, you're paid big money to stay here--more than you've ever dreamed of. The catch? For nine months, you cannot leave the grounds, your movements are monitored, and you are cut off from your former life while you dedicate yourself to the task of producing the perfect baby. For someone else.

Jane, an immigrant from the Philippines, is in desperate search of a better future when she commits to being a "Host" at Golden Oaks--or the Farm, as residents call it. But now pregnant, fragile, consumed with worry for her family, Jane is determined to reconnect with her life outside. Yet she cannot leave the Farm or she will lose the life-changing fee she'll receive on the delivery of her child.

Gripping, provocative, heartbreaking, The Farm pushes to the extremes our thinking on motherhood, money, and merit and raises crucial questions about the trade-offs women will make to fortify their futures and the futures of those they love.

Praise for The Farm

"So many factors--gender, race, religion, class--may determine where you come down on the surrogacy debate. . . . Ramos plays with many of these notions in her debut novel, The Farm , which imagines what might happen were surrogacy taken to its high-capitalist extreme. . . . The stage is set for lively book chat." -- The New York Times Book Review (Editors' Choice)

"A thrilling read." -- New York

"Grippingly realistic." -- Entertainment Weekly

"Brilliant." -- New York Post

"A provocative idea, and Ramos nails it . . . Crisp and believable, this smart debut links the poor and the 1 percent in a unique transaction that turns out to be mutually rewarding." -- People

"Wow, Joanne Ramos has written the page-turner about immigrants chasing what's left of the American dream. . . . Truly unforgettable." --Gary Shteyngart, New York Times bestselling author of Super Sad True Love Story and Lake Success
Published Reviews
Booklist Review:
"When Jane Reyes loses her baby-nursing job, her older cousin Evelyn has a suggestion that will solve all of her money problems, even if it means months away from her baby daughter, Amalia. Mae Yu is delighted with Jane; she is sweet, compliant, and motivated by the promise of financial freedom, making her the perfect host at Golden Oaks, a gestational retreat for surrogates carrying the babies of the top tier of the one percent. Mae is less certain of Reagan, who is white and therefore earns Golden Oaks more money but muddled by a quarter-life crisis. Told from the perspectives of the four women, Ramos' debut is so engaging that the reader might not fully understand the depths she probes until the book is done. Throughout, questions of money, ethics, privilege, and ambition arise as each character makes compromises or straight-up lies to herself. Jane's sweetness gives the reader someone to root for, but each character's complexity will give book groups plenty to discuss. An alarmingly realistic look at the power of wealth and access buoyed by clear, compelling storytelling and appealing, if not always likable, characters.--Susan Maguire Copyright 2019 Booklist"
From Booklist, Copyright (c) American Library Association. Used with permission.
Publisher's Weekly Review:
"Ramos's transfixing debut scrutinizes the world of high-end surrogacy with stinging critiques and sets up heartrending dilemmas. Timid Filipina immigrant Jane is persuaded by her much older cousin Evelyn to apply as a surrogate, known as a "host," for the ultrarich after she is fired from her lucrative nannying job. Jane passes the highly selective process, hesitantly leaves her own infant daughter with Evelyn, and, already pregnant, moves into Golden Oaks, a luxury resort-style center in the Hudson Valley where the surrogates live together. Assertive, smooth-talking Mae runs Golden Oaks with strict rules, very curtailed outside contact, and constant surveillance. Jane bonds quickly with her roommate, Reagan, an aspiring photographer and "premium host" (because she's white), who hopes the staggering bonuses for healthy delivery will allow her to escape her father's control. Lisa, another surrogate returning for her third pregnancy, disastrously pulls Jane and Reagan into her schemes to subvert rules. After Jane learns some secrets about Mae and Evelyn, her concern for her absent daughter propels her on a dangerous path that threatens Mae's ambitious plans and Jane's security. Ramos particularly shines at her nuanced, emotional depictions of these women's interior struggles. A surefire hit with book groups, this striking novel will also appeal strongly to readers who like dystopian touches and ethically complicated narratives. Agent: Jennifer Joel, ICM Partners. (May) © Copyright PWxyz, LLC. All rights reserved."
(c) Copyright PWxyz, LLC. All rights reserved
Additional Information