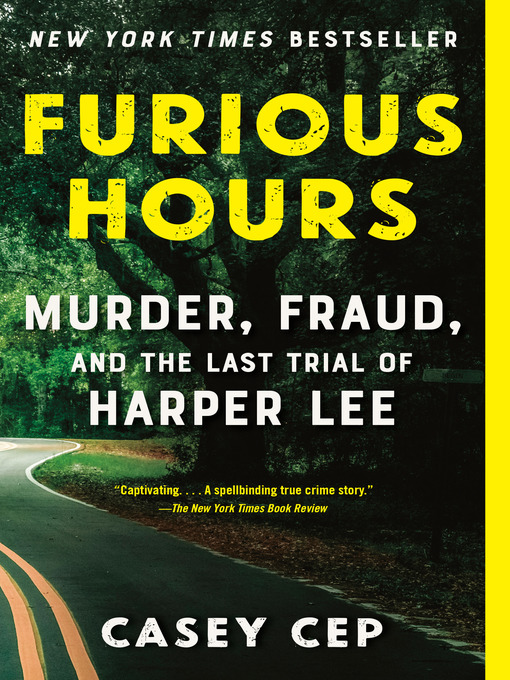 Furious hours murder, fraud, and the last trial of Harper Lee
Format:

Kindle Book

2019

2019

Adobe EPUB ebook

OverDrive Read

Availability:

Unavailable

0 of 9 copies
4 people on waitlist
Summary
""A triumph on every level. One of the losses to literature is that Harper Lee never found a way to tell a gothic true-crime story she'd spent years researching. Casey Cep has excavated this mesmerizing story and tells it with grace and insight and a fierce fidelity to the truth." --David Grann, best-selling author of Killers of the Flower Moon The stunning story of an Alabama serial killer and the true-crime book that Harper Lee worked on obsessively in the years after To Kill a Mockingbird. Reverend Willie Maxwell was a rural preacher accused of murdering five of his family members for insurance money in the 1970s. With the help of a savvy lawyer, he escaped justice for years until a relative shot him dead at the funeral of his last victim. Despite hundreds of witnesses, Maxwell's murderer was acquitted--thanks to the same attorney who had previously defended the Reverend. Sitting in the audience during the vigilante's trial was Harper Lee, who had traveled from New York City to her native Alabama with the idea of writing her own In Cold Blood, the true-crime classic she had helped her friend Truman Capote research seventeen years earlier. Lee spent a year in town reporting, and many more working on her own version of the case. Now Casey Cep brings this nearly inconceivable story to life, from the shocking murders to the courtroom drama to the racial politics of the Deep South. At the same time, she offers a deeply moving portrait of one of the country's most beloved writers and her struggle with fame, success, and the mystery of artistic creativity"--

Contents
Part one: The Reverend. Divide the waters from the waters ; Minister of the Gospel ; Death benefits ; Seventh son of a seventh son ; Just plain scared ; No exception to the rule
Part two: The lawyer. Who's in the stew? ; Roses are red ; The fight for good ; The Maxwell house ; Peace and goodwill ; Tom v. Tom ; The man from Eclectic ; What Holmes was talking about
Part three: The writer. Disappearing act ; Some kind of soul ; The gift ; Deep calling to deep ; Death and taxes ; Rumor, fantasy, dreams, conjecture, and outright lies ; Coming back until doomsday ; Horseshoe Bend ; The long good-bye
Published Reviews
Booklist Review:
"Harper Lee's crucial work with Truman Capote on In Cold Blood (1966) has been much scrutinized as part of the ongoing mystery regarding her struggle to write after the runaway success of To Kill a Mockingbird (1960), but Cep is the first to reveal in full Lee's efforts to write her own true-crime chronicle, one that, unlike Capote's, would stick to the facts. Lee, who quit law school just weeks before graduation, chose a scandalous case involving the much-feared African American reverend Willie Maxwell, who profited from life-insurance policies on five family members who died under extremely suspicious circumstances; Robert Burns, a relative who shot Maxwell dead at the funeral of his last alleged victim; and attorney Tom Radney, a rare white Alabama liberal who represented Maxwell, then defended his killer. With zeal for research and a gift for linguistic precision, Cep delves into Alabama's history, tells the striking stories of all involved in this macabre saga, and chronicles Lee's extensive investigation, including attending Burns' trial and speaking with Radney and others touched by the killings. Yet Lee could never bring her book to fruition. Cep has vividly and insightfully retrieved a grimly fascinating true-crime story and done Lee justice in a fresh and compelling portrait of this essential American writer.--Donna Seaman Copyright 2019 Booklist"
From Booklist, Copyright (c) American Library Association. Used with permission.
Publisher's Weekly Review:
"Journalist Cep makes her debut with a brilliant account of Harper Lee's failed attempt to write a true crime book. Part one follows the career of Alabama preacher Willie Maxwell as five family members over several years die under mysterious circumstances, all with large life insurance policies held by the reverend, rumored also to be a voodoo priest. On June 18, 1977, Maxwell was shot dead in front of 300 people at his stepdaughter's funeral in Alexander City, Ala. Part two focuses on his killer's trial later that year, which Harper Lee attended. Along the way, Cep relates the history of courthouses, voodoo, Alabama politics, and everything one needs to know about the insanity defense. Part three charts the To Kill a Mockingbird author's efforts to write about the trial, but in Alexander City she finds only myths, lies, and her own insecurities. By many accounts, Lee wrote a book and may have rewritten it as fiction, though no manuscript has ever been found. As to what happened to the years of work Lee did on the story, Cep notes, "Lee... was so elusive that even her mysteries have mysteries: not only what she wrote, but how; not only when she stopped, but why." Meticulously researched, this is essential reading for anyone interested in Lee and American literary history. Author tour. Agent: Edward Orloff, McCormick Literary. (May) © Copyright PWxyz, LLC. All rights reserved."
Additional Information