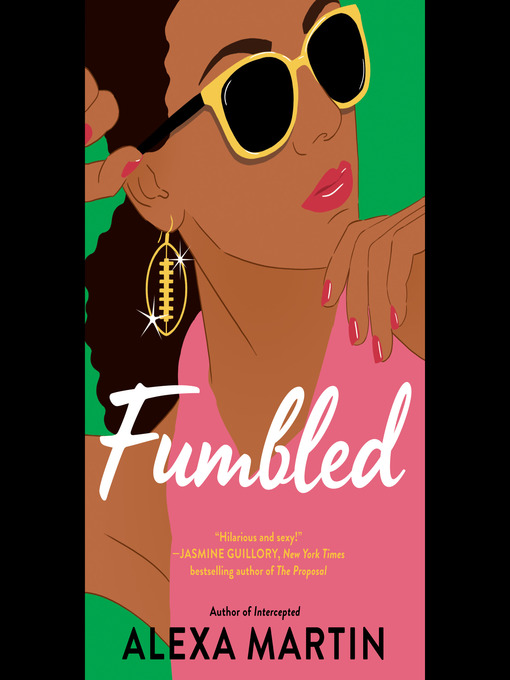 Fumbled
Format:

OverDrive MP3 Audiobook

2019

2019

OverDrive Listen

Availability:

Unavailable

0 of 2 copies
2 people on waitlist
Summary
"A second chance doesn't guarantee a touchdown in this new contemporary romance from the author of Intercepted. Single-mother Poppy Patterson moved across the country when she was sixteen and pregnant to find a new normal. After years of hard work, she's built a life she loves. It may include a job at a nightclub, weekend soccer games, and more stretch marks than she anticipated, but it's all hers, and nobody can take that away. Well, except for one person. T.K. Moore, the starting wide receiver for the Denver Mustangs, dreamt his entire life about being in the NFL. His world is football, parties, and women. Maybe at one point he thought his future would play out with his high school sweetheart by his side, but Poppy is long gone and he's moved on. When Poppy and TK cross paths in the most unlikely of places, emotions they've suppressed for years come rushing back. But with all the secrets they never told each other lying between them, they'll need more than a dating playbook to help them navigate their relationship"--

Published Reviews
Booklist Review:
"Single-mom Poppy Patterson is barely making ends meet when her high-school sweetheart, TK Moore, who disappeared soon after she became pregnant, shows up at the Denver nightclub where she works. Famous for his looks and talent, the starting wide receiver for the Denver Mustangs has scads of money, fans, and women, but what he's been missing for the past 10 years is the woman standing in front of him stuffed into a too-small corset. Poppy wants to hate him, but the sparks between them are undeniable, so now she must tell TK about their son, Ace, and brace herself for the big letdown. But TK wants in, and Poppy is cautiously optimistic. They take their time merging their lives together while dealing with people who want to tear them apart as well as TK's risky profession. Martin expertly captures the struggle between the need for a quiet, ordinary life and the demands of an all-star career path that invites gossip, grudges, and jealousy. In this delicious follow-up to Intercepted (2016), Martin once again draws on her own experience as an NFL wife to create a winning sports romance.--Kristina Giovanni Copyright 2019 Booklist"
From Booklist, Copyright (c) American Library Association. Used with permission.
Publisher's Weekly Review:
"In the second installment of the Playbook series, Martin (Intercepted) tells the witty, sexy, fun side of what happens when high school sweethearts try to rekindle a romance after living very different lives for 10 years. Single mom Poppy is a waitress at a club, trying to support her son, Ace. When NFL football star Trevor Kyle "TK" Moore shows up one night, Poppy is forced to face the last time she saw him and why she left. She was pregnant, and thought TK believed she'd had an abortion; she now realizes he may not have known about her pregnancy at all. As she adjusts to dating an NFL star, and TK adjusts to being a dad, Poppy's friends use wine, laughs, and sass to help her navigate fans, gossip blogs, and difficult football wives. When TK is faced with a decision that shapes his future in the NFL, it also decides their future together. Readers will laugh, swoon, and grow to love every character in this entertaining contemporary romance. Agent: Jessica Watterson, Dijkstra Agency. (Apr.) © Copyright PWxyz, LLC. All rights reserved."
(c) Copyright PWxyz, LLC. All rights reserved
Additional Information