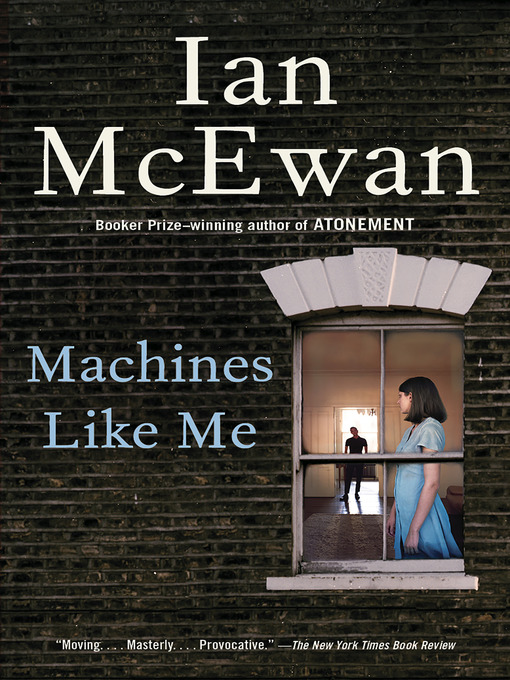 Machines like me and people like you
Format:

OverDrive Read

2019.

Adobe EPUB ebook

Kindle Book

Availability:

Unavailable

0 of 5 copies
5 people on waitlist
Summary
New from Ian McEwan, Booker Prize winner and international bestselling author of Atonement and The Children Act

Machines Like Me takes place in an alternative 1980s London. Charlie, drifting through life and dodging full-time employment, is in love with Miranda, a bright student who lives with a terrible secret. When Charlie comes into money, he buys Adam, one of the first synthetic humans and--with Miranda's help--he designs Adam's personality. The near-perfect human that emerges is beautiful, strong, and clever. It isn't long before a love triangle soon forms, and these three beings confront a profound moral dilemma.
In his subversive new novel, Ian McEwan asks whether a machine can understand the human heart--or whether we are the ones who lack understanding.
Published Reviews
Booklist Review:
"As in McEwan's previous novel, Nutshell (2016), told from the point of view of a fetus, this much-revered writer again stretches himself. Here he imagines an alternate history in which technology advanced much faster than in real time, and the great polymath Alan Turing lived much longer. The narrator, Charlie, lives in south London in the 1980s, and he decides to invest his sizable inheritance in an Adam, one of the first fully conscious androids. Charlie and his much younger girlfriend, Miranda a stupendous creation navigate this new world together, and as Adam struggles with what he is, McEwan explores complex themes of consciousness, being, and self as well as the impact Adam's existence has on Charlie and Miranda. While the alternate history is at times clunky and distracting, the comparisons between contemporary British politics and the 1980s are apt. McEwan makes an odd but inventive premise work spectacularly well; it enables him to explore nearly every hot-button issue, and it is fascinating to witness one of the finest living novelists delve into topics of such pertinence and complexity.HIGH-DEMAND BACKSTORY: McEwan's literary audaciousness ensures ongoing, elevated interest in each new book.--Alexander Moran Copyright 2019 Booklist"
From Booklist, Copyright (c) American Library Association. Used with permission.
Publisher's Weekly Review:
"McEwan's thought-provoking novel (after Nutshell) is about the increasingly fraught relationship between a man, a woman, and a synthetic human. Opening in an alternate 1982 London in which technology is not dissimilar from today's (characters text and send emails), 32-year-old Charlie spends A£86,000 of his inheritance on the "first truly viable manufactured human with plausible intelligence and looks," who can pass for human unless closely inspected. His name is Adam (there are 12 Adams and 13 Eves total; the Eves sell out first), and Charlie designs Adam's personality along with his neighbor and girlfriend Miranda. Soon, Adam informs Charlie that he "should be careful of trusting her completely," and quickly falls in love with her, thus inextricably binding their fates together. The novel's highlight is Adam, a consistently surprising character who quickly disables his own kill switch and composes an endless stream of haiku dedicated to Miranda because, as he states, "the lapidary haiku, the still, clear perception and celebration of things as they are, will be the only necessary form" as misunderstanding is eradicated in the future. The novel loses steam when Adam's not the focus: much page space is devoted to a thread about an orphan boy, as well as Charlie's thoughts and feelings about Miranda. Though the reader may wish for a tighter story, this is nonetheless an intriguing novel about humans, machines, and what constitutes a self. (Apr.) © Copyright PWxyz, LLC. All rights reserved."
(c) Copyright PWxyz, LLC. All rights reserved
Additional Information