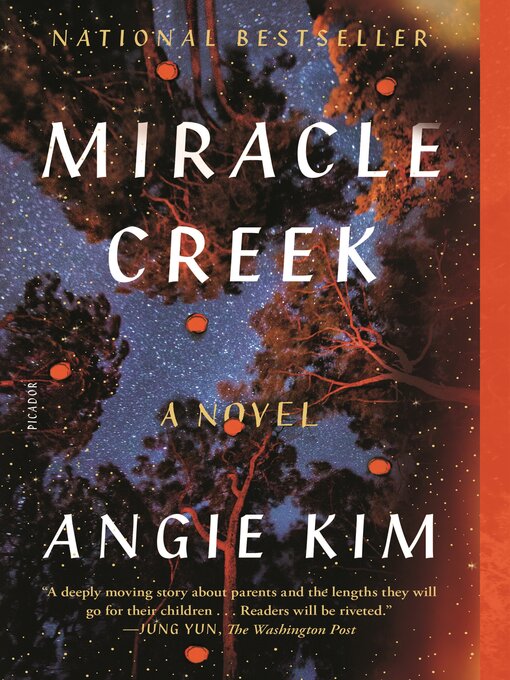 Miracle Creek
Format:

OverDrive Read

2019.

Adobe EPUB ebook

Kindle Book

Availability:

Unavailable

0 of 10 copies
55 people on waitlist
Summary
The "gripping... page-turner" ( Time ) hitting all the best of summer reading lists, Miracle Creek is perfect for book clubs and fans of Liane Moriarty and Celeste Ng
How far will you go to protect your family? Will you keep their secrets? Ignore their lies?
In a small town in Virginia, a group of people know each other because they're part of a special treatment center, a hyperbaric chamber that may cure a range of conditions from infertility to autism. But then the chamber explodes, two people die, and it's clear the explosion wasn't an accident.
A powerful showdown unfolds as the story moves across characters who are all maybe keeping secrets, hiding betrayals. Chapter by chapter, we shift alliances and gather evidence: Was it the careless mother of a patient? Was it the owners, hoping to cash in on a big insurance payment and send their daughter to college? Could it have been a protester, trying to prove the treatment isn't safe?
"A stunning debut about parents, children and the unwavering hope of a better life, even when all hope seems lost" ( Washington Post ), Miracle Creek uncovers the worst prejudice and best intentions, tense rivalries and the challenges of parenting a child with special needs. It's "a quick-paced murder mystery that plumbs the power and perils of community" ( O Magazine) as it carefully pieces together the tense atmosphere of a courtroom drama and the complexities of life as an immigrant family. Drawing on the author's own experiences as a Korean-American, former trial lawyer, and mother of a "miracle submarine" patient, this is a novel steeped in suspense and igniting discussion. Recommended by Erin Morgenstern, Jean Kwok, Jennifer Weiner, Scott Turow, Laura Lippman, and more-- Miracle Creek is a brave, moving debut from an unforgettable new voice.
Published Reviews
Booklist Review:
"In Miracle Creek, Virginia, recent Korean immigrant Pak Yoo has staked his family's future on the Miracle Submarine, a hyperbaric oxygen chamber reputed to heal a range of conditions, from autism to infertility. When a fire beneath the chamber's oxygen tanks causes an explosion that kills two of his patients, Pak is paralyzed while trying to rescue the survivors. Now, Pak's client Elizabeth Ward is on trial for intentionally starting the fire that killed her autistic son, Henry, and her friend, Kitt. As the trial opens, Elizabeth seems deserving of the rage crinkling the courtroom's atmosphere: she researched hyperbaric-chamber-fire fatalities; excused herself from that evening's treatment; and insisted that Henry take the seat linked to the exploding tank. But once her attorney begins to pick apart the prosecution witnesses' testimony, Elizabeth's and the Yoos' alternating narratives slowly unveil secrets that paint a more complex picture of the crime. Powerful courtroom scenes invite comparisons to Scott Turow, but Kim's nuanced exploration of guilt, resentment, maternal love, and multifaceted justice may have stronger appeal for readers drawn to the Shakespearean tragedies in Chris Bohjalian's Midwives (1997) and William Landay's Defending Jacob (2012).--Christine Tran Copyright 2019 Booklist"
From Booklist, Copyright (c) American Library Association. Used with permission.
Publisher's Weekly Review:
"In Kim's stand-out, twisty debut, Young and Pak Yoo live in Miracle Creek, a small town in Virginia, with their daughter, Mary. After immigrating to Virginia from Seoul, they start the business that operates in the barn behind their home: hyperbaric oxygen therapy (HBOT) sessions in a chamber designed like a submarine. But then the fatal explosion that kicks off this winning novel happens, leaving two people dead, Pak in a wheelchair, and Mary permanently scarred. One year later, the Yoos must testify in court against Elizabeth Ward, who's been accused of orchestrating the incident to kill her son, Henry, a child who'd been undergoing HBOT to treat his autism, and who died in the explosion. As the trial progresses, each person who'd been present that night must reckon with what really happened. There's a rich cast, among them Matt, a doctor who'd been using HBOT for his infertility and who'd had a not-completely innocent relationship with Mary, and Young, whose desperation to be a good wife and mother leaves her wanting as both. Kim, a former lawyer, clearly knows her stuff, and though the level of procedural detail is sometimes unwieldy, nonetheless what emerges is a masterfully plotted novel about the joys and pains of motherhood, the trick mirror nature of truth, and the unforgiving nature of justice. (Apr.) © Copyright PWxyz, LLC. All rights reserved."
(c) Copyright PWxyz, LLC. All rights reserved
Additional Information