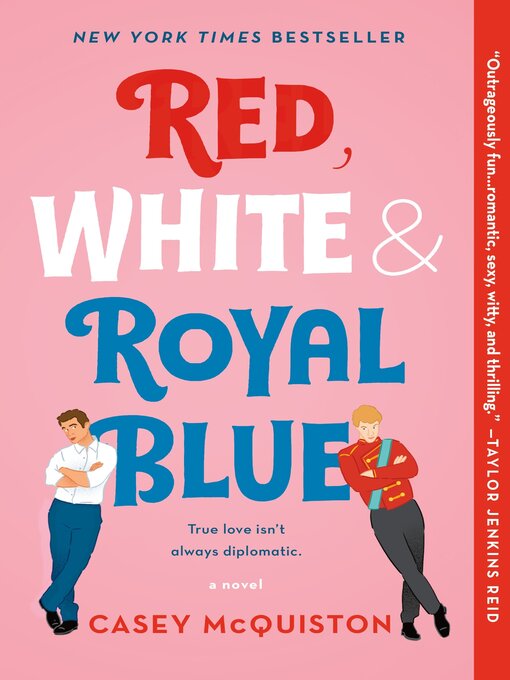 Red, white & royal blue a novel
Format:

Kindle Book

2019

2019

Adobe EPUB ebook

OverDrive Read

Availability:

Unavailable

0 of 34 copies
160 people on waitlist
Summary
When his mother became President, Alex Claremont-Diaz was promptly cast as the American equivalent of a young royal. Handsome, charismatic, genius--his image is pure millennial-marketing gold for the White House. There's only one problem: Alex has a beef with an actual prince, Henry, across the pond. And when the tabloids get hold of a photo involving an Alex-Henry altercation, U.S./British relations take a turn for the worse. Heads of family, state, and other handlers devise a plan for damage control: staging a truce between the two rivals. What at first begins as a fake, Instragramable friendship grows deeper, and more dangerous, than either Alex or Henry could have imagined. Soon Alex finds himself hurtling into a secret romance with a surprisingly unstuffy Henry that could derail the campaign and upend two nations and begs the question: Can love save the world after all? Where do we find the courage, and the power, to be the people we are meant to be? And how can we learn to let our true colors shine through?

Published Reviews
Booklist Review:
"As the First Son, Alex Claremont-Diaz cannot totally avoid his archnemesis, the uptight Prince Henry. When his (booze-fueled) anger nearly causes an international incident at the royal wedding, Alex and Henry are required to participate in a publicity tour to prove to the world that they are besties, which they definitely are not. Henry is way too perfect and handsome, and soon, Alex realizes he doesn't actually hate Henry, and the feeling is mutual. McQuiston's debut is for readers who love romantic comedies and Pod Save America: Alex is a history nerd and policy wonk, and his and Henry's emails are full of equal parts dirty talk and literary quotes. There is a villain (and, yes, he is a Republican), but he is barely given page time in favor of Alex's relationships with his tight inner circle, with his own political aspirations, and his intense affair with Henry. In between sweet and steamy love scenes, Red, White & Royal Blue allows readers to imagine a world where coming out involves no self-loathing; where fan fiction and activist Twitter do actual good; and a diverse, liberal White House wins elections. This Blue Wave fantasy could be the feel-good book of the summer.--Susan Maguire Copyright 2019 Booklist"
From Booklist, Copyright (c) American Library Association. Used with permission.
Publisher's Weekly Review:
"McQuiston's outstanding debut pivots on an inspired rom-com premise: What if Alex Claremont-Diaz, the half-Mexican son of the first female president of the United States, fell in love with Prince Henry, England's heir? The two heartthrobs are arch-nemeses at first. After a scandalous mishap at a wedding, however, they are required to pretend to be best friends lest their enmity spark an international incident. Not surprisingly, their hate turns into a bromance. When Henry kisses Alex, the First Son goes into a mild gay panic, but their snide texts soon become gushy emails ending with romantic quotes. The scions also contrive ways of being together at Wimbledon, in Texas, and at a West Hollywood karaoke bar to steal kisses or have secretive sex. Of course, their romance will eventually be discovered and leaked to the press during the president's heated reelection campaign. The impossible relationship between Alex and Henry is portrayed with quick wit and clever plotting. The drama, which involves political rivals, possible betrayals, and even a meeting with the queen, is both irresistible and delicious. Readers will be eager to see more from McQuiston after this extremely promising start. Agent: Sara Megibow, KT Literary. (June) © Copyright PWxyz, LLC. All rights reserved."
(c) Copyright PWxyz, LLC. All rights reserved
Additional Information