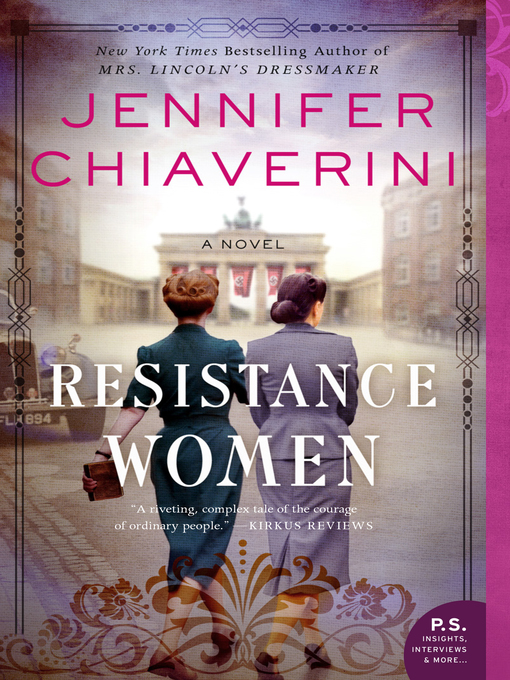 Resistance women a novel
Format:

OverDrive Read

2019.

Adobe EPUB ebook

Kindle Book

Availability:

Unavailable

0 of 10 copies
38 people on waitlist
Summary
One of BookBub's best historical novels of the year and Oprah magazine's buzziest books of the month.
From the New York Times bestselling author of Mrs. Lincoln's Dressmaker, an enthralling historical saga that recreates the danger, romance, and sacrifice of an era and brings to life one courageous, passionate American--Mildred Fish Harnack--and her circle of women friends who waged a clandestine battle against Hitler in Nazi Berlin.



After Wisconsin graduate student Mildred Fish marries brilliant German economist Arvid Harnack, she accompanies him to his German homeland, where a promising future awaits. In the thriving intellectual culture of 1930s Berlin, the newlyweds create a rich new life filled with love, friendships, and rewarding work--but the rise of a malevolent new political faction inexorably changes their fate.
As Adolf Hitler and his Nazi Party wield violence and lies to seize power, Mildred, Arvid, and their friends resolve to resist. Mildred gathers intelligence for her American contacts, including Martha Dodd, the vivacious and very modern daughter of the US ambassador. Her German friends, aspiring author Greta Kuckoff and literature student Sara Weitz, risk their lives to collect information from journalists, military officers, and officials within the highest levels of the Nazi regime.
For years, Mildred's network stealthily fights to bring down the Third Reich from within. But when Nazi radio operatives detect an errant Russian signal, the Harnack resistance cell is exposed, with fatal consequences.
Inspired by actual events, Resistance Women is an enthralling, unforgettable story of ordinary people determined to resist the rise of evil, sacrificing their own lives and liberty to fight injustice and defend the oppressed.
Published Reviews
Booklist Review:
"Beloved historical novelist Chiaverini (Enchantress of Numbers, 2017) fictionalizes the true story of an American expatriate in 1930s Germany who formed a resistance cell committed to bringing down Hitler's regime from within. Mildred Fish meets German economist Arvid Harnack when both are graduate students in her native Wisconsin. The couple begins married life in Berlin as part of a lively circle of intellectuals, including German scholars Greta Kuckhoff and Sara Weitz and the American ambassador's daughter, Martha Dodd. The group watches in alarm as the Nazi party gains popularity, and the rights of German Jews like Sara are steadily stripped away. Avowed antifascists, the women join forces to gather intelligence from journalists, military officers, and government officials for their American and Soviet contacts, risking their lives and those of their families and neighbors. This tale is dense with historical detail, but Chiaverini never loses her focus on her four extraordinarily courageous, resourceful, yet relatable narrators. Chiaverini's many fans and every historical fiction reader who enjoys strong female characters, will find much to love in this revealing WWII novel.--Lindsay Harmon Copyright 2019 Booklist"
From Booklist, Copyright (c) American Library Association. Used with permission.
Publisher's Weekly Review:
"Chiavernini (Mr. Lincoln's Dressmaker) offers an intimate and historically sound exploration of the years leading up to and through WWII. At this novel's center, four women-Mildred Fish, Greta Kuckoff, Sara Weitz, and Martha Dodd-do what they can to help the resistance in Germany. Aspiring author Greta and Sara, a Jewish student of literature, are German nationals; Mildred is an American who married her college sweetheart, German writer/economist Arvid Harnack; and Martha Dodd is the daughter of the American ambassador to Germany. Together, they work to fight the malevolent rise of fascism and risk their lives by pursuing their activities even when under close Gestapo observation, and refusing to expose one another despite torture. Their connections are helpful: Arvid gains information in his position as an economist with the Germans; Mildred, Greta, and Sara find resistance fighters who can pass on information; and while Martha remains in the country, she's able to contribute through her connections as the daughter of an ambassador. This fictionalized version of real-life heroes is told with prose that ranges from forthright to eloquent, and the focus on the road to war and evolving attitudes regarding fascism and Nazism is exceptionally insightful, making for a sweeping and memorable WWII novel. (May) © Copyright PWxyz, LLC. All rights reserved."
(c) Copyright PWxyz, LLC. All rights reserved
Additional Information