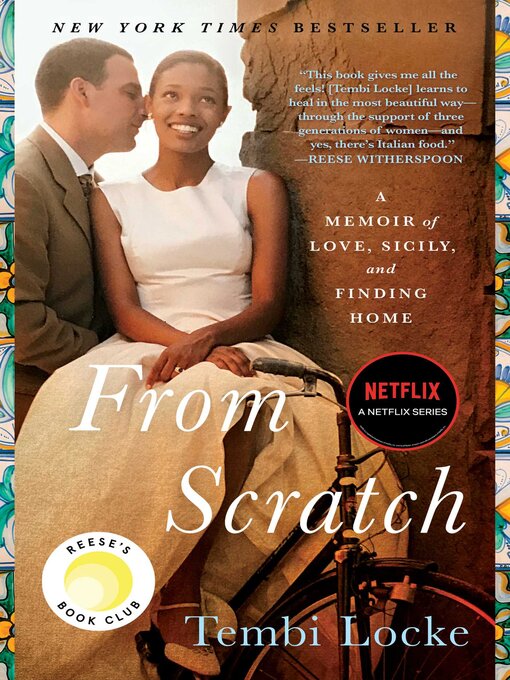 From scratch a memoir of love, loss and finding home in the Sicilian countryside
Format:

OverDrive Read

2019.

Adobe EPUB ebook

Kindle Book

Availability:

Unavailable

0 of 8 copies
35 people on waitlist
Summary
A REESE WITHERSPOON x HELLO SUNSHINE BOOK CLUB PICK

NEW YORK TIMES BESTSELLER
A poignant and transporting cross-cultural love story set against the lush backdrop of the Sicilian countryside, where one woman discovers the healing powers of food, family, and unexpected grace in her darkest hour.

It was love at first sight when Tembi met professional chef, Saro, on a street in Florence. There was just one problem: Saro's traditional Sicilian family did not approve of him marrying a black American woman, an actress no less. However, the couple, heartbroken but undeterred, forges on. They build a happy life in Los Angeles, with fulfilling careers, deep friendships and the love of their lives: a baby girl they adopt at birth. Eventually, they reconcile with Saro's family just as he faces a formidable cancer that will consume all their dreams.

From Scratch chronicles three summers Tembi spends in Sicily with her daughter, Zoela, as she begins to piece together a life without her husband in his tiny hometown hamlet of farmers. Where once Tembi was estranged from Saro's family and his origins, now she finds solace and nourishment--literally and spiritually--at her mother in law's table. In the Sicilian countryside, she discovers the healing gifts of simple fresh food, the embrace of a close knit community, and timeless traditions and wisdom that light a path forward. All along the way she reflects on her and Saro's incredible romance--an indelible love story that leaps off the pages.

In Sicily, it is said that every story begins with a marriage or a death--in Tembi Locke's case, it is both. Her story is about loss, but it's really about love found. Her story is about travel, but it's really about finding a home. It is about food, but it's really about chasing flavor as an act of remembrance. From Scratch is for anyone who has dared to reach for big love, fought for what mattered most, and needed a powerful reminder that life is...delicious.
Contents
Before, fate
First summer, bitter almonds
Second summer, dreaming in lentils
Third summer, wild fennel.
Published Reviews
Booklist Review:
"This is a love story that starts not at the beginning but the end, with the death of actor and TED speaker Locke's husband, and it is her mesmerizing grief that pulls readers in. As a student at Wesleyan, Locke, from Houston, Texas, met Saro, a chef from Sicily nearly a dozen years older than she, while on a study-abroad adventure, and they fell in love. As she recounts with pleasure and sorrow, she was attracted to Saro because he had a gift for feeding not only people's bodies but also their spirits. After the chef moves to Los Angeles, they marry. His parents initially shun Locke, strongly objecting to their son marrying an African American and an actress; they even refuse to attend their wedding. Locke and Saro have a daughter and conduct successful careers, and finally the families are brought together by the tragedy of Saro's cancer. Readers will not want to put Locke's memoir down, so compellingly does she describe her unique experiences and the universal ups and downs of life.--Grace Jackson-Brown Copyright 2019 Booklist"
From Booklist, Copyright (c) American Library Association. Used with permission.
Publisher's Weekly Review:
"Actress and TEDx speaker Locke movingly describes the process of grieving and finding solace during three summers in Italy after the death of her husband. As a 20-year-old college exchange student in Florence in 1990, Locke, an aspiring actress, fell in love with chef Saro. His traditional Sicilian family disapproved of their interracial relationship (she is black), yet the couple married after a two-year long-distance relationship, eventually moving to Los Angeles, where they adopted a daughter; during a trip to Sicily two years later, the families reconciled. Saro, who had been battling a rare form of cancer for a decade, died in 2010; Locke spent the next three summers in Sicily with Saro's mother making family recipes, experiencing the close-knit community, and embracing the wisdom of generations (she cooked alongside Saro's widowed mother, who advised her simply to "Rest, you must rest"). Locke writes of coming to recognize that love comes in many forms and that "sometimes it can look like letting go, but it can also look like never letting go." She concludes with more than a dozen Sicilian recipes that filled her with memories of Saro. Locke's raw and heartfelt memoir will uplift readers suffering from the loss of their own loved ones. (May) © Copyright PWxyz, LLC. All rights reserved."
(c) Copyright PWxyz, LLC. All rights reserved
Additional Information