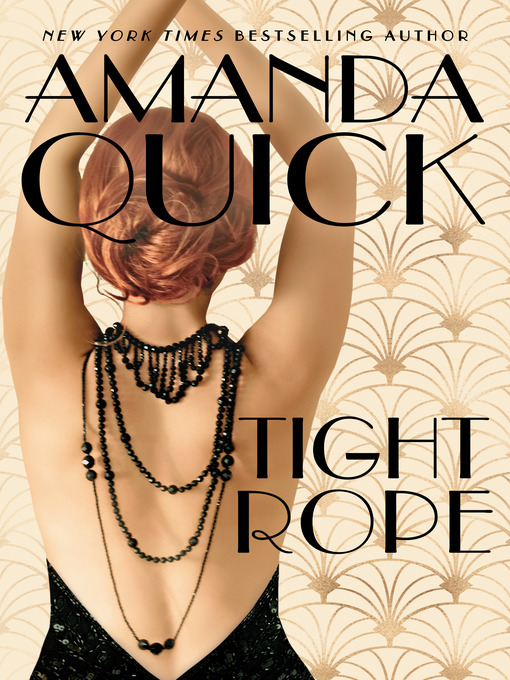 Tightrope
Format:

OverDrive Read

2019.

Adobe EPUB ebook

Kindle Book

Availability:

Unavailable

0 of 8 copies
25 people on waitlist
Summary
An unconventional woman and a man shrouded in mystery walk a tightrope of desire as they race against a killer to find a top secret invention in this New York Times bestselling novel from Amanda Quick.

Former trapeze artist Amalie Vaughn moved to Burning Cove to reinvent herself, but things are not going well. After spending her entire inheritance on a mansion with the intention of turning it into a bed-and-breakfast, she learns too late that the villa is said to be cursed. When the first guest, Dr. Norman Pickwell, is murdered by his robot invention during a sold-out demonstration, rumors circulate that the curse is real.

In the chaotic aftermath of the spectacle, Amalie watches as a stranger from the audience disappears behind the curtain. When Matthias Jones reappears, he is slipping a gun into a concealed holster. It looks like the gossip that is swirling around him is true--Matthias evidently does have connections to the criminal underworld.

Matthias is on the trail of a groundbreaking prototype cipher machine. He suspects that Pickwell stole the device and planned to sell it. But now Pickwell is dead and the machine has vanished. When Matthias's investigation leads him to Amalie's front door, the attraction between them is intense, but she knows it is also dangerous. Amalie and Matthias must decide if they can trust each other and the passion that binds them, because time is running out.
Published Reviews
Booklist Review:
"As an aerialist used to working without a net, Amalie Vaughn is an expert at calculating risk. But when she invests every last nickel she has into turning a supposedly cursed mansion in Burning Cove, California, into the Hidden Beach Inn, she may have made the biggest gamble of her life. The murder of her first paying guest, Dr. Norman Pickwell, is certainly providing plenty of fodder for the rumor mill, and as if that isn't enough, Amalie must now contend with the persistent questions of private investigator (and rumored mob confederate) Matthias Jones, who is looking into Pickwell's demise. Partnering with Matthias to clear things up is a risky proposition to say the least, but fortunately for Amalie, another important skill she mastered while working on the trapeze is the ability to always land on her feet. No other writer walks the line between stylish suspense and sexy romance with as much flair and finesse as best-selling Quick (The Other Lady Vanishes, 2018). Tightrope, the latest brilliantly imaginative, sleekly plotted, and wit-infused addition to Quick's 1930s-set Burning Cove, California series, will have romance readers and mystery fans alike applauding with delight.--John Charles Copyright 2019 Booklist"
From Booklist, Copyright (c) American Library Association. Used with permission.
Publisher's Weekly Review:
"Quick's third thriller set in Hollywood's Golden Age is a dense work of romantic suspense. Burning Cove, Calif., a playground for Hollywood stars and wannabes, also attracts plenty of eccentrics, including former trapeze artist Amalie Vaughn. She used every last dime to open a B and B in the same mansion once owned by psychic Madam Zolanda, who mysteriously jumped from its roof (in The Other Lady Vanishes). Amalie is one of hundreds in the audience for a demonstration of a butler robot, and is horrified when the machine murders his own creator, Dr. Pickwell-who happens to be her first paying guest. However, Matthias Jones, who has arcane abilities and works for suspected mob boss Luther Pell, doesn't for a second believe that a poorly wired robot could shoot to kill. He knows Luther lured Pickwell to town to arrange the illegal sale of a highly valued ciphering machine that the U.S. government wants back, and thinks the murder is related. Quick excels at developing complex plots that keep the reader guessing, all while building chemistry between Amalie and Mattias as they work together to catch a criminal who may also be linked to Amalie's past. This tangled novel will satisfy series fans and others looking for a bit of a challenge. (May) © Copyright PWxyz, LLC. All rights reserved."
Additional Information