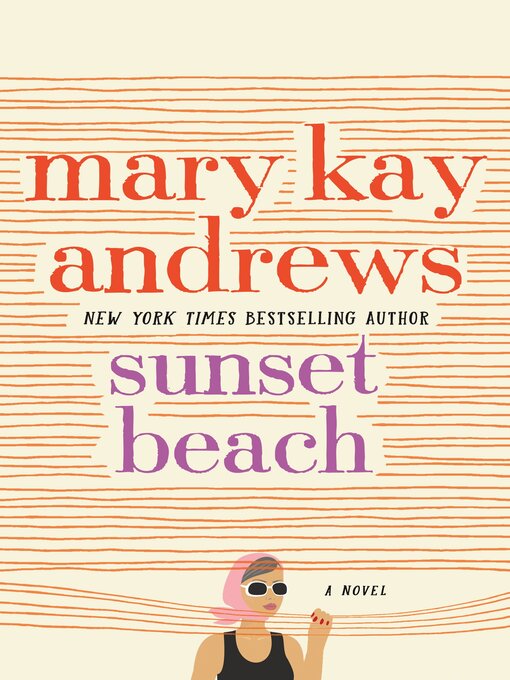 Sunset beach
Format:

OverDrive Read

2019.

Adobe EPUB ebook

Kindle Book

Availability:

Unavailable

0 of 22 copies
86 people on waitlist
Summary
Pull up a lounge chair and have a cocktail at Sunset Beach - it comes with a twist.
Drue Campbell's life is adrift. Out of a job and down on her luck, life doesn't seem to be getting any better when her estranged father, Brice Campbell, a flamboyant personal injury attorney, shows up at her mother's funeral after a twenty-year absence. Worse, he's remarried - to Drue's eighth grade frenemy, Wendy, now his office manager. And they're offering her a job.
It seems like the job from hell, but the offer is sweetened by the news of her inheritance - her grandparents' beach bungalow in the sleepy town of Sunset Beach, a charming but storm-damaged eyesore now surrounded by waterfront McMansions.
With no other prospects, Drue begrudgingly joins the firm, spending her days screening out the grifters whose phone calls flood the law office. Working with Wendy is no picnic either. But when a suspicious death at an exclusive beach resort nearby exposes possible corruption at her father's firm, she goes from unwilling cubicle rat to unwitting investigator, and is drawn into a case that may - or may not - involve her father. With an office romance building, a decades-old missing persons case re-opened, and a cottage in rehab, one thing is for sure at Sunset Beach: there's a storm on the horizon.
Sunset Beach is a compelling ride, full of Mary Kay Andrews' signature wit, heart, and charm.
Published Reviews
Booklist Review:
"Andrews' (The High Tide Club, 2018) latest annual big beach read combines mystery, family secrets, a hint of romance, and a little bit of home renovation. Drue Campbell inherits a beach shack from her mother, and her estranged father shows up to offer her a job. Brice Campbell is a personal injury attorney, and though Drue is not interested, she is desperate. In between answering calls on the Justice Line, she meets Yvonne Howington, whose daughter, Jazmin, a hotel maid, was murdered. But the settlement Brice got from the civil suit against the hotel is not enough to raise her granddaughter on, and despite repeated warnings that it is a hopeless case, Drue starts to investigate. Meanwhile, Drue finds a scrapbook and what looks like a police case file in the attic of the shack, all centering on the disappearance of a woman 40 years ago, and again, Drue's curiosity is piqued. Though some of the jokes fall flat (Drue calls her white Bronco OJ ), Andrews' style ensures that this will be a relaxing read.--Susan Maguire Copyright 2019 Booklist"
From Booklist, Copyright (c) American Library Association. Used with permission.
Publisher's Weekly Review:
"Andrews (The High Tide Club) delivers a likable, if meandering, contemporary about a down-on-her-luck athlete, her colorful lawyer father, and a decades-old missing persons mystery. After a debilitating sports injury, Drue Campbell's employment prospects are grim, until her estranged, flamboyant father, Brice Campbell, shows up at her mother's funeral and offers his daughter a job working in his personal injury law office with him and his new wife, Wendy (who was a high school frenemy of Drue's). Drue learns that she has also inherited her grandparents' run-down beach cottage in Sunset Beach, Fla. Drue's resigned to screening slip-and-fall calls, until she becomes involved with a suspicious death at a local resort that leaves a young girl motherless. Then she stumbles on a long-unsolved missing persons case that might involve her family. The plot wanders at times and the competing mysteries end with a bit of a fizzle, but Andrews's gift for drawing fascinating characters (including a hard-boiled female detective) and her captivating dialogue will pull most readers through to the end of this laid-back blend of cozy mystery and women's fiction. Agent: Meghan Walker, Tandem Literary. (May) © Copyright PWxyz, LLC. All rights reserved."
(c) Copyright PWxyz, LLC. All rights reserved
Additional Information