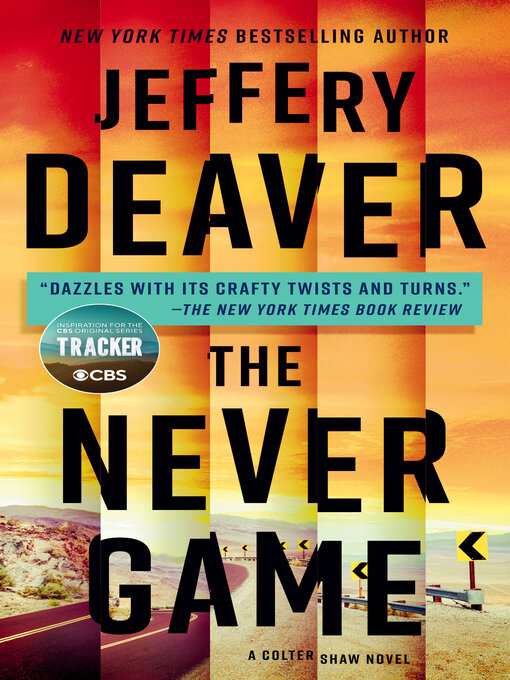 The never game
Format:

OverDrive Read

2019.

Adobe EPUB ebook

Kindle Book

Availability:

Unavailable

0 of 10 copies
14 people on waitlist
Summary
From the bestselling and award-winning master of suspense, the first novel in a thrilling new series, introducing Colter Shaw.

"You have been abandoned."

A young woman has gone missing in Silicon Valley and her father has hired Colter Shaw to find her. The son of a survivalist family, Shaw is an expert tracker. Now he makes a living as a "reward seeker," traveling the country to help police solve crimes and private citizens locate missing persons. But what seems a simple investigation quickly thrusts him into the dark heart of America's tech hub and the cutthroat billion-dollar video-gaming industry.

"Escape if you can."

When another victim is kidnapped, the clues point to one video game with a troubled past-- The Whispering Man . In that game, the player has to survive after being abandoned in an inhospitable setting with five random objects. Is a madman bringing the game to life?

"Or die with dignity."

Shaw finds himself caught in a cat-and-mouse game, risking his own life to save the victims even as he pursues the kidnapper across both Silicon Valley and the dark 'net. Encountering eccentric game designers, trigger-happy gamers and ruthless tech titans, he soon learns that he isn't the only one on the hunt: someone is on his trail and closing fast.

The Never Game proves once more why "Deaver is a genius when it comes to manipulation and deception" (Associated Press).
Published Reviews
Booklist Review:
"Colter Shaw is a reward seeker. Parents, husbands, wives offer rewards for the safe return of their missing loved ones; Colter finds the missing people and claims the rewards. Not, perhaps, the most altruistic of vocations, but Colter, the son of survivalist parents, is very good at what he does. In this first installment of a new series by the author of the Lincoln Rhyme and Kathryn Dance thrillers, Shaw navigates the duplicitous world of Silicon Valley to find a missing woman; when another person goes missing, Shaw realizes this is much more than one case of kidnapping. Shaw is a carefully constructed character with a rich backstory that could spark several novels (his own family history features a particularly tantalizing mystery). The story is this will come as no surprise to Deaver's many fans full of twists and right-angle turns, and a second Colter Shaw novel feels not just inevitable but mandatory. Deaver is a hit maker who always delivers the goods.--David Pitt Copyright 2019 Booklist"
From Booklist, Copyright (c) American Library Association. Used with permission.
Publisher's Weekly Review:
"Colter Shaw, the hero of this superb series launch from Thriller Award winner Deaver (the Lincoln Rhyme series), travels around the U.S. in an RV, earning rewards for finding missing persons, fugitives, and "suspects who have not yet been identified or located." In the prologue, Colter attempts to rescue a kidnapped pregnant woman, Elizabeth Chabelle, from a sinking fishing vessel off the California coast. With Elizabeth's fate in doubt, the action moves back two days, when Colter goes looking for 19-year-old Sophie Mulliner in Silicon Valley. Sophie vanished after an argument with her father, who was unable to get the authorities to take his fear that she was attacked and kidnapped seriously. Colter does, and manages to locate suggestive evidence-Sophie's cell phone, a bloodied rock, and a plastic shard that may have come from the teen's bike. That investigation proves to be just the tip of the iceberg after the person who abducted Sophie strikes again and Colter finds parallels between the crimes and a creepy video game called The Whispering Man. Fans of twisty suspense that pushes the envelope of plausibility without inviting disbelief will be enthralled. Author tour. Agent: Deborah Schneider, Gelfman Schneider Literary. (May) © Copyright PWxyz, LLC. All rights reserved."
(c) Copyright PWxyz, LLC. All rights reserved
Additional Information