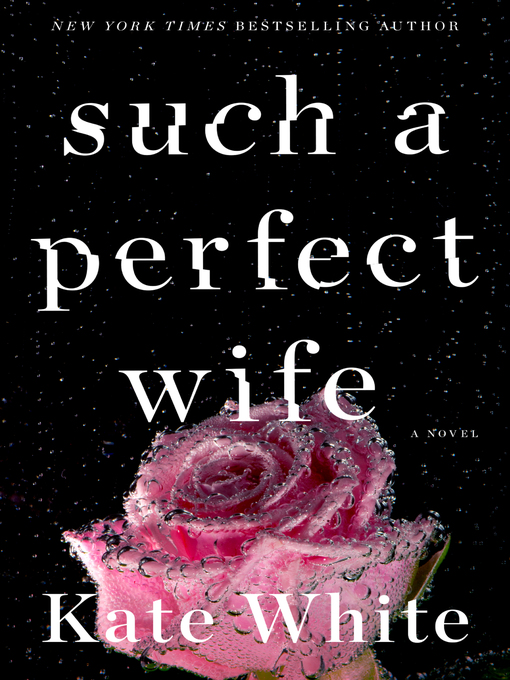 Such a perfect wife A novel
Format:

OverDrive Read

2019.

Adobe EPUB ebook

Kindle Book

Availability:

Unavailable

0 of 5 copies
3 people on waitlist
Summary
New York Times bestselling author Kate White returns with a gripping story about a true-crime reporter uncovering the secrets that lie beneath the surface of a placid small town, perfect for readers of Jessica Knoll, Alafair Burke, and Liv Constantine.
Blonde. Beautiful. A loving mother. And missing since Monday.
On a sunny morning in late September, Shannon Blaine sets off for a jog along the rural roads near her home in Lake George, New York. It's her usual a.m. routine, her "me time" after dropping the kids off at school...except on this day she never returns.
Is her husband lying when he says he has no clue where she is? Could Shannon have split on her own, overwhelmed by the pressures of her life? Or is she the victim of a sexual predator who had been prowling the area and snatched her before she knew what was happening.
True crime writer Bailey Weggins, on assignment for the website Crime Beat, heads north from New York City to report on the mysterious disappearance. An anonymous tip soon leads Bailey to a grisly, bone-chilling discovery. Every town has its secrets, Bailey reminds herself, and nothing is ever as perfect as it seems. She keeps digging for answers until--when it's almost too late--she unearths the terrifying truth.
Published Reviews
Booklist Review:
"Crime reporter Bailey Weggins is known for becoming more involved in her stories than is healthy, as happens again when she covers the disappearance of a perfect wife for new online publication Crime Beat. Soon after 34-year-old Shannon Blaine vanishes on her routine morning run in Galena, Illinois, Bailey gets a voice-distorted call from the presumed perpetrator hinting at Shannon's location. So Bailey checks it out, joined by local reporter Alice Hatfield, with whom she's formed a relationship based on mutual respect. The two woman find three bodies, raising the possibility of a serial killer and, shockingly, raising suspicion that Shannon's husband, Cody, could be the culprit. When Alice finds a scary clue online and wants to wait to tell Bailey about it at dinner, mystery fans' apprehension will skyrocket, as the compelling plot, with multiple suspects, thunders to a conclusion. At the same time, Bailey worries about her live-in boyfriend, Beau Regan, who's in Colombia on business, adding nuance to their relationship and its possible future. One of the stronger entries in an always-entertaining series.--Michele Leber Copyright 2019 Booklist"
From Booklist, Copyright (c) American Library Association. Used with permission.
Publisher's Weekly Review:
"Bestseller White's highly entertaining eighth Bailey Weggins novel (after 2017's Even if It Kills Her) takes Bailey on assignment for the online magazine Crime Beat to Lake George, N.Y., to look into the disappearance of 34-year-old Shannon Blaine. Shannon and her husband, Cody, a successful beverage distributor, seem to have had a perfect life-happily married, two darling children, respected in their idyllic community. As the police investigate where and how Shannon vanished one day on her morning run, Bailey seeks to learn what may have recently changed in the Blaine family. The one significant thing that Bailey uncovers is Shannon's recommitting herself to the Catholic Church. Bailey teams with local reporter Alice Hatfield, and both find cracks in the Blaines' lives that could have been a factor. The ethical and tenacious Bailey soon earns the respect of the local police, who come to see her as an ally rather than an intruder. Readers will cheer her every step of the way. Agent: Sandra Dijkstra, Sandra Dijkstra Literary. (May) © Copyright PWxyz, LLC. All rights reserved."
(c) Copyright PWxyz, LLC. All rights reserved
Additional Information