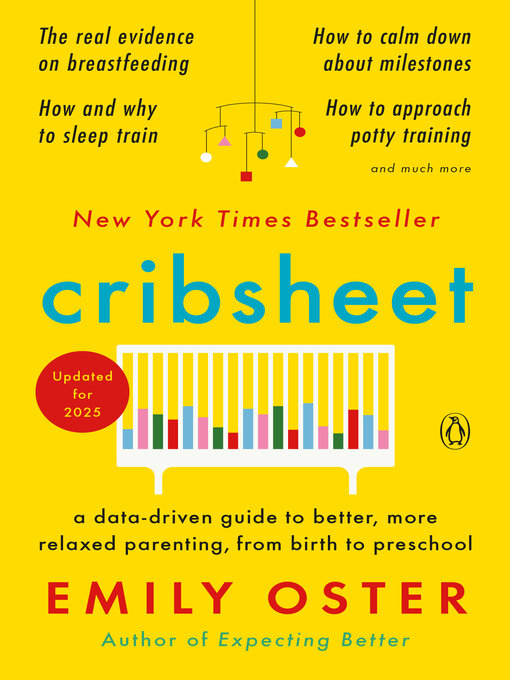 Cribsheet a data-driven guide to better, more relaxed parenting, from birth to preschool
Format:

OverDrive Read

2019.

Adobe EPUB ebook

Kindle Book

Availability:

Unavailable

0 of 9 copies
40 people on waitlist
Summary
The instant New York Times bestseller!

From the author of Expecting Better , an economist's guide to the early years of parenting.

"Many parents will likely find reading it a huge relief from the scare stories that seem to pop up everywhere these days... Cribsheet is not another call for the end of helicopter parenting or snowplow parenting or whatever kind of parenting is lighting up social media today, and it's not a call to overthrow medical wisdom; it's a call for parenting with context, and it's freeing." -- The Washington Post

With Expecting Better , award-winning economist Emily Oster spotted a need in the pregnancy market for advice that gave women the information they needed to make the best decision for their own pregnancies. By digging into the data, Oster found that much of the conventional pregnancy wisdom was wrong. In Cribsheet , she now tackles an even greater challenge: decision-making in the early years of parenting.

As any new parent knows, there is an abundance of often-conflicting advice hurled at you from doctors, family, friends, and strangers on the internet. From the earliest days, parents get the message that they must make certain choices around feeding, sleep, and schedule or all will be lost. There's a rule--or three--for everything. But the benefits of these choices can be overstated, and the trade-offs can be profound. How do you make your own best decision?

Armed with the data, Oster finds that the conventional wisdom doesn't always hold up. She debunks myths around breastfeeding (not a panacea), sleep training (not so bad!), potty training (wait until they're ready or possibly bribe with M&Ms), language acquisition (early talkers aren't necessarily geniuses), and many other topics. She also shows parents how to think through freighted questions like if and how to go back to work, how to think about toddler discipline, and how to have a relationship and parent at the same time.

Economics is the science of decision-making, and Cribsheet is a thinking parent's guide to the chaos and frequent misinformation of the early years. Emily Oster is a trained expert--and mom of two--who can empower us to make better, less fraught decisions--and stay sane in the years before preschool.
Published Reviews
Booklist Review:
"Oster found that decisions surrounding parenting didn't stop after she wrote her first parenting book, Expecting Better (2013), while she was pregnant. There are lines you shouldn't cross with young children, but there are many more gray areas. Thinking about our choices in cost/benefit terms helps take some of the stress off a decision. In this book, she covers a number of the big decisions parents must tackle, adding some levity with facts and figures meant to make readers laugh. Topics cover a broad range, starting with immediately post-birth decisions regarding newborn baths and circumcision, then onto having vaccinations, feeding your toddler dinner, and getting along with your spouse after having children. Parents who find comfort in statistics, and especially those who enjoy Malcolm Gladwell's works, will appreciate this and may also want to seek out Worried? Science Investigates Some of Life's Common Concerns (2019), by Lise Johnson and Eric Chudler.--Joyce McIntosh Copyright 2019 Booklist"
From Booklist, Copyright (c) American Library Association. Used with permission.
Publisher's Weekly Review:
"Economist Oster (Expecting Better) goes beyond the anecdotal to give parents of babies and toddlers both the data and the theoretical framework they need to make informed choices about raising their children. Among the issues addressed: vaccination (the data say yes, emphatically); when to introduce potential food allergens (early exposure to peanuts probably reduces allergies); and screen time (not useful for helping a child learn until he or she is three, and then the data are inconclusive). Along the way, Oster also introduces useful concepts like "Bayesian statistics," which involves starting with an existing personal belief and then applying new data to see if it still seems valid. She encourages parents to think about opportunity costs (letting a toddler watch TV for an hour to give the parent a break can be worth the potential downside) and shares the "best parenting advice I've ever gotten"-a pediatrician telling her, in response to her questions about myriad possible emergencies befalling her daughter, "Just try not to think about that." Parents new and old will find reassurance in this commonsense approach. (Apr.) © Copyright PWxyz, LLC. All rights reserved."
(c) Copyright PWxyz, LLC. All rights reserved
Additional Information