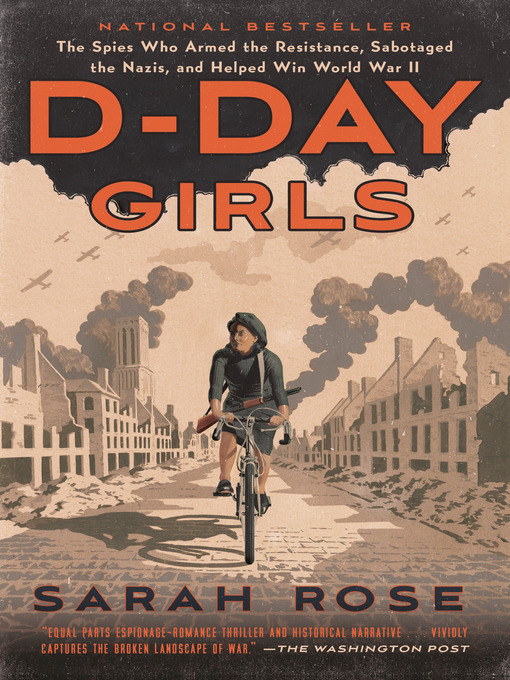 D-Day girls the untold story of the female spies who helped win World War II
Format:

Kindle Book

2019

2019

Adobe EPUB ebook

OverDrive Read

Availability:

Unavailable

0 of 6 copies
3 people on waitlist
Summary
"The dramatic, inspiring story of the extraordinary women recruited by Britain's elite spy agency to sabotage the Nazis, shore up the Resistance, and pave the way for Allied victory in World War II."--Provided by publisher.

Contents
Part 1. God help us
Ungentlemanly warfare
A first class agent
The queen of the organization
Merde alors!
To the very last man
Part 2. 1000 dangers
The dark years
Alone in the world
Robert est arrivé
The Paris of the Sahara
Our possibilities
The demolition must never fail
An obstinate woman
An endless Calvary
The swap
The dog sneezed on the curtains
Hunted
When the hour of action strikes
Part 3. Kisses
A patriotic profession
A little braver
The sighing begins
Death on one side, life on the other
Your mind goes on thinking
Epilogue: a useful life.
Published Reviews
Booklist Review:
"This comprehensive and compelling tome tells about the women who made crucial, behind-the-scenes contributions to the 1944 Allied invasion of France, a major turning point of WWII. Rose (For All the Tea in China, 2010) begins her narrative by describing these women's controversial, top-secret recruitment by British special forces, and follows their extensive training, infiltration behind French lines, daring exploits, and post-war fates. Representing various backgrounds, they were tasked with fitting into French society and raising no suspicions as they handled a wide range of assignments: acting as couriers and escorts, coordinating and concealing parachuted military supplies, blowing up bridges, downing communication systems. Readers get to know these amazing women as individuals, as their duties unfold against the backdrop of the war. Ample background information is provided, so that the dangers of their precarious positions and the consequences of the success or failure of their missions are well apparent. Rose smoothly integrates developing events with biographical details and glimpses into French wartime society, creating a digestible and easy-to-follow story. This satisfying mix of social history and biography incorporates contemporary attitudes towards women, its subjects' personal quirks, and plenty of romance, and should engage a wide audience.--Kathleen McBroom Copyright 2019 Booklist"
From Booklist, Copyright (c) American Library Association. Used with permission.
Publisher's Weekly Review:
"In this gripping history, Rose (For All the Tea in China) skillfully details the lives of a handful of ordinary women living in dreary occupied France-who also happened to be highly trained agents for the London-based Special Operations Executive (SOE). Often parachuting under a full moon behind enemy lines, these women and their male colleagues blended in with the locals as they set up networks and trained resistance fighters for D-Day. They were chosen in part for their unflappable temperaments; the fearless Andrée Borrel, for example, reveled in her work as a saboteur, serenely riding away on her bicycle as her charges exploded. Unassuming Mary Herbert used a planned pregnancy as the ultimate cover-no one would suspect a young mother of spying. The yearlong delay in freeing France resulted German double agents infiltrating, with devastating results for the SOE operatives-as Allied generals bickered over landing dates, Odette Sansom suffered years of torture and tuberculosis in Ravensbruck while still protecting the network-but these largely unheralded volunteers depleted German tank divisions, boosted French morale, and quite possibly served as the inspiration for Ian Fleming's James Bond. Thoroughly researched and written as smoothly as a good thriller, this is a mesmerizing story of creativity, perseverance, and astonishing heroism. Agent: Larry Weissman, Larry Weissman Literary. (Apr.) © Copyright PWxyz, LLC. All rights reserved."
(c) Copyright PWxyz, LLC. All rights reserved
Additional Information
Subjects
Odette, 1912-1995
Borrel, Andrée, 1919-1944
Baissac, Lise de, 1905-2004
World War, 1939-1945 Secret service Great Britain
Women spies Great Britain History 20th century
Women spies Great Britain Biography
Espionage, British France History 20th century
World War, 1939-1945 Underground movements France
World War, 1939-1945 Women Great Britain
Biography & Autobiography
Nonfiction
History
Military
Electronic books.
1912-1995.
1919-1944.
1905-2004.
20th century.

Publisher

[Place of publication not identified] :Crown2019




2019



Edition
First edition.
Contributors
OverDrive, Inc.

Language

English



System Details

Mode of access: World Wide Web.




Format: Adobe EPUB eBook




Format: Kindle Book




Format: OverDrive Read




Requires Adobe Digital Editions or Amazon Kindle



Description

1 online resource



Bibliography Notes

Includes bibliographical references (pages 291-371) and index.




Includes bibliographical references.



ISBN
9780451495105
9780451495105

Other
Classic View