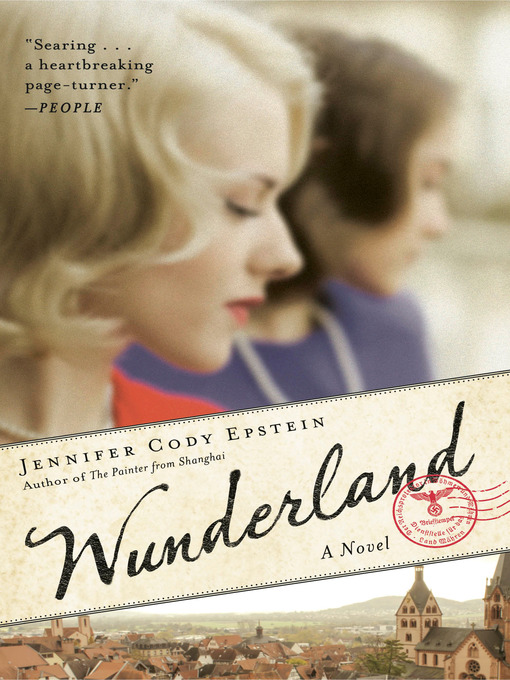 Wunderland a novel
Format:

Kindle Book

2019

2019

Adobe EPUB ebook

OverDrive Read

Availability:

Available from OverDrive

5 of 5 copies
1 person on waitlist
Summary
East Village, 1989. Things had never been easy between Ava Fisher and her estranged mother Ilse. Too many questions hovered between them: Who was Ava's father? Where had Ilse been during the war? Why had she left her only child in a German orphanage during the war's final months? But now Ilse's ashes have arrived from Germany, and with them, a trove of unsent letters addressed to someone else unknown to Ava: Renate Bauer, a childhood friend. As her mother's letters unfurl a dark past, Ava spirals deep into the shocking history of a woman she never truly knew. Berlin, 1933. As the Nazi party tightens its grip on the city, Ilse and Renate find their friendship under siege--and Ilse's increasing involvement in the Hitler Youth movement leaves them on opposing sides of the gathering storm. Then the Nuremburg Laws force Renate to confront a long-buried past, and a catastrophic betrayal is set in motion...An unflinching exploration of Nazi Germany and its legacy, Wunderland is a at once a powerful portrait of an unspeakable crime history and a page-turning contemplation of womanhood, wartime, and just how far we might go in order to belong.

Published Reviews
Booklist Review:
"Epstein's (The Painter from Shanghai, 2008) absorbing exploration of friendship, betrayal, and coming to terms with the past begins in 1989, when Ava Fischer receives a cache of letters written by Ilse, her recently deceased mother. The letters were addressed, but never sent, to someone named Renate. The novel unfolds across two time lines, one that takes the reader on a deep dive into the particulars of Ilse and Renate's lives in Germany, 1935-39. The other time line is Ava's, and it loops backward from 1989, when she is a single mother living in New York City, to 1946, when she is temporarily stranded in a German orphanage. Ilse and Renate are best friends, but Hitler's rise sets them on very different paths; while Ilse enthusiastically joins the Nazi youth movement, Renate discovers that she is a Mischling one who has both Aryan and Jewish ancestry. As for Ava and Ilse, their postwar relationship is shadowed by Ilse's refusal to talk about the past or divulge the identity of Ava's father. Suggest this to fans of novels like Jessica Shattuck's The Women in the Castle (2017) and Martha Hall Kelly's Lilac Girls (2016).--Mary Ellen Quinn Copyright 2019 Booklist"
From Booklist, Copyright (c) American Library Association. Used with permission.
Publisher's Weekly Review:
"Epstein's heartbreaking historical tour de force (after The Painter from Shanghai) juxtaposes Nazi-era Germany and 1980s New York City to devastating effect. The story opens in 1933: German schoolgirls Renate Bauer and Ilse von Fischer are best friends as Hitler comes to power and Jews become increasingly demonized. Renate is dating a young white supremacist and, along with Ilse, tries to join the Nazi-sponsored Bund Deutscher Madel. But after Renate discovers that her now-Christian father was born Jewish, Renate and her family are subjected to Gestapo questioning and blackmail. Ilse coldly drops her best friend, and, caught up in the growing nationalism, she betrays Renate's family. In the East Village in 1989, Ava Fischer receives her estranged mother's ashes and a sheaf of letters that outline her mother's biggest regrets. She's always felt unwanted by her mother, after being left for years in a German orphanage. But after she obtains the package, which contains a shocking secret about her parentage, everything suddenly makes a strange sort of sense. Epstein doesn't stint on the horrifying details of the indignities dealt to Jews during Hitler's reign. Man's inhumanity to man-and the redemptive power of forgiveness-is on stark and effective display in Epstein's gripping novel, a devastating tale bound for bestseller lists. Agent: Amelia Atlas, ICM Partners. (Apr.) © Copyright PWxyz, LLC. All rights reserved."
(c) Copyright PWxyz, LLC. All rights reserved
Additional Information