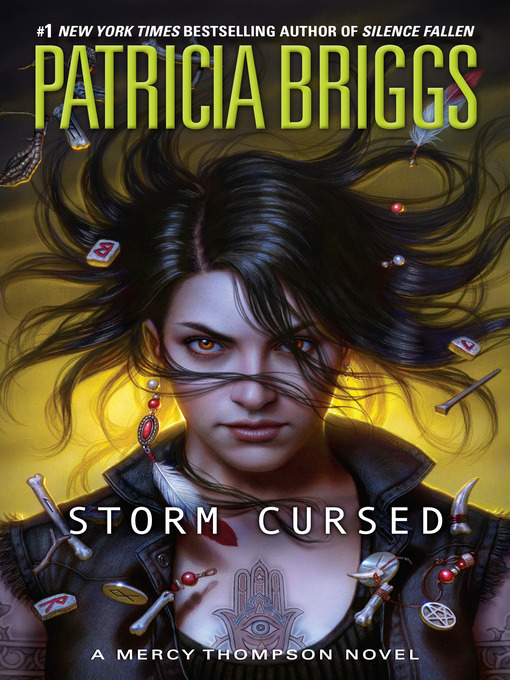 Storm cursed Mercy Thompson Series, Book 11.
Format:

OverDrive Read

2019.

Adobe EPUB ebook

Kindle Book

Availability:

Unavailable

0 of 8 copies
31 people on waitlist
Summary
In this powerful entry in the #1 New York Times bestselling series, Mercy Thompson must face a deadly enemy to defend all she loves...

My name is Mercedes Athena Thompson Hauptman, and I am a car mechanic.

And a coyote shapeshifter.

And the mate of the Alpha of the Columbia Basin werewolf pack.

Even so, none of that would have gotten me into trouble if, a few months ago, I hadn't stood upon a bridge and taken responsibility for the safety of the citizens who lived in our territory. It seemed like the thing to do at the time. It should have only involved hunting down killer goblins, zombie goats, and an occasional troll. Instead, our home was viewed as neutral ground, a place where humans would feel safe to come and treat with the fae.

The reality is that nothing and no one is safe. As generals and politicians face off with the Gray Lords of the fae, a storm is coming and her name is Death.

But we are pack, and we have given our word.

We will die to keep it.
Published Reviews
Booklist Review:
"The eleventh book in Briggs' Mercy Thompson series (after Silence Fallen, 2017) performs as well as any of its predecessors. Mercy, as the declared protector of the Tri-Cities and wife of Adam Hauptman, the Columbia Basin pack's alpha wolf, faces a dark coven of witches intent on displacing the current witch family. While Elizaveta, head of the Tri-City witches, is still in Europe after having helped to free Mercy from Milan's master vampire, her family is attacked. Elizaveta isn't quite the victim they think she is at first, and because Briggs has invested in complex characters throughout the series, Mercy and Adam face some hard choices with what they find in the witch's home. Throughout the series, Briggs has presented empathetic and multi-dimensional characters, so when one falls from grace, the reader isn't necessarily surprised but they are emotionally invested. Readers will feel for Mercy as she deals with these very human non-humans and must make choices for the greater good while balancing her allies' and foes' frailties. Fans of the series will be satisfied with Storm Cursed.--Dawn Kuczwara Copyright 2019 Booklist"
From Booklist, Copyright (c) American Library Association. Used with permission.
Publisher's Weekly Review:
"The suspenseful 11th Mercy Thompson urban fantasy opens with the Columbia Basin Pack of shape-shifters contending with a plague of zombies and the unfamiliar witch who must be creating them. When they go to their local gray witch for help, they find her family massacred and evidence that she herself has been practicing black magic. As they dig deeper into the mystery, the pack turns to the local vampire seethe for answers, leading Mercy to reunite with former allies and discover that events from the past may tie in to the zombie incursion. This story brings together a lot of seemingly unrelated plot threads from past novels in a way that feels organic and that doesn't impede the pacing of the current mystery. Fans of the series will enjoy this solid addition, but new readers might find that there's too much history to make this story work as an ingress point. (May) © Copyright PWxyz, LLC. All rights reserved."
Additional Information