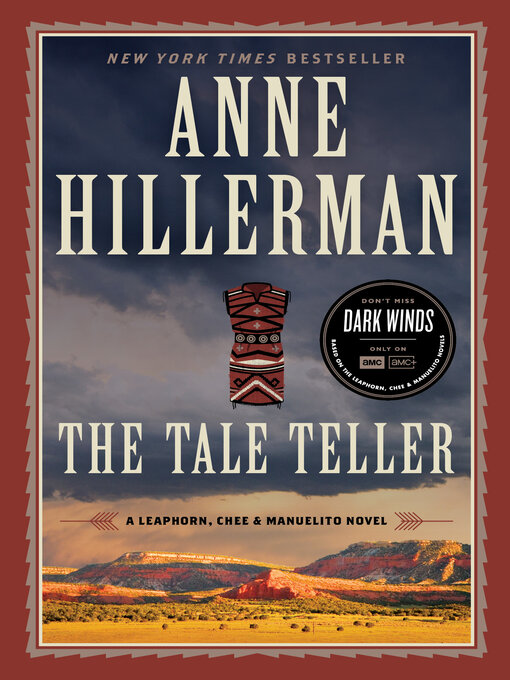 The tale teller
Format:

OverDrive Read

2019.

Adobe EPUB ebook

Kindle Book

Availability:

Unavailable

0 of 5 copies
4 people on waitlist
Summary
NEW YORK TIMES BESTSELLER
Legendary Navajo policeman Lieutenant Joe Leaphorn takes center stage in this riveting atmospheric mystery from New York Times bestselling author Anne Hillerman that combines crime, superstition, and tradition and brings the desert Southwest vividly alive.
Joe Leaphorn may have retired from the Tribal Police, but he finds himself knee-deep in a perplexing case involving a priceless artifact--a reminder of a dark time in Navajo history. Joe's been hired to find a missing biil, a traditional dress that had been donated to the Navajo Nation. His investigation takes a sinister turn when the leading suspect dies under mysterious circumstances and Leaphorn himself receives anonymous warnings to beware--witchcraft is afoot.
While the veteran detective is busy working to untangle his strange case, his former colleague Jim Chee and Officer Bernie Manuelito are collecting evidence they hope will lead to a cunning criminal behind a rash of burglaries. Their case takes a complicated turn when Bernie finds a body near a popular running trail. The situation grows more complicated when the death is ruled a homicide, and the Tribal cops are thrust into a turf battle because the murder involves the FBI.
As Leaphorn, Chee, and Bernie draw closer to solving these crimes, their parallel investigations begin to merge . . . and offer an unexpected opportunity that opens a new chapter in Bernie's life.
Published Reviews
Booklist Review:
"Hillerman continues her Leaphorn, Chee, and Manuelito series (the first two characters drawn from her father, Tony's, celebrated series) with a fifth installment that sees retired detective Joe Leaphorn working privately to discover the fate of Navajo artifacts that never arrived at the museum to which they were donated. At the same time, Bernie Manuelito finds a body when she's out running, with both cases showcasing Hillerman's familiar themes: the strong kinship ties among the characters' Navajo community, the odd crimes that can happen there, and the lengths desperate people will go to for survival. The questions surrounding the artifacts are topical and bring to the fore Native customs surrounding treatment of ancestors' belongings and reluctance to revisit painful past treatment of those forebears. These features, along with the crime stories, will make the book a natural hit with Hillerman's many fans; it's also a good choice for readers who are interested in fiction touching on today's social issues in this case, controversies surrounding museum artifacts of questionable provenance.--Henrietta Verma Copyright 2019 Booklist"
From Booklist, Copyright (c) American Library Association. Used with permission.
Publisher's Weekly Review:
"At the start of bestseller Hillerman's laconic fifth Leaphorn, Chee, and Manuelito novel (after 2018's Cave of Bones), PI Joe Leaphorn, a former Navajo police lieutenant, and Daisy Pinto of the Navajo Nation meet at the tribal library to discuss some recent museum donations, in which the most valuable item listed on the paperwork was either not included or has gone missing. They're interrupted by the news that a young woman is lying unconscious on the ground outside the library. When the woman later dies, Leaphorn investigates, despite anonymous warnings of witchcraft. He also agrees to help Daisy with the museum case. Meanwhile, Officer Bernie Manuelito and Sgt. Jim Chee look into a series of unsolved burglaries, further complicated by a body Bernie finds while running on a popular trail. The FBI and tribal cops butt heads as the various cases intertwine. Series fans not looking for dramatic momentum or a gripping plot will enjoy catching up with familiar characters, but predictability and lackluster prose mar this installment. Agent: Elizabeth Trupin-Pulli, JET Literary Assoc. (Apr.) © Copyright PWxyz, LLC. All rights reserved."
(c) Copyright PWxyz, LLC. All rights reserved
Additional Information