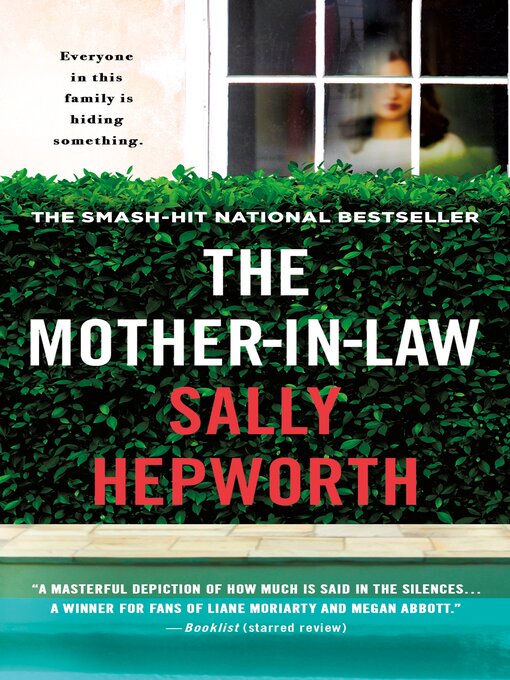 The mother-in-law A Novel.
Format:

OverDrive Read

2019.

Adobe EPUB ebook

Kindle Book

Availability:

Unavailable

0 of 28 copies
169 people on waitlist
Summary
* " Deliciously entertaining!" --People Magazine's "People Pick"
* Entertainment Weekly's "MUST List"
* O Magazine's "15 Best Beach Books of the Year So Far"
* Bustle "Best Book of April"
* Refinery29 "Best Book of April"
* Cosmopolitan "Best Book of April"
* Woman's Day's "27 Fiction Books of 2019 to Add to Your Reading List ASAP"
* BookBub's "Biggest Books of April"
* PopSugar's "30 Must-Read Books of 2019"

A twisty, compelling new novel about one woman's complicated relationship with her mother-in-law that ends in death...
From the moment Lucy met her husband's mother, she knew she wasn't the wife Diana had envisioned for her perfect son. Exquisitely polite, friendly, and always generous, Diana nonetheless kept Lucy at arm's length despite her desperate attempts to win her over. And as a pillar in the community, an advocate for female refugees, and a woman happily married for decades, no one had a bad word to say about Diana...except Lucy.
That was five years ago.
Now, Diana is dead, a suicide note found near her body claiming that she longer wanted to live because of the cancer wreaking havoc inside her body.
But the autopsy finds no cancer.
It does find traces of poison, and evidence of suffocation.
Who could possibly want Diana dead? Why was her will changed at the eleventh hour to disinherit both of her children, and their spouses? And what does it mean that Lucy isn't exactly sad she's gone?
Fractured relationships and deep family secrets grow more compelling with every page in this twisty, captivating new novel from Sally Hepworth.
Praise for Sally Hepworth:

"With jaw-dropping discoveries, and realistic consequences, this novel is not to be missed . Perfect for lovers of Big Little Lies. " -- Library Journal , starred review
"Hepworth deftly keeps the reader turning pages and looking for clues , all the while building multilayered characters and carefully doling out bits of their motivations." -- Booklist
Published Reviews
Booklist Review:
"Hepworth (The Family Next Door, 2018) turns up the tension in her latest Australian-set domestic-suspense novel. Lucy's ties with her husband's mother, Diana, have always been fraught with tension, especially disappointing because Lucy had delighted at the prospect of a mother figure in her life after her own passed away. Lucy and Diana were never on the same page, and so it's with mixed feelings that Lucy receives the news of Diana's sudden death. Determining the circumstances to be suspicious, police question Lucy, her husband, and her husband's sister and brother-in-law, unraveling secrets Diana had held close. Hepworth entwines the stories of two complicated women, from both of their perspectives, past and present, who desperately needed each other but were unable to say or do the right thing. Diana's personality always suggested a cold, distant woman more interested in her charities than her family, but though everyone seems to have a reason to want Diana dead, Lucy realizes she never really knew her mother-in-law at all. A masterful depiction of how much is said in the silences, accompanied by increasing unease over what happened to Diana, makes this a winner for fans of Liane Moriarty and Megan Abbott.--Tracy Babiasz Copyright 2019 Booklist"
From Booklist, Copyright (c) American Library Association. Used with permission.
Publisher's Weekly Review:
"Hepworth (The Family Next Door) takes readers on a suspenseful ride as a family copes with the suspicious suicide of its matriarch. Lucy has never thought her mother-in-law, Diana Goodwin, liked her since they first met a decade earlier. Chapters in the first person from both Diana's and Lucy's perspectives reveal their deepest feelings and desires, highlighting past events such as the day Lucy married Diana's son, Ollie, and Diana's problems with depression after the death of her husband, Tom, moving forward to the time of Diana's apparent suicide. The investigation of the suicide changes dramatically when police learn that Diana didn't have breast cancer, as she had told her family she did. Furthermore, evidence emerges indicating she may have been murdered. Police question Lucy, Ollie, Ollie's sister, Nettie, and her husband, Patrick, about their involvement in the possible murder, and each of them have motives, especially Lucy, given her contentious history with Diana. Hepworth's short, punchy chapters keep the pages quickly turning while effortlessly deepening her characters. Readers will race to the end of this clever novel to find the truth. (Apr.) © Copyright PWxyz, LLC. All rights reserved."
(c) Copyright PWxyz, LLC. All rights reserved
Additional Information
Subjects
Electronic books.

Publisher

[Place of publication not identified] :St. Martin's Press2019.



Edition
First edition.
Contributors
OverDrive, Inc.

Language

English



System Details

Mode of access: World Wide Web.




Format: Adobe EPUB eBook




Format: Kindle Book




Format: OverDrive Read




Requires Adobe Digital Editions or Amazon Kindle



Description

1 online resource



ISBN
9781250120946
9781250120946

Other
Classic View