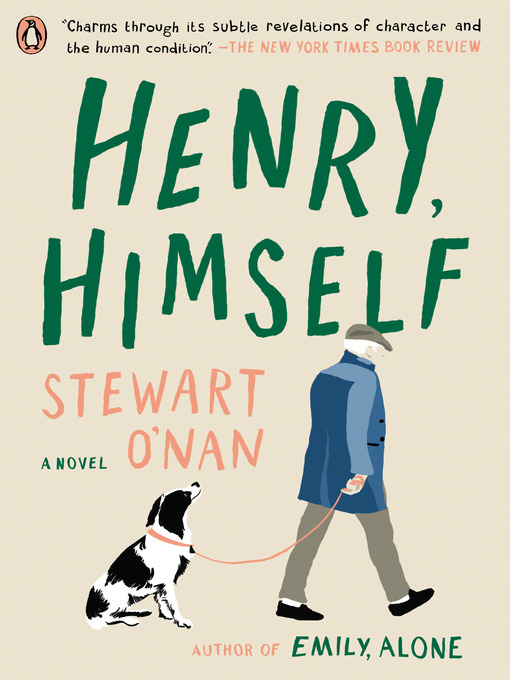 Henry, himself
Format:

Kindle Book

2019

2019

Adobe EPUB ebook

OverDrive Read

Availability:

Available from OverDrive

4 of 8 copies
3 people on waitlist
Summary
Soldier, son, lover, husband, breadwinner, churchgoer, Henry Maxwell has spent his whole life trying to live with honor. A native Pittsburgher and engineer, he's always believed in logic, sacrifice, and hard work. Now, seventy-five and retired, he feels the world has passed him by. It's 1998, the American century is ending, and nothing is simple anymore. His children are distant, their unhappiness a mystery. Only his wife Emily and dog Rufus stand by him. Once so confident, as Henry's strength and memory desert him, he weighs his dreams against his regrets and is left with questions he can't answer: Is he a good man? Has he done right by the people he loves? And with time running out, what, realistically, can he hope for? Like Emily, Alone, Henry, Himself is a wry, warmhearted portrait of an American original who believes he's reached a dead end only to discover life is full of surprises.

Published Reviews
Booklist Review:
"In this prequel to Emily, Alone (2011), O'Nan returns to his hometown of Pittsburgh and to his Maxwell family cycle with a charming, meditative, gently funny, and stealthily poignant portrait of Emily's husband, Henry. A WWII veteran trying to make sense of life in 1998, Henry is a retired engineer who loves to fix things and asserts his freedom to putter. But beneath his serenity and affability, he is secretly haunted by harrowing war memories, fully aware of his ­shortcomings especially his inability to understand his daughter, Margaret, who struggles with addiction and a faltering ­marriage and rueful about the diminishments of age. Henry is also a persistent romantic, still courting acerbic, pragmatic Emily. O'Nan elevates the routines and chores of quiet domesticity to a nearly heroic level in his lingering attention to details, from plumbing troubles to coupons, walking the dog, and all the preparations and disruptions of holiday gatherings. Like Richard Russo and Anne Tyler, O'Nan discerningly celebrates the glory of the ordinary in this pitch-perfect tale of the hidden everyday valor of a humble and good man.--Donna Seaman Copyright 2019 Booklist"
From Booklist, Copyright (c) American Library Association. Used with permission.
Publisher's Weekly Review:
"O'Nan's elegiac companion piece to his 2011 novel, Emily, Alone, follows Emily's husband of 49 years, Henry Maxwell, who, at 75, suffers from variety of physical ailments. The year is 1998 and readers follow Henry and his family from Valentine's Day to New Year's Eve as they celebrate birthdays and anniversaries, observe annual traditions, and spend the summer by the lake. Henry and Emily grapple with their two adult children, Margaret and Kenny, their respective spouses, Jeff and Lisa, and their grandchildren. Nothing especially dramatic happens, except, maybe, when Margaret, who is a recovering alcoholic, gets into an accident right before Thanksgiving and Emily rushes to be with her, leaving Henry to serve the holiday feast to the rest of his family on his own. A member of the "Greatest Generation," Henry deals with his own growing sense of mortality, but he does it with a rare grace that endears him to the reader. The author evokes Henry's middle-class Pittsburgh existence like a Keystone State Joyce. One would have to go back to Evan S. Connell's Mrs. Bridge and Mr. Bridge to find a literary marriage bookended in such a perceptive fashion. (Apr.) © Copyright PWxyz, LLC. All rights reserved."
Additional Information