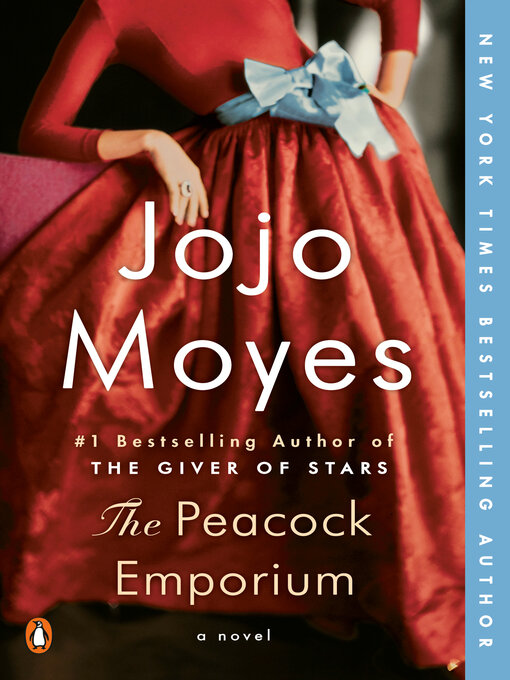 The peacock emporium
Format:

OverDrive Read

2019.

Adobe EPUB ebook

Kindle Book

Availability:

Unavailable

0 of 6 copies
34 people on waitlist
Summary
An early work from the New York Times bestselling author of The Giver of Stars , Jojo Moyes, the story of a young woman who opens an eclectic shop and comes to terms with the secrets of her past.

In the sixties, Athene Forster was the most glamorous girl of her generation. Nicknamed the Last Deb, she was also beautiful, spoiled, and out of control. When she agreed to marry the gorgeous young heir Douglas Fairley-Hulme, her parents breathed a sigh of relief. But within two years, rumors had begun to circulate about Athene's affair with a young salesman.

Thirty-five years later, Suzanna Peacock is struggling with her notorious mother's legacy. The only place Suzanna finds comfort is in The Peacock Emporium, the beautiful coffee bar and shop she opens that soon enchants her little town. There she makes perhaps the first real friends of her life, including Alejandro, a male midwife, escaping his own ghosts in Argentina.

The specter of her mother still haunts Suzanna. But only by confronting both her family and her innermost self will she finally reckon with the past--and discover that the key to her history, and her happiness, may have been in front of her all along.
Published Reviews
Booklist Review:
"When Douglas Fairley-Hume married the dazzling Athene Forster, Vivi Newton kept her heartbreak to herself. Thirty-five years later, Susanna Peacock is miserable living back in Dere, but she and her husband, Neal, need both the austerity and the help of her parents after going broke in London. Susanna has always felt like the odd duck in the properly well-achieving Fairley-Hume family, so she sets out to create something of her own: a shop in town. She just doesn't want help or to talk to anyone. Fortunately for her, Jessie shows up looking for a job, and her stubborn gregariousness draws customers in, particularly Alejandro, a lonely midwife from Argentina. Each of them has a secret pain that draws them to each other, despite their differences. Originally published in the UK in 2005, The Peacock Emporium is occasionally bogged down by repressed feelings and is more of a cross between Penny Vincenzi and Debbie Macomber than Moyes' more recent books (like After You, 2018). Still, Susanna's journey from a frustrated, spoiled housewife to her own woman is full of Moyes' signature sweet, tear-jerking moments.--Susan Maguire Copyright 2019 Booklist"
From Booklist, Copyright (c) American Library Association. Used with permission.
Publisher's Weekly Review:
"Moyes moves forward from her Me Before You trilogy with an emotionally luscious, freestanding novel about generations of mothers and daughters navigating grief and the satisfaction of self-discovery. Suzanna Peacock lives in a small town in Suffolk near the estate of the family from whom she has estranged herself, and struggles with an unsettled marriage and pressure to have a baby. Despite her awkwardness with people, she opens a quirky coffee and curio shop. A young mother in an abusive relationship and an Argentinian male midwife become her close friends at the shop, but she keeps even from them her inner turmoil about her relationships to her missing birth mother, wild debutante Athene Forster, and to Vivi Fairley-Hulme, the mother who raised her. Moyes moves back and forth though the timeline to tell Suzanne and Vivi's stories with profound sympathy. Though this is not a romance novel like Moyes's previous works, it maintains their legacy of diving into the emotions of desire and connection, and a spirit of optimism and setting the world right. Agent: Sheila Crowley, Curtis Brown (U.K.). (Apr.) © Copyright PWxyz, LLC. All rights reserved."
(c) Copyright PWxyz, LLC. All rights reserved
Additional Information