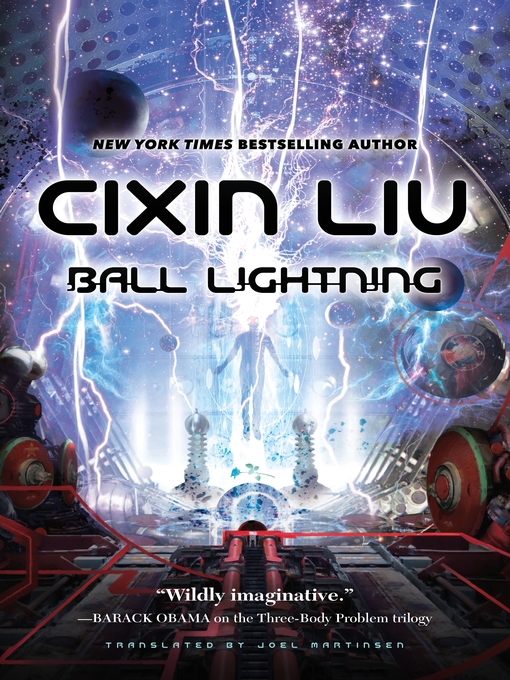 Ball lightning
Format:

Kindle Book

2018

2018

Adobe EPUB ebook

OverDrive Read

Availability:

Unavailable

0 of 1 copy
1 person on waitlist
Summary
When Chen's parents are incinerated before his eyes by a blast of ball lightning, he devotes his life to cracking the secret of this mysterious natural phenomenon. His search takes him to stormy mountaintops, an experimental military weapons lab, and an old Soviet science station. The more he learns, the more he comes to realize that ball lightning is just the tip of an entirely new frontier. While Chen's quest for answers gives purpose to his lonely life, it also pits him against soldiers and scientists with motives of their own: a beautiful army major with an obsession with dangerous weaponry, and a physicist who has no place for ethical considerations in his single-minded pursuit of knowledge.

Published Reviews
Booklist Review:
"*Starred Review* The latest novel from acclaimed Chinese sf novelist Cixin Liu (The Three-Body Problem, 2014) follows Chen, a young man whose parents are tragically taken from him on his fourteenth birthday by the mysterious phenomenon, ball lightning. After devoting himself to studying this strange and unexplained atmospheric occurrence, Chen comes into contact with the beautiful but ruthless Lin Yun, an army major whose obsession and devotion to creating and using strange new weapons matches Chen's own obsessive quest. As they delve deeper into the nature of ball lightning and explore its history and its explosive and dangerous possibilities, Chen is haunted by the consequences of his research and the inexplicable and possibly ghostly phenomenon that surrounds each and every new victim of a ball lightning incident. While on a smaller scale than his previous trilogy, Ball Lightning continues Liu's combination of intriguing scientific speculation and engaging, evocative prose. Highly recommended for fans of Liu and any general readers looking for an exciting and breathtaking new sf read.--Keep, Alan Copyright 2010 Booklist"
From Booklist, Copyright (c) American Library Association. Used with permission.
Publisher's Weekly Review:
"In Chinese folklore, ball lightning is known as "ghost lanterns," and ghosts of a quantum kind haunt this thoughtful technothriller about the science of the next war. Chen, traumatized when ball lightning invades his birthday party and kills his parents, resolves to understand the elusive phenomenon, despite discouragement from his similarly hurt advisor. Encountering evidence that others have been struck by ball lightning but survived, he teams up with Lin Yun, a young major in the Chinese army with her own obsession: "new concept" weapons. Together, they track down a lost Russian research base and an eccentric Chinese genius, bringing together the clues that reveal ball lightning's secrets in time for it to be weaponized for a conflict with America. Liu (the Three-Body Problem trilogy) pits the quest for theoretical knowledge against the push for practical, if deadly, applications. Without tilting the debate, he moves his characters through both their fears and their desires, showing how neither purity nor repudiation will bring more than a measure of personal relief. Readers intrigued by cutting-edge and slightly speculative science, and the philosophy of scientific ethics, will want to pick up this fine novel. (Aug.) © Copyright PWxyz, LLC. All rights reserved."
(c) Copyright PWxyz, LLC. All rights reserved
Additional Information