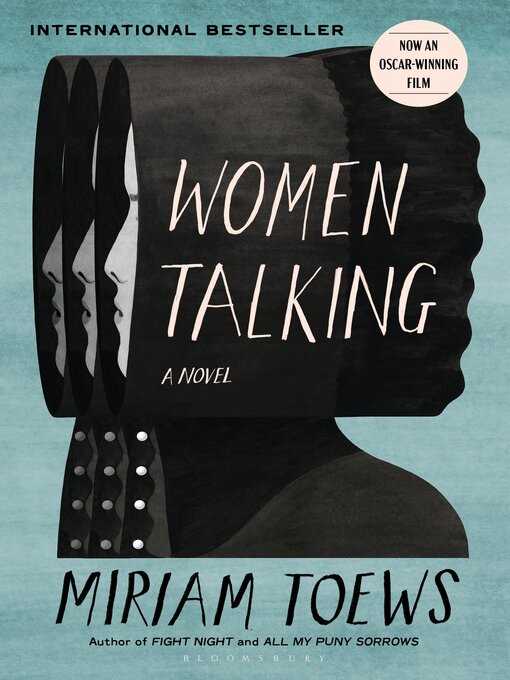 Women talking a novel
Format:

Kindle Book

2019

2019

Adobe EPUB ebook

OverDrive Read

Availability:

Available from OverDrive

5 of 14 copies
2 people on waitlist
Summary
The sun rises on a quiet June morning in 2009. August Epp sits alone in the hayloft of a barn, anxiously bent over his notebook. He writes quickly, aware that his solitude will soon be broken. Eight women—ordinary grandmothers, mothers and teenagers; yet to August, each one extraordinary— will climb the ladder into the loft, and the day's true task will begin. This task will be both simple and subversive: August, like the women, is a traditional Mennonite, and he has been asked to record a secret conversation. Thus begins Miriam Toews' spellbinding novel. Gradually, as we hear the women's vivid voices console, tease, admonish, regale and debate each other, we piece together the reason for the gathering: they have forty-eight hours to make a life-altering choice on behalf of all the women and children in the colony. And like a vast night sky coming into view behind the bright sparks of their voices, we learn of the devastating events that have led to this moment. Acerbic, funny, tender, sorrowful and wise, Women Talking is composed of equal parts humane love and deep anger.

Contents
Intro; Half Title; Dedication; Also by Miriam Toews; Title Page; Contents; A Note on the Novel; June 6: August Epp, Before the Meeting; June 6: Minutes of the Women Talking; June 6: August Epp, At Night Between Meetings; June 7: Minutes of the Women Talking; June 7: August Epp, After the Meeting; Acknowledgements; A Note on the Author; Copyright
Published Reviews
Booklist Review:
"*Starred Review* They have to meet in secret, and time is tight. They are grandmothers, mothers, sisters, and daughters in the Molotschna Colony, a Mennonite community in an unnamed, Spanish-speaking country. These girls and women have been attacked and raped. The bishop declared it the work of ghosts and demons and suggested that the women were being punished for their sins. Or perhaps they'd just imagined it, injuries notwithstanding. But the truth has finally emerged: the rapists are colony men. Husbands, fathers, brothers, and sons who snuck into the women's rooms at night, drugged them with an animal anesthetic, and beat and raped them, even assaulting a three-year-old girl. The women are traumatized and afflicted by a sexually transmitted disease (there's no medicine to treat it), forced pregnancies, and the suicide of one rape victim's mother. Some men are in jail; others are in town raising their bail. The women have been given an ultimatum: forgive the rapists and go to heaven, or forfeit salvation and leave the colony, the only world they know. Eight courageous women gather clandestinely in a hayloft to decide their future. Canadian author Toews, whose six previous best-selling novels include All My Puny Sorrows (2014), grew up in a Mennonite community, and Mennonite life permeates her fiction. This sharp blade of a novel was inspired by actual events in a Mennonite colony in Bolivia. Although their way of life, with horses and buggies, creates the ambience of several centuries past, the assaults took place between 2005 and 2009, making them all the more appalling. Toews' eviscerating fictionalization of this incendiary reality focuses not on the violence but, rather, on the keen, subversive intelligence of the Mennonite women, their philosophical casts of mind, clashing personalities, and deep concerns about family and faith. Toews' choice of narrator is also counterintuitive. August Epp is the colony's schoolteacher. The son of progressive, excommunicated parents, he has returned after a rather disastrous stay in London because of his love for Ona, one of the brave rebels meeting in the hayloft to discuss their options. While the colony's men mock August as effeminate, the women trust him so much they've asked him to take minutes so that there will be a record of their debate. The women's predicament is complicated by the fact that they speak Plautdietsch, a medieval language now only known to Mennonites, and they cannot read or write. But they are incisive, eloquent, passionate, and caustically funny. August can hardly keep up with their nuanced yet rapidly deployed arguments, insults, jokes, stories, and analyses of the possible consequences of their difficult choices. Temperamental and generational differences emerge, as do degrees of fury, pain, and determination. The women talk, one man listens, and readers read wide-eyed as Toews' dissenters confront the fact that they don't actually know what's in the Bible, only what the men tell them it says. Still, they fully intend to remain true to their faith, unlike the men, including the sect's vow of pacifism. And one of their priorities going forward is securing the freedom to think. Toews' knowing wit and grasp of dire subjects aligns her with Margaret Atwood, while her novel's slicing concision and nearly Socratic dialogue has the impact of a courtroom drama or a Greek tragedy, which brings to mind Meg Wolitzer's The Uncoupling (2011). Novels loosely linked thematically include The Break (2018), by Katherena Vermette; Haven's Wake, by Ladette Randolph (2013); Prayers for the Stolen (2014), by Jennifer Clement; and In the Kingdom of Men (2012), by Kim Barnes, whose memoirs address an isolating Pentecostal upbringing. Women talking has always been potentially revolutionary. Women are now speaking out about sexual assault and the code of shamed silence in its wake to an unprecedented degree, yet such agonized disclosures continue to be dismissed as the products of female imagination, a contemporary variation on "hysteria." Toews' clarifying novel will help further dismantle the toxic habits of sexism.--Donna Seaman Copyright 2018 Booklist"
From Booklist, Copyright (c) American Library Association. Used with permission.
Publisher's Weekly Review:
"After more than 300 women in the Mennonite colony of Molotschna were attacked between 2005 and 2009, eight of the settlement's women, from the Loewen and Friesen families, gather secretly to discuss their plan of action in this powerful novel by Toews (All My Puny Sorrows). They believed that the nightly attacks were by ghosts and demons until a man was caught and named other perpetrators; then the women realized that the victims were drugged and raped by men from their community. The Friesens want to stay and fight the men, and the Loewens want to leave Molotschna altogether; the rest of the women in the colony decide to do nothing and skip the clandestine meetings. Schoolteacher August Epp-who takes the minutes of the meetings for the women, since they are illiterate, and is trusted by them because he's been ostracized by the community's men-tracks every conversation leading to the women's final decision. Through Epp, Toews has found a way to add lightness and humor to the deeply upsetting and terrifying narrative while weaving in Epp's own distressing backstory. Epp's observations (such as those about how the women physically react or respond when someone shares a divisive suggestion) are astute, and through him readers are able to see how carefully and intentionally the women think through their lifechanging decision-critically discussing their roles in society, their love for their families and religion, and their hopes and desires for the future. This is an inspiring and unforgettable novel. (Apr.) © Copyright PWxyz, LLC. All rights reserved."
(c) Copyright PWxyz, LLC. All rights reserved
Additional Information