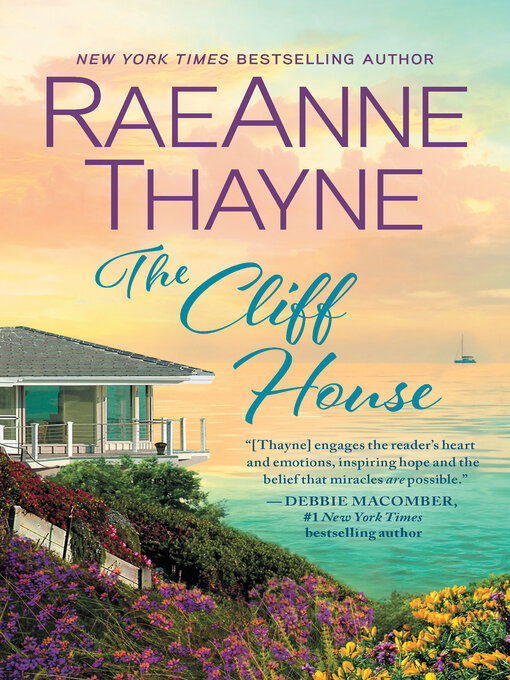 The Cliff House
Format:

OverDrive Read

2019.

Adobe EPUB ebook

Kindle Book

Availability:

Unavailable

0 of 7 copies
43 people on waitlist
Summary
Three women--two sisters and their aunt--and the cliff house on the northern California coast that served as a beacon to them all...

After the death of their mother, sisters Daisy and Beatriz Davenport found a home with their aunt Stella in the beautiful and welcoming town of Cape Sanctuary. They never knew all the dreams that Stella sacrificed to ensure they had everything they'd ever need. Now, with Daisy and Bea grown, it's time for Stella to reveal the secret she's been keeping from them--a secret that will change their family forever.

Bea thought she'd sown all her wild oats when she got pregnant far too young. The marriage that followed was rocky and not destined to last, but it gave Bea her wonderful, mature, now eleven-year-old daughter, Marisol. But just as she's beginning to pursue a new love with an old friend, Bea's ex-husband resurfaces and turns their lives completely upside down.

Then there's Daisy--sensible, rational, financially prudent Daisy. She's never taken a risk in her life--until she meets a man who makes her question everything she thought she knew about life, love and the power of taking chances.

In this heartwarming story, Stella, Bea and Daisy will discover that the path to true happiness is filled with twists and turns, but love always leads them back home.
Published Reviews
Booklist Review:
"Thayne (Serenity Harbor, 2017) is in peak form in this delightful, multiple-perspective tale of the entwined lives and loves of three women in a Northern California seaside community. Daisy is a serious and dedicated widowed CPA nearing 30. Her sister, Bea, is an artist raising a young daughter. They were raised by their aunt Stella, a middle-school teacher who rescued them from foster care when she was only 21. Each has secrets. The men in their lives include Bea's ex-husband and rock star, Cruz, who wants her back, and her best friend, high-school football coach Shane, who is staying in her guest house. Daisy meets Gabe, a famous photojournalist whose acts of heroism include rescuing a French bulldog from the cliff near her home. Stella, at 40, has raised several foster children and started a foundation to support foster families. Coincidentally, when she finally succeeds in getting pregnant, her widowed college love joins her OB-GYN's practice. Thayne skillfully interweaves these plotlines with just the right amount of glamour, art, and kindness to make for a warmly compelling and satisfying work of women's fiction.--Diana Tixier Herald Copyright 2010 Booklist"
From Booklist, Copyright (c) American Library Association. Used with permission.
Publisher's Weekly Review:
"Stella Davenport and the nieces she raised, Daisy and Beatriz, face daunting romantic decisions in this charming if uneven contemporary. Stella was college-age when her sister had died, leaving two daughters behind. Stella put everything on hold to raise them. Now that they're grown, she's ready to have a baby of her own. Pregnancy at 40 is challenging, but when the man she walked away from years before moves back to Cape Sanctuary, morning sickness becomes the least of her worries. Beatriz is now a single mother herself, pining for her best friend even as her rock star ex-husband tries to win her back. Daisy, who carries the brunt of the sisters' childhood trauma, copes by compartmentalizing. To the world, she's a type-A accountant, but secretly she is the whimsical artist known only as Marguerite. When she meets documentarian Gabe Ellison, the lines begin to blur as he encourages her to be truthful about who she really is. For all the drama in these characters' pasts, their present dilemmas are rather mild. The love stories fall into well-worn territory; the heart of this sweet contemporary story is in the women's relationships with each other, and it will suit readers on both sides of the blurry romance/women's fiction divide. Agent: Karen Solem, Spencerhill Assoc. (Mar.) © Copyright PWxyz, LLC. All rights reserved."
(c) Copyright PWxyz, LLC. All rights reserved
Additional Information