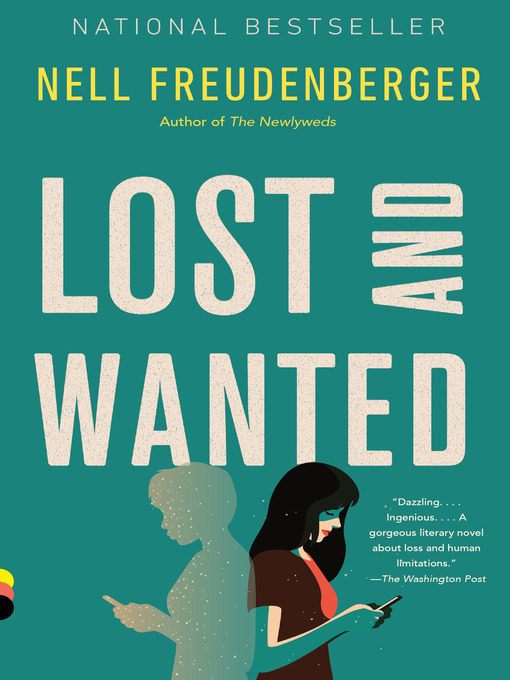 Lost and wanted a novel
Format:

OverDrive Read

2019.

Adobe EPUB ebook

Kindle Book

Availability:

Unavailable

0 of 4 copies
11 people on waitlist
Summary
New York Times Best Seller

"Freudenberger's brilliant and compassionate novel takes on the big questions of the universe and proves, again, that she is one of America's greatest writers." --Andrew Sean Greer, Pulitzer Prize-winning author of Less

An emotionally engaging, suspenseful new novel from the best-selling author, told in the voice of a renowned physicist: an exploration of female friendship, romantic love, and parenthood--bonds that show their power in surprising ways.

Helen Clapp's breakthrough work on five-dimensional spacetime landed her a tenured professorship at MIT; her popular books explain physics in plain terms. Helen disdains notions of the supernatural in favor of rational thought and proven ideas. So it's perhaps especially vexing for her when, on an otherwise unremarkable Wednesday in June, she gets a phone call from a friend who has just died.

That friend was Charlotte Boyce, Helen's roommate at Harvard. The two women had once confided in each other about everything--in college, the unwanted advances Charlie received from a star literature professor; after graduation, Helen's struggles as a young woman in science, Charlie's as a black screenwriter in Hollywood, their shared challenges as parents. But as the years passed, Charlie became more elusive, and her calls came less and less often. And now she's permanently, tragically gone.

As Helen is drawn back into Charlie's orbit, and also into the web of feelings she once had for Neel Jonnal--a former college classmate now an acclaimed physicist on the verge of a Nobel Prize-winning discovery--she is forced to question the laws of the universe that had always steadied her mind and heart.

Suspenseful, perceptive, deeply affecting, Lost and Wanted is a story of friends and lovers, lost and found, at the most defining moments of their lives.
Published Reviews
Booklist Review:
"*Starred Review* Physics in Fiction They were roommates at Harvard. Charlie (for Charlotte), artistic, gorgeous, sophisticated, and devoted to acting and French literature, hailed from a distinguished, well-off African American family in Brookline. Style-challenged, awkward, and mathematically gifted Helen was a work-study white science nerd from Pasadena, enthralled by quantum physics. The two ambitious young women grew close in what became primarily a long-distance friendship as Charlie excelled in Hollywood as a screenwriter, and Helen thrived as a prominent physicist at MIT. Both had to overcome sexism, but Charlie also had to contend with sexual harassment and racism. Their paths to motherhood agitated their families. Charlie married Terrence, a California surfer who her parents felt was far beneath her. They had a daughter, Simmi. At 36, Helen chose an anonymous sperm donor and had Jack. As the novel opens, Simmi and Jack are in elementary school, and Charlie is dead. Yet she seems to be calling and texting Helen. There's a fair amount of spookiness in physics, and the language is seductively poetic. Freudenberger (The Newlyweds, 2012) is exceptionally conversant in this heady realm, and her obvious pleasure in physics, including the mind-bending work at such facilities as the European Organization for Nuclear Research (CERN) and the Large Hadron Collider, ensures that Helen is a mesmerizing narrator. Irresistibly forthright about her failings, she is laser-sharp professionally, and her urge to share her enthusiasm has inspired her to write internationally popular trade books. But she is stymied by the mystery of the increasingly unnerving texts sent from Charlie's missing phone and by a tsunami of vivid memories. As space and time curve and bend in electrifying flashbacks, Helen struggles through highly charged encounters with Charlie's grieving and furious parents and traumatized Terrence and Simmi, who have moved to Boston to try to fill the void. Helen and Terrence circle each other warily, but Jack and Simmi bond instantly. And if all the emotional and logistical turmoil isn't enough to distract Helen from her demanding schedule, physicist Neel, with whom she made the great discovery that brought her fame and tenure, and the man we begin to suspect may be her one true love, has also relocated from California. Triumphant over his part in a revolutionary breakthrough, the observation of gravitational waves, he is hoping to team up with Helen again, even as he invites her to his engagement party. As more details emerge about Charlie's suffering and death, about how her loved ones, each so astutely rendered and compelling, attempt to move on, and as Helen's own thwarted desires collide, Freudenberger is spellbinding in her imaginative use of particle physics as a mirror of human entanglement and uncertainty. We do learn about Helen's specialty five-dimensional space-time and the dynamics of black holes but Freudenberger is also postulating a profoundly resonant physics of emotions and longings, families and friendship, love and marriage, loss and mourning. As original as this deeply involving, substantial, suspenseful, and psychologically lush novel is, Freudenberger is in good company in her venture into the curious alignments among physics, memory, sorrow, and the fate of consciousness after death. There is precedence in physicist and grandly inventive novelist Alan Lightman's Ghost (2007) and Reunion (2003), while in Einstein's Dreams (1993) and Mr g (2012), Lightman translates quantum theory into keenly visualized alternative realities. In her brainy and glimmering novels, Rebecca Newberger Goldstein unites metaphysics, mathematics, physics, and complicated human interactions. The title of Jeanette Winterson's novel Gut Symmetries (1997) is a tease: GUT is the acronym for the holy grail of physics, the grand unified theory. Other stellar physics-laced novels include Richard Powers' A Time of Our Singing (2003); Charmed Particles, by Chrissy Kolaya (2015); and The Last Equation of Isaac Severy, by Nova Jacobs (2018). With daring, zest, insight, wit, and compassion, Lost and Wanted and its kindred novels gracefully and thrillingly bridge the divide between science and art.--Donna Seaman Copyright 2018 Booklist"
From Booklist, Copyright (c) American Library Association. Used with permission.
Publisher's Weekly Review:
"Freudenberger (The Newlyweds) explores the convergence of scientific rationality and spirituality in this stunning portrayal of grief. Helen is an MIT physics professor of some renown-known as much for her accessible science writing as for the theoretical model that bears her name. A single mother by choice, Helen, now in her mid-40s, is shaken to learn of the death of her best friend, Charlie Boyce, a successful screenwriter whom she met when they were undergraduates at Harvard. As Helen grapples with her own regrets about having fallen out of touch with Charlie, she and her seven-year-old son, Jack, become increasingly close with Charlie's husband and five-year-old daughter, Simmi. The children are desperate for a supernatural connection to the deceased; Helen is skeptical-except for the fact that she continues receiving eerily knowing text messages from Charlie's cell phone. Like her narrator, Freudenberger resists the impulse to use science solely as metaphor; indeed, readers will learn a great deal about the LIGO project and its Nobel Prize-winning work with cosmic gravitational waves. The integration of ideas from physics sparks in the reader new ways of thinking about the nature of time and existence as well as, on a less cosmic scale, about human relationships. Helen's journey through grief and understanding illustrates how one person can represent many things to different people at different times, and her story is about grief not only at the loss of her friend but also at the demise of countless possible futures. This is a beautiful and moving novel. (Apr.) © Copyright PWxyz, LLC. All rights reserved."
(c) Copyright PWxyz, LLC. All rights reserved
Additional Information