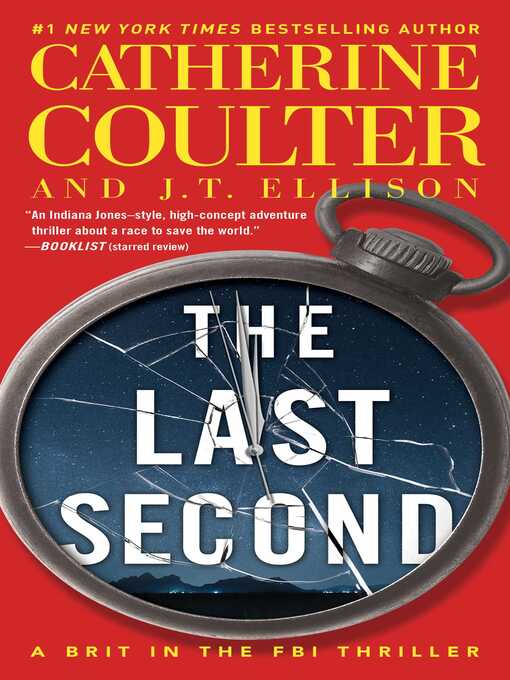 The Last second
Format:

Adobe EPUB ebook

2019

2019

OverDrive Read

Availability:

Unavailable

0 of 1 copy
6 people on waitlist
Summary
From New York Times bestselling authors Catherine Coulter and J.T. Ellison comes a riveting thriller pitting special agents Nicholas Drummond and Michaela Caine against a private French space agency that has the power to end the world as we know it.Galactus, France's answer to SpaceX, has just launched a communications satellite into orbit, but the payload actually harbors a frightening weapon: a nuclear-triggered electromagnetic pulse. When the satellite is in position, Galactus's second-in-command, Dr. Nevaeh Patel, will have the power to lay waste to the world with an EMP. A former astronaut, Patel believes she is following the directions of the Numen, aliens who saved her life when she space-walked outside the International Space Station. She is convinced that with the Holy Grail, just discovered by the owner of Galactus—eccentric treasure hunter Jean-Pierre Broussard—she can be reunited with the Numen, change the world's destiny, and become immortal with them. The countdown has begun when Special Agents Nicholas Drummond and Michaela Caine are thrown into the pending disaster. They must stop the EMP that would wreak havoc on communication and electronic systems on Earth, resulting in chaos and anarchy. With their signature "nonstop action with enough realism to keep you thinking and scare the daylights out of you at the same time" (Suspense Magazine), Coulter and Ellison have created a thriller to take you on a breakneck and breathtaking journey

Contents
Intro; Dedication; Acknowledgments; Prologue; Chapter One; Chapter Two; Chapter Three; Chapter Four; Chapter Five; Chapter Six; Chapter Seven; Chapter Eight; Chapter Nine; Chapter Ten; Chapter Eleven; Chapter Twelve; Chapter Thirteen; Chapter Fourteen; Chapter Fifteen; Chapter Sixteen; Chapter Seventeen; Chapter Eighteen; Chapter Nineteen; Chapter Twenty; Chapter Twenty-One; Chapter Twenty-Two; Chapter Twenty-Three; Chapter Twenty-Four; Chapter Twenty-Five; Chapter Twenty-Six; Chapter Twenty-Seven; Chapter Twenty-Eight; Chapter Twenty-Nine; Chapter Thirty; Chapter Thirty-One Chapter Thirty-TwoChapter Thirty-Three; Chapter Thirty-Four; Chapter Thirty-Five; Chapter Thirty-Six; Chapter Thirty-Seven; Chapter Thirty-Eight; Chapter Thirty-Nine; Chapter Forty; Chapter Forty-One; Chapter Forty-Two; Chapter Forty-Three; Chapter Forty-Four; Chapter Forty-Five; Chapter Forty-Six; Chapter Forty-Seven; Chapter Forty-Eight; Chapter Forty-Nine; Chapter Fifty; Chapter Fifty-One; Chapter Fifty-Two; Chapter Fifty-Three; Chapter Fifty-Four; Chapter Fifty-Five; Chapter Fifty-Six; Chapter Fifty-Seven; Chapter Fifty-Eight; Chapter Fifty-Nine; Chapter Sixty; Chapter Sixty-One Chapter Sixty-TwoChapter Sixty-Three; Chapter Sixty-Four; Chapter Sixty-Five; Chapter Sixty-Six; Chapter Sixty-Seven; Chapter Sixty-Eight; Chapter Sixty-Nine; Chapter Seventy; Chapter Seventy-One; Chapter Seventy-Two; Chapter Seventy-Three; Chapter Seventy-Four; Chapter Seventy-Five; Chapter Seventy-Six; Epilogue I; Epilogue II; About the Authors; Copyright
Published Reviews
Booklist Review:
"Aliens communicating from outer space and a search for the Holy Grail seem the stuff of science fiction, but in the capable hands of Coulter and Ellison, they become an Indiana Jones-style, high-concept adventure thriller about a race to save the world. Brilliant astrophysicist and astronaut Dr. Nevaeh Patel is convinced that when her tether broke on a spacewalk, her life was saved by the Numen, aliens who offer to bring peace to Earth. Enraged over being subsequently grounded by NASA, Patel becomes second-in-command to Galactus, the French equivalent of SpaceX, whose founder, Jean-Pierre Broussard, is consumed with finding the Holy Grail to cure his terminally ill daughter. FBI Agents Michaela (Mike) Caine and Nicholas Drummond, now partners in every sense, become involved when their friend Grant Thornton heads a team to protect Broussard, who may have found the Grail on a sunken ship off the coast of Sumatra. Patel, seeking immortality and reunion with the Numen, wants the Holy Grail, too, as part of her crazed plan to set off a nuclear electromagnetic pulse from a Galactus-launched satellite. Determined to thwart her, the intrepid FBI pair sets out on a chase by air, sea, and land. Nonstop action and a delicious final twist should keep readers from worrying about the over-the-top premise.--Michele Leber Copyright 2019 Booklist"
From Booklist, Copyright (c) American Library Association. Used with permission.
Publisher's Weekly Review:
"Bestsellers Coulter and Ellison venture into SF territory with their seamlessly plotted sixth Brit in the FBI thriller (after 2018's The Sixth Day). When astrophysicist Nevaeh Patel claims that she made contact with an alien species, the Numen, during an EVA (extravehicular activity) outside the International Space Station in 2010, a team of NASA psychiatrists grounds her, and she quits. Fast-forward to 2018, Nevaeh is now a corporate leader at Galactus, a private European aerospace company. Nevaeh has placed a nuclear bomb on a recently launched Galactus satellite that when detonated will set off an electromagnetic pulse to create chaos with worldwide communications systems. This will allow the Numen to come to Earth and take over. In return for her help, the Numen will make Neveah immortal. The suspense builds as FBI special agents Michaela Caine and Nicholas Drummond participate in the effort to prevent this catastrophe. Readers who have no problem accepting the over-the-top scenario will have fun. Agent: Robert Gottlieb, Trident Media Group (Mar.) © Copyright PWxyz, LLC. All rights reserved."
(c) Copyright PWxyz, LLC. All rights reserved
Additional Information