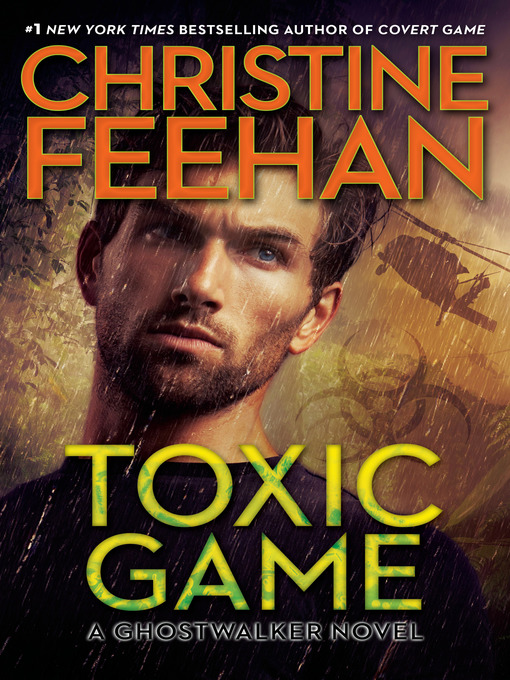 Toxic game
Format:

OverDrive Read

2019.

Adobe EPUB ebook

Kindle Book

Availability:

Unavailable

0 of 6 copies
25 people on waitlist
Summary
#1 New York Times bestselling author Christine Feehan takes readers into the hot zone in this pulse-pounding GhostWalker novel.

On a rescue mission in the heart of the Indonesian jungle, Dr. Draden Freeman and his GhostWalker team need to extract the wounded as quickly as possible--or risk spreading a deadly virus unleashed by a terrorist cell. When Draden gets infected, he forces his team to leave him behind. He won't risk exposing anyone else. He intends to find the ones responsible and go out in a blaze of glory....

Shylah Cosmos's mission is to track the virus and remain unseen. Her enhanced senses tell her that the gorgeous man eradicating the terrorists one by one is a GhostWalker--and his lethal precision takes her breath away. When he's hit by a lucky shot, she can't stop herself from stepping in, not knowing that by saving his life she's exposed herself to the virus.

There's no telling how much time Draden and Shylah have left. Racing to find a cure, they quickly realize that they've found their perfect partner just in time to lose everything. But even as the virus threatens to consume their bodies, they've never felt more alive.
Published Reviews
Booklist Review:
"The fifteenth in Feehan's best-selling psychic GhostWalkers series finds Dr. Draden Freeman, who has some big-cat DNA, paired with Shylah Cosmos, another ""experiment"" whose genetic enhancements include feline and arachnid DNA. Hunting down the terrorists involved in an Ebola-like outbreak in the Indonesian jungle, Draden is hit by a virus-filled dart. He sends his team away so he can to continue to eliminate as many terrorists as possible and stymie their scheme without exposing any innocents to the 100-percent-fatal disease. When Freeman is shot and nearly drowns, however, Shylah rescues him and becomes infected. As they begin to experience symptoms, they combine talents and discover they are passionately compatible in every way as they try to understand the engineered virus and its origins, and stop it from being used. Shylah's abilities to spin her own restraints as they play with bondage is just a teaser for their erotically charged partnership.--Diana Tixier Herald Copyright 2019 Booklist"
From Booklist, Copyright (c) American Library Association. Used with permission.
Additional Information