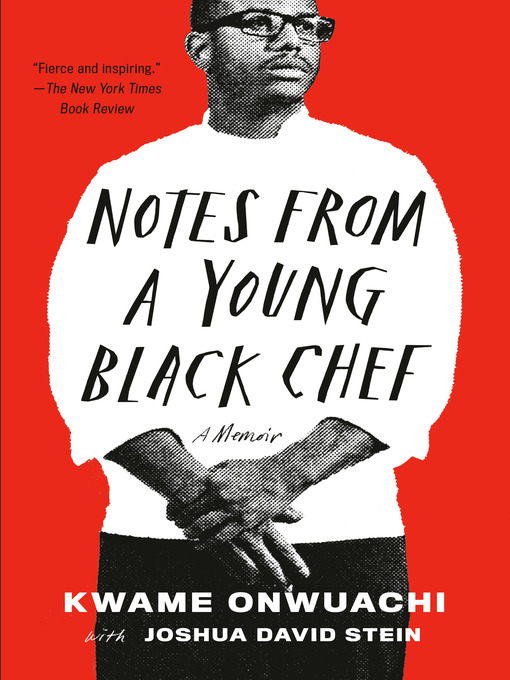 Notes from a young Black chef a memoir
Format:

OverDrive Read

2019.

Adobe EPUB ebook

Kindle Book

Availability:

Unavailable

0 of 8 copies
18 people on waitlist
Summary
"Kwame Onwuachi's story shines a light on food and culture not just in American restaurants or African American communities but around the world." --Questlove

By the time he was twenty-seven years old, Kwame Onwuachi (winner of the 2019 James Beard Foundation Award for Rising Star Chef of the Year) had opened--and closed--one of the most talked about restaurants in America. He had launched his own catering company with twenty thousand dollars that he made from selling candy on the subway, yet he'd been told he would never make it on television because his cooking wasn't "Southern" enough. In this inspiring memoir about the intersection of race, fame, and food, he shares the remarkable story of his culinary coming-of-age.

Growing up in the Bronx, as a boy Onwuachi was sent to rural Nigeria by his mother to "learn respect." However, the hard-won knowledge gained in Africa was not enough to keep him from the temptation and easy money of the streets when he returned home. But through food, he broke out of a dangerous downward spiral, embarking on a new beginning at the bottom of the culinary food chain as a chef on board a Deepwater Horizon cleanup ship, before going on to train in the kitchens of some of the most acclaimed restaurants in the country and appearing as a contestant on Top Chef .

Onwuachi's love of food and cooking remained a constant throughout, even when he found the road to success riddled with potholes. As a young chef, he was forced to grapple with just how unwelcoming the world of fine dining can be for people of color, and his first restaurant, the culmination of years of planning, shuttered just months after opening. A powerful, heartfelt, and shockingly honest story of chasing your dreams--even when they don't turn out as you expected-- Notes from a Young Black Chef is one man's pursuit of his passions, despite the odds.

"This is an astonishing and open-hearted story from one of the next generation's stars of the culinary world. I am so excited to see what the future holds for Chef Kwame--he is a phoenix, rising into better and better things and showing us all what it means to be humble, hungry, and daring." --José Andrés
Contents
Standing on stories
Egusi stew
Dominoes
Ancestors
The block
Gulf state
Finding my craft
CIA man
Blood on the eggshells
From old guard to start up
Angles
The jewel
The lesson.
Published Reviews
Booklist Review:
"The path to success and celebrity in the restaurant world never runs smoothly, and for people of color, that journey can be even more fraught. Top Chef veteran Onwuachi became obsessed with food and cooking at a young age. His Bronx apartment building teemed with immigrants. Whenever he sniffed some new aroma, he'd prowl halls on all floors until he could track down just whose kitchen was concocting such heady perfumes. Raised between New York and Nigeria, his father's homeland, Onwuachi was exposed at an early age to some of the food world's diversity. The Culinary Institute of America gave him a rigorous education. Apprenticing in some of the world's most acclaimed kitchens, he eventually launched a catering business before starting his own restaurant, working his way through several failures before success. Onwuachi concludes each chapter with a recipe, in one case, a straightforward cheesecake; in another, a Nigerian egusi stew summoning ingredients readers will likely have to seek out online or in specialty shops.--Mark Knoblauch Copyright 2019 Booklist"
From Booklist, Copyright (c) American Library Association. Used with permission.
Publisher's Weekly Review:
"Chef and former Top Chef contestant Onwuachi wonderfully chronicles the amazing arc of his life, beginning with his challenging Bronx childhood in the 1990s with his African-American mother and his absentee Nigerian father. As a teen he began dealing drugs, and was later sent to Nigeria to live with his grandfather in order to "get out of my mother's hair." He returned to live with his mother, who had moved to Baton Rouge. There, he learned to cook at a local barbecue restaurant and took a job as a cook on an oil-spill response ship in the Gulf of Mexico; he eventually moved back to New York City, where Tom Colicchio hired him at Craft. In 2016, he opened his restaurant Shaw Bijou in Washington, D.C., which for him represented "years of busting my ass, of constant forward movement, of grasping opportunities manufactured to be beyond my grasp." For his customers, he writes, "I had found a way to convert, through food, not just the warmth and love of my upbringing but also the struggles I'd faced." Onwuachi includes Pan-African recipes throughout, inspired by the flavors of the African continent, the Caribbean, and the U.S., such as egusi stew and chicken and waffles. In the vein of Marcus Samuelsson's Yes, Chef, this is a solid and inspiring memoir. (Apr.) © Copyright PWxyz, LLC. All rights reserved."
(c) Copyright PWxyz, LLC. All rights reserved
Additional Information