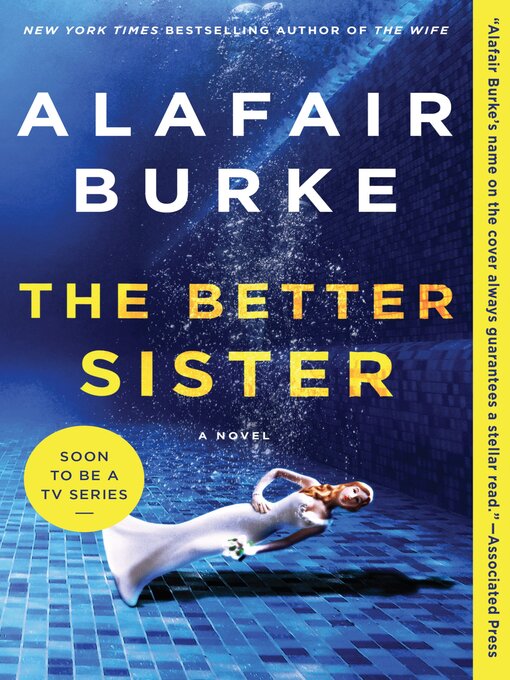 The better sister a novel
Format:

OverDrive Read

2019.

Adobe EPUB ebook

Kindle Book

Availability:

Unavailable

0 of 11 copies
45 people on waitlist
Summary
Recommended by Amazon, Barnes & Noble, Entertainment Weekly, Popsugar, Goodreads, CrimeReads, and BookBub.
Keep your enemies close and your sister closer.
Though Chloe was the younger of the two Taylor sisters, she always seemed to be the one in charge. She was the honor roll student with big dreams and an even bigger work ethic. Nicky--always restless and more than a little reckless--was the opposite of her ambitious little sister. She floated from job to job and man to man, and stayed close to home in Cleveland.
For a while, it seemed that both sisters had found happiness. Chloe earned a scholarship to an Ivy League school and moved to New York City, where she landed a coveted publishing job. Nicky married promising young attorney Adam Macintosh and gave birth to a baby boy they named Ethan. The Taylor sisters became virtual strangers.
Now, more than fifteen years later, their lives are drastically different--and Chloe is married to Adam. When he's murdered by an intruder at the couple's East Hampton beach house, Chloe reluctantly allows her teenage stepson's biological mother--her estranged sister, Nicky--back into her life. But when the police begin to treat Ethan as a suspect in his father's death, the two sisters are forced to unite . . . and to confront the truth behind family secrets they have tried to bury in the past.
Published Reviews
Booklist Review:
"Chloe Taylor, a successful magazine editor famed for kicking off the viral #ThemToo movement, returns from a party honoring her recent Press for the People Award to find the dead body of her husband, Adam. The house has been ransacked, leaving the impression that Adam surprised a burglar, but police zero in on Chloe's stepson, Ethan, who had a strained relationship with his father. Bad turns to worse when the detectives contact Ethan's biological mother: Chloe's sister, Nicky. They haven't spoken in 15 years, not since Chloe supported Adam in having Nicky committed to a psychiatric hospital, and then married Adam after his divorce. The meeting between the sisters is awkward, to say the least, but soon Chloe is shocked at Nicky's transformation from dangerously dysfunctional alcoholic to an indispensable ally in Ethan's defense. As Chloe begins questioning Adam's version of her sister's downward spiral, she discovers another motive: Adam, a corporate lawyer, was informing the FBI on his clients' misdeeds. Boasting Burke's trademark blend of everywoman investigations mixed with courtroom drama, this twisty thriller is destined to become a vacation-reading favorite.--Christine Tran Copyright 2010 Booklist"
From Booklist, Copyright (c) American Library Association. Used with permission.
Publisher's Weekly Review:
"Fourteen years before the present day of this mesmerizing domestic thriller from bestseller Burke (The Wife), Chloe Taylor helped her brother-in-law, Adam Macintosh, defeat her rebellious older sister, Nicky, in their custody battle over the couple's two-year-old son, Ethan. Four years later, Chloe married Adam and became Ethan's stepmother. Now, Nicky lives alone in Ohio, selling jewelry on Etsy, while 41-year-old Chloe lives with 47-year-old Adam and 16-year-old Ethan in New York City, working as editor-in-chief of Eve magazine. When someone kills Adam in the family's East Hampton vacation home, Chloe's biggest fear is that the court will grant Nicky guardianship of Ethan. Then the police arrest Ethan for the murder, compelling the estranged siblings to work together to solve Adam's murder and exonerate their son. As Chloe investigates Adam's final months, she contemplates her career, performs a marital post-mortem, and reflects on the personal cost of professional success. Meanwhile, Nicky has her own agenda. Burke paints a poignant portrait of sisterhood and sacrifice with this twist-riddled, character-driven whodunit. Author tour. Agent: Philip Spitzer, Philip Spitzer Literary. (Apr.) © Copyright PWxyz, LLC. All rights reserved."
(c) Copyright PWxyz, LLC. All rights reserved
Additional Information