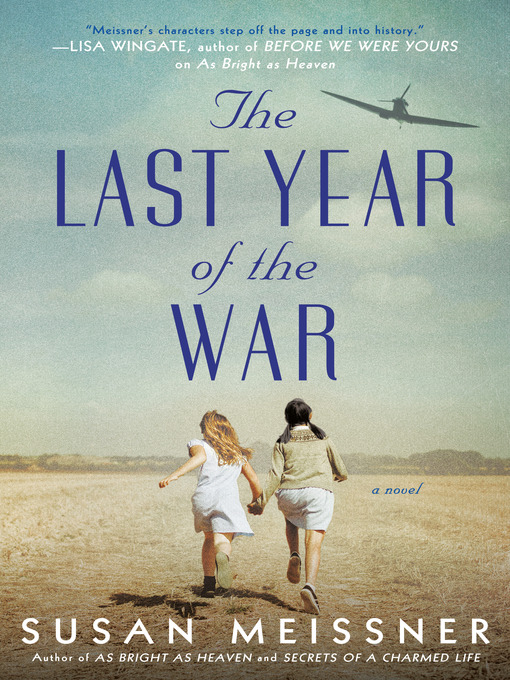 The last year of the war
Format:

Kindle Book

2019

2019

Adobe EPUB ebook

OverDrive Read

Availability:

Unavailable

0 of 5 copies
16 people on waitlist
Summary
Iowa, 1943. Elise Sontag's father, a legal U.S. resident for nearly two decades, is arrested on suspicion of being a Nazi sympathizer, and the family is sent to an internment camp in Texas. Behind the armed guards and barbed wire, Elise feels stripped of everything beloved and familiar, including her own identity. The only thing that makes the camp bearable is fellow internee Mariko Inoue, a Japanese-American teen from Los Angeles, whose friendship empowers Elise to believe the life she knew before the war will again be hers. When the Sontag family is exchanged for American prisoners behind enemy lines in Germany, will Elise be able to rise above prejudice and hatred and re-claim her own destiny? -- adapted from publisher's info

Published Reviews
Booklist Review:
"Elise Sontag is American, but when WWII breaks out, the fact that her parents are German immigrants trumps that. Soon Elise and her family are sent to Crystal City, an internment camp in the Texas desert. Though there are unspoken divisions between prisoners of German and Japanese descent, Elise befriends Mariko, a fellow first-generation American with a vivid imagination. The two lose touch when their families are repatriated, and the focus shifts to Elise struggling to adjust to life in Germany, where she faces a language barrier and bombings in equal measures. The story is driven by present-day Elise, struggling to make a connection before she loses her memories to Alzheimer's. Meissner (As Bright as Heaven, 2018) gently explores a little-known aspect of American internment camps: things are hot and unpleasant, but there is plenty of food and friendship among the German and Japanese prisoners. Despite the hardships she endures, Elise remains optimistic and open to love, which comes from an unexpected place after the war. A heartbreaking, thought-provoking work of historical women's fiction.--Susan Maguire Copyright 2019 Booklist"
From Booklist, Copyright (c) American Library Association. Used with permission.
Publisher's Weekly Review:
"Meissner's propulsive latest (after As Bright as Heaven) is the story of a teenage German-American girl sent to an American internment camp near the end of WWII, where she's befriended by a Japanese-American girl. The friendship lasts only 18 months, because Elise Sontag; her brother, Max; and her German-born parents-torn first from their lives in Iowa and then from a Texas compound called Crystal City-are repatriated to Germany before the final bombings. The girls quickly lose touch, but at age 81, Elise remembers Mariko Inoue, who had been relocated to Crystal City from California with her siblings and Japanese parents, and eventually repatriated to Japan. The elderly Elise relives the depth of her brief friendship with Mariko ("I'm a different person for having known her"), submerging readers in those memories and in recollections of the terrifying 1945 carpet bombings in Germany and suffering heartbreaking losses during her teen years. Saved by marriage to a wealthy American who brings her back to the U.S., Elise nevertheless holds the memory of her friend close throughout the following decades and becomes determined to locate Mariko one last time. Vivid historical detail and elegant prose bolster this rewarding story of profound friendship, family, fear, and the pain that arose for American-born children of immigrant parents. (Mar.) © Copyright PWxyz, LLC. All rights reserved."
(c) Copyright PWxyz, LLC. All rights reserved
Additional Information