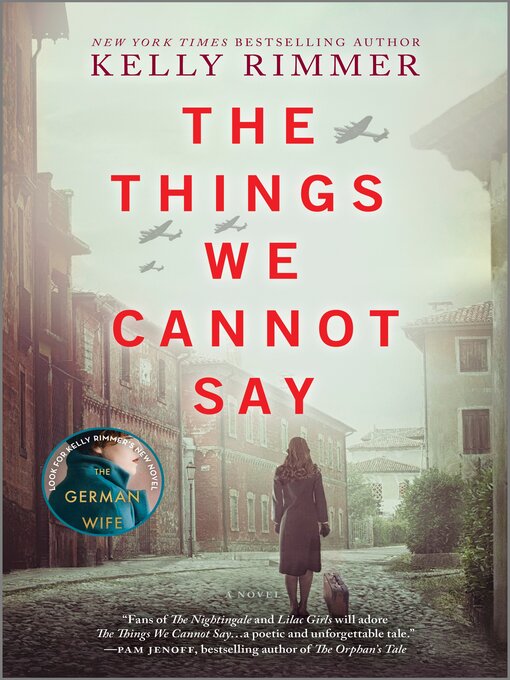 The things we cannot say
Format:

Kindle Book

2019

2019

Adobe EPUB ebook

OverDrive Read

Availability:

Unavailable

0 of 18 copies
87 people on waitlist
Summary
Now a New York Times bestseller!From the author of Truths I Never Told You and Before I Let You Go, Kelly Rimmer's powerful WWII novel follows a woman's urgent search for answers to a family mystery that uncovers truths about herself that she never expected."Kelly Rimmer has outdone herself. I thought that Before I Let You Go was one of the best novels I had ever read...If you only have time to read one book this year The Things We Cannot Say should be that book. Keep tissues handy."—Fresh Fiction"Fans of The Nightingale and Lilac Girls will adore The Things We Cannot Say." —Pam Jenoff, New York Times bestselling authorIn 1942, Europe remains in the relentless grip of war. Just beyond the tents of the Russian refugee camp she calls home, a young woman speaks her wedding vows. It's a decision that will alter her destiny...and it's a lie that will remain buried until the next century.Since she was nine years old, Alina Dziak knew she would marry her best friend, Tomasz. Now fifteen and engaged, Alina is unconcerned by reports of Nazi soldiers at the Polish border, believing her neighbors that they pose no real threat, and dreams instead of the day Tomasz returns from college in Warsaw so they can be married. But little by little, injustice by brutal injustice, the Nazi occupation takes hold, and Alina's tiny rural village, its families, are divided by fear and hate.Then, as the fabric of their lives is slowly picked apart, Tomasz disappears. Where Alina used to measure time between visits from her beloved, now she measures the spaces between hope and despair, waiting for word from Tomasz and avoiding the attentions of the soldiers who patrol her parents' farm. But for now, even deafening silence is preferable to grief.Slipping between Nazi-occupied Poland and the frenetic pace of modern life, Kelly Rimmer creates an emotional and finely wrought narrative. The Things We Cannot Say is an unshakable reminder of the devastation when truth is silenced...and how it can take a lifetime to find our voice before we learn to trust it.

Published Reviews
Booklist Review:
"In Nazi-occupied Poland, Alina and her parents struggle to survive after her brothers are sent to work camps and strict rationing is enforced. Alina's fiancé, Tomasz, is at college in Warsaw, but as the years of the occupation tick by and she hears no word from him, she begins to worry that they will never reunite and escape Poland to realize their dream of a better life. Interspersed with these chapters is the present-day story of Alice, a wife and mother struggling with marital woes and a special-needs son, who at the behest of her beloved, dying grandmother takes a trip to Poland and uncovers an 80-year-old family secret. Though Alice's family troubles should seem insignificant compared to Alina's suffering, Rimmer (Before I Let You Go, 2018) gives each story line the space to develop organically, resulting in concluding chapters that tie the two women's stories together in an extremely moving fashion. Fans of Kristin Hannah's The Nightingale (2015) and Pam Jenoff's The Orphan's Tale (2017) will enjoy this absorbing, emotional tale of love, heartbreak, and resilience.--Martha Waters Copyright 2019 Booklist"
From Booklist, Copyright (c) American Library Association. Used with permission.
Additional Information