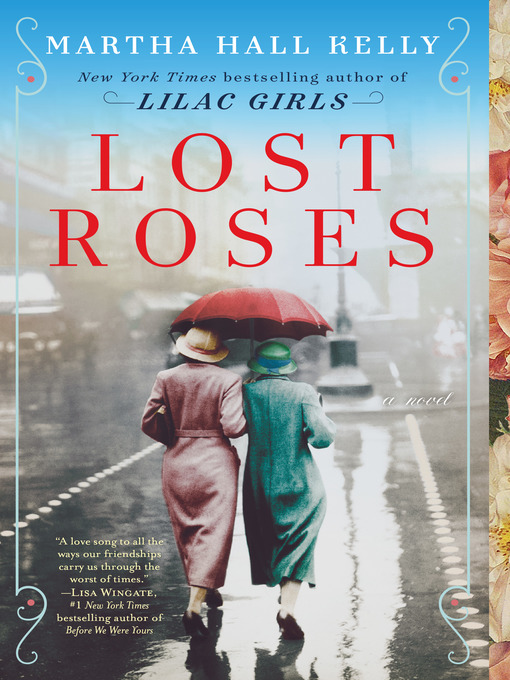 Lost roses a novel
Format:

Kindle Book

2019

2019

Adobe EPUB ebook

OverDrive Read

Availability:

Available from OverDrive

4 of 33 copies
4 people on waitlist
Summary
"It is 1914 and the world has been on the brink of war so many times, many New Yorkers treat the subject with only passing interest. Eliza Ferriday is thrilled to be traveling to St. Petersburg with Sofya Streshnayva, a cousin of the Romanovs. The two met years ago one summer in Paris and became close confidantes. Now Eliza embarks on the trip of a lifetime, home with Sofya to see the splendors of Russia. But when Austria declares war on Serbia and Russia's Imperial dynasty begins to fall, Eliza escapes back to America, while Sofya and her family flee to their country estate. In need of domestic help, they hire the local fortuneteller's daughter, Varinka, unknowingly bringing intense danger into their household. On the other side of the Atlantic, Eliza is doing her part to help the White Russian families find safety as they escape the revolution. But when Sofya's letters suddenly stop coming she fears the worst for her best friend. From the turbulent streets of St. Petersburg to the avenues of Paris and the society of fallen Russian émigrés who live there, the lives of Eliza, Sofya, and Varinka will intersect in profound ways, taking readers on a breathtaking ride through a momentous time in history"--

Published Reviews
Booklist Review:
"Kelly is back with another epic tale of three women's lives overlapping against the backdrop of history, this time a generation earlier than and starring the mother of a heroine from her debut, The Lilac Girls (2017). The setting is WWI and the Russian Revolution; the stories are inspired by true events. New Yorker Eliza Ferriday returns home when her tour of Russia with her school friend Sofya Streshnayva, a cousin of the Romanovs, is cut short by the outbreak of war in Europe. Sofya's family retires to their country estate to wait out the troubles, while Eliza works to find refuge and employment for displaced Russians in America. Sofya hires a local peasant girl, Varinka, to help with her small son, unaware of the danger that Varinka's revolutionary connections pose to her family. Kelly's gift is bringing to life and to light the untold stories of women and families far away from the war front yet deeply affected by the decisions of leaders and the efforts of fighters. Fans of historical fiction like the works of Marie Benedict and Lisa See, and viewers of period dramas, will want to clear their calendars when Lost Roses comes out.--Alene Moroni Copyright 2010 Booklist"
From Booklist, Copyright (c) American Library Association. Used with permission.
Publisher's Weekly Review:
"How Caroline Ferriday, the real-life character featured in Kelly's Lilac Girls, was inspired to become an advocate for Polish refugees who survived WWII comes to light in this lively, well-researched prequel in which she appears as a child. Here the story focuses on her mother, Eliza, who set an example for her daughter by being a champion for Russian nobility brutalized during WWI. Just as the author focused on three strong women surviving a war in her previous novel, she does the same here: in addition to Eliza, there is her aristocrat friend Sofya Streshnayva (cousin to the tsar) and a Russian peasant girl, Varinka. The author follows the trajectory of their lives from 1914 through WWI and then the Russian Revolution and its aftermath with page-tuning brio. Interweaving three story lines (Varinka ends up working for the Streshnayva household) where all three are emotionally and physically put to the test, the author depicts Eliza's upper-class life in America and how, despite personal loss, she throws herself into helping Russian emigres; Sofya's tragic circumstances when a rowdy, dangerous mob takes over the family's country home; and Varinka's struggles as a peasant girl at the mercy of a man who is both abusive and protective toward her. Some story lines strain credibility (coincidences and melodramatic cliffhangers abound) or are questionable (the prurient element involved with Varinka's protector/abuser falls flat). Nevertheless, Kelly memorably portrays three indomitable women who triumph over hardships and successfully brings a complex and turbulent time in history to life. (Apr.) © Copyright PWxyz, LLC. All rights reserved."
(c) Copyright PWxyz, LLC. All rights reserved
Additional Information