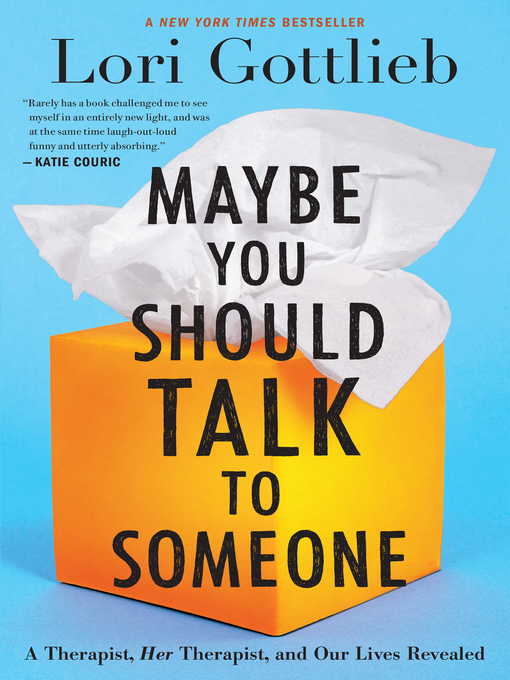 Maybe you should talk to someone a therapist, HER therapist, and our lives revealed
Format:

OverDrive Read

2019.

Adobe EPUB ebook

Kindle Book

Availability:

Unavailable

0 of 43 copies
246 people on waitlist
Summary
INSTANT NEW YORK TIMES BESTSELLER!

Now being developed as a television series with Eva Longoria and ABC!

"Rarely have I read a book that challenged me to see myself in an entirely new light, and was at the same time laugh-out-loud funny and utterly absorbing."--Katie Couric

"This is a daring, delightful, and transformative book."-- Arianna Huffington, Founder, Huffington Post and Founder & CEO, Thrive Global

"Wise, warm, smart, and funny. You must read this book."-- Susan Cain, New York Times best-selling author of Quiet

From a New York Times best-selling author, psychotherapist, and national advice columnist, a hilarious, thought-provoking, and surprising new book that takes us behind the scenes of a therapist's world--where her patients are looking for answers (and so is she).

One day, Lori Gottlieb is a therapist who helps patients in her Los Angeles practice. The next, a crisis causes her world to come crashing down. Enter Wendell, the quirky but seasoned therapist in whose of­fice she suddenly lands. With his balding head, cardigan, and khakis, he seems to have come straight from Therapist Central Casting. Yet he will turn out to be anything but.

As Gottlieb explores the inner chambers of her patients' lives -- a self-absorbed Hollywood producer, a young newlywed diagnosed with a terminal illness, a senior citizen threatening to end her life on her birthday if nothing gets better, and a twenty-something who can't stop hooking up with the wrong guys -- she finds that the questions they are struggling with are the very ones she is now bringing to Wendell.

With startling wisdom and humor, Gottlieb invites us into her world as both clinician and patient, examining the truths and fictions we tell ourselves and others as we teeter on the tightrope between love and desire, meaning and mortality, guilt and redemption, terror and courage, hope and change.

Maybe You Should Talk to Someone is rev­olutionary in its candor, offering a deeply per­sonal yet universal tour of our hearts and minds and providing the rarest of gifts: a boldly reveal­ing portrait of what it means to be human, and a disarmingly funny and illuminating account of our own mysterious lives and our power to transform them.
Published Reviews
Booklist Review:
"Therapists' private lives tend to take a backseat to their patients', but here Gottlieb (Marry Him, 2010) lifts the therapeutic veil and invites readers into her personal struggles of having a mystifying "wandering uterus" and a boyfriend who unceremoniously declares that he doesn't want to help raise her young child, let alone any other possible children. This would be interesting fodder enough, but Gottlieb plunges further into the psychological depths as she discloses how therapists keep each other honest by discussing their cases in an almost AA-like fashion. Additionally, she shares some of her clients' stories (anonymously, of course), like that of "Julie," who is dying and won't live past 35, or "Rita," who regrets not protecting her children from their alcoholic father. The coup de grace, though, is Gottlieb's vulnerability when she tackles her emotional issues in sessions with her own therapist. Some readers will know Gottlieb from her many TV appearances or her Dear Therapist column, but even for the uninitiated-to-Gottlieb, it won't take long to settle in with this compelling read.--Joan Curbow Copyright 2019 Booklist"
From Booklist, Copyright (c) American Library Association. Used with permission.
Publisher's Weekly Review:
"Gottlieb (Marry Him) provides a sparkling and sometimes moving account of her work as a psychotherapist, with the twist that she is in therapy herself. Interspersing chapters about her experiences as a patient with others about her work, she explains, "We are mirrors reflecting mirrors reflecting mirrors, showing one another what we can't yet see." By exploring her own struggles alongside those of her patients, Gottlieb simultaneously illuminates what it's like to be in and to give therapy. As she observes, "Everything we therapists do or say or feel as we sit with our patients is mediated by our histories; everything I've experienced will influence how I am in any given session at any given hour." From "John," a successful TV producer who has walled himself away from other people, to "Julie," who has a terminal illness and is struggling to find her way through her life's closing chapters, Gottlieb portrays her patients, as well as herself as a patient, with compassion, humor, and grace. For someone considering but hesitant to enter therapy, Gottlieb's thoughtful and compassionate work will calm anxieties about the process; for experienced therapists, it will provide an abundance of insights into their own work. (Apr.) © Copyright PWxyz, LLC. All rights reserved."
Additional Information