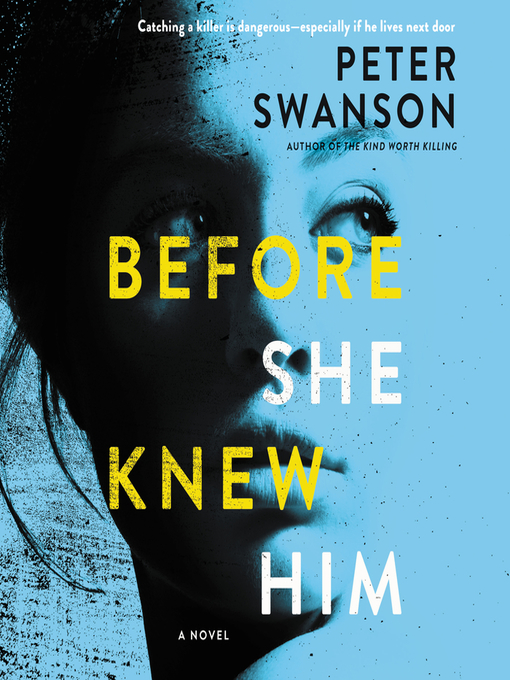 Before she knew him a novel
Format:

OverDrive MP3 Audiobook

2019

2019

OverDrive Listen

Availability:

Available from OverDrive

2 of 5 copies
Summary
From the hugely talented author of The Kind Worth Killing--the hair-raising tale of a young suburban wife who believes a killer is living right next door. And fears only the next murder, maybe her own, will make everyone believe her.

Published Reviews
Booklist Review:
"What would happen if a serial killer met the perfect confidant, someone who would never be believed if they revealed his or her secrets? Nothing good. Hen and Lloyd Mazur's move to the suburbs is meant to be a fresh start; Hen has recently been released from a psychiatric hospital after a manic episode sparked a dangerous obsession with the murder of her neighbor, Dustin Scott. Their first dinner with new neighbors Matthew and Mira Dolamore is going smoothly until Hen recognizes a fencing trophy in Matthew's office that she knows was taken from Scott's murder scene. Certain that Matthew is Scott's killer, Hen begins following him and soon wins a hollow victory when she witnesses him killing another man. Matthew, however, has seen her, too, and confident that Hen's mental-health challenges make her an unreliable witness he seizes the opportunity to unburden himself. Instead of relieving pressure, though, this dangerous connection sends Matthew spiraling out of control, leaving only Hen to stop him. Swanson has crafted another bar-raising psychological thriller with this tense, unexpected spin on serial killers and those obsessed with them.--Christine Tran Copyright 2010 Booklist"
From Booklist, Copyright (c) American Library Association. Used with permission.
Publisher's Weekly Review:
"At the start of this exceptional psychological thriller from Swanson (All the Beautiful Lies), bipolar Hen "Henrietta" Mazur and her husband, Lloyd Harding, have dinner one night at the suburban Boston home of neighbors Mira and Matt Dolamore, with whom they've recently bonded over their mutual childlessness. At one point, Hen spots a fencing trophy on their hosts' fireplace mantel that she believes was won by Dustin Miller, a college student who was murdered two years earlier and who attended the high school where Matt teaches history. Matt claims that he bought the trophy at a yard sale, but Hen, who's become obsessed with Dustin's case, suspects that Matt killed Dustin. The next day, when she visits the Dolamores, the trophy is missing, reinforcing her suspicions. However, Hen gets little support from Lloyd or the police because of her history of mental health problems and of falsely accusing others of murder. An uneasy relationship soon develops between Hen and Matt, whose traumatic childhood adds emotional heft to the narrative. Surprising twists help keep the suspense high to the end. Agent: Nat Sobel, Sobel Weber Assoc. (Mar.) © Copyright PWxyz, LLC. All rights reserved."
(c) Copyright PWxyz, LLC. All rights reserved
Additional Information
Subjects
Literature
Thriller
Suspense
Fiction
Suspense fiction.
Audiobooks.

Publisher

[Place of publication not identified] :HarperAudio2019




2019



Edition
First Edition.
Contributors
OverDrive, Inc.

Participants/Performers

Read by Sophie Amoss.



Language

English



System Details

Mode of access: World Wide Web.




Format: OverDrive Listen




Format: OverDrive MP3 Audiobook




Requires OverDrive app 3.0 (Windows) / 1.0 (Mac) / 1.0 (Windows Mobile)



Description

1 audio file : digital



ISBN
9780062838186
9780062838186

Other
Classic View