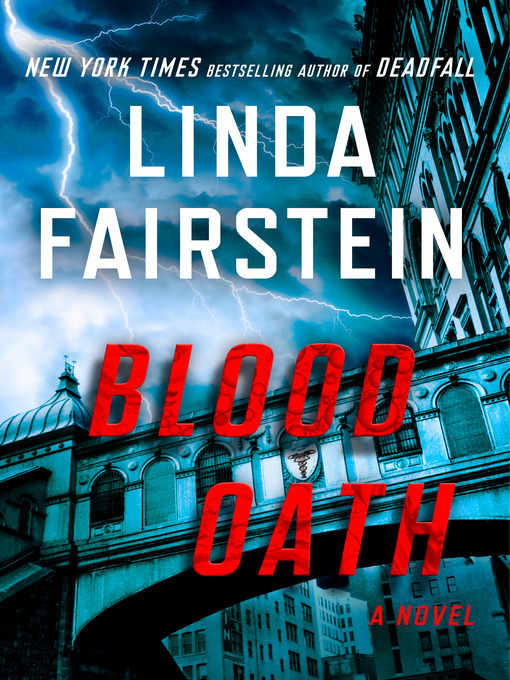 Blood oath a novel
Format:

Adobe EPUB ebook

2019

2019

OverDrive Read

Availability:

Available from OverDrive

5 of 6 copies
Summary
"New York Times bestselling author Linda Fairstein explores the depths of Manhattan's secretive Rockefeller University in this timely, captivating thriller about the deep--and often deadly--reverberations of past sins. Assistant DA Alexandra Cooper of the Manhattan Sex Crimes Unit is finally back at work following a leave of absence, and not a moment too soon. With more women feeling empowered to name their abusers, Alex is eager to return to the courtroom to do what she does best. But even she can't anticipate the complexity of her first case when she meets Lucy, a young woman who testified years earlier at a landmark federal trial. and now reveals that she was sexually assaulted by a prominent official during that time. Yet Lucy's isn't the only secret Alex must uncover, with rumors swirling about one colleague's abusive conduct behind closed doors and another's violent, mysterious collapse. As the seemingly disparate cases of her client, adversary, and friend start to intertwine, Alex, along with NYPD detectives Mike Chapman and Mercer Wallace, finds herself in uncharted territory within Manhattan's Rockefeller University, a premier research institute, hospital, and cornerstone of higher learning. But not even the greatest minds in the city can help her when unearthed secrets begin to collide in dangerous ways. and unless she can uncover the truth, the life-saving facility just may become her grave"--

Published Reviews
Booklist Review:
"Alex Cooper returns to work as head of the Manhattan Sex Crimes Unit after her mentor Paul Battaglia's murder (in Deadfall, 2017), and is greeted by a political maelstrom of attorneys jockeying to fill the DA power vacuum. Alex's determination to avoid the fray is thwarted by a new case: Lucy Jenner reveals that when she was 14 and the star witness in a highly publicized trial, she was raped by a federal prosecutor. Zachary Jake Palmer used his role to groom and, finally, assault her, forcing her to take a blood oath of silence. Now, Palmer is making a heavy-handed bid for the DA's office. As Alex painstakingly works to corroborate Lucy's recollections, her public-defender friend, Frances Fain, is poisoned. Alex discovers a link between Jenner and Fain but may be too late to stop a killer from silencing all three of them. A fast-paced battle of wits leading to a hair-raising climax in NYC's Rockefeller University medical research facility; series fans will get what they came for here.HIGH-DEMAND BACKSTORY: Fairstein is an A-lister with a proven track record for sales and for accumulating library reserves.--Christine Tran Copyright 2010 Booklist"
From Booklist, Copyright (c) American Library Association. Used with permission.
Publisher's Weekly Review:
"Manhattan sex crimes prosecutor Alex Cooper has no time to ease back into her routine after being kidnapped and witnessing the assassination of her boss in 2017's Deadfall, in bestseller Fairstein's 20th series legal thriller, notable for its focus on how to prove a rapist's guilt. When 24-year-old Lucy Jenner is arrested in Brooklyn on an outstanding Manhattan warrant, Alex's lover, NYPD Det. Mike Chapman, has the job of bringing Lucy to Alex's office. At the Brooklyn precinct, Lucy freaked out after seeing a photograph on the wall, and Alex manages to elicit from her that one of the men in that photo raped her many years earlier, a crime that Lucy had reported to the police, who failed to follow up. Despite warnings from Lucy's aunt that she's unreliable and manipulative, Alex finds Lucy's account and her identification of a powerful man as her assailant credible. A murder subplot and some plot contrivances are unnecessary in this otherwise solid entry. Fairstein's vast experience of working as a pioneer in sex crimes investigations enables her to make Alex's efforts both plausible and fascinating. Five-city author tour. Agent: Esther Newberg, ICM. (Mar.) © Copyright PWxyz, LLC. All rights reserved."
(c) Copyright PWxyz, LLC. All rights reserved
Additional Information