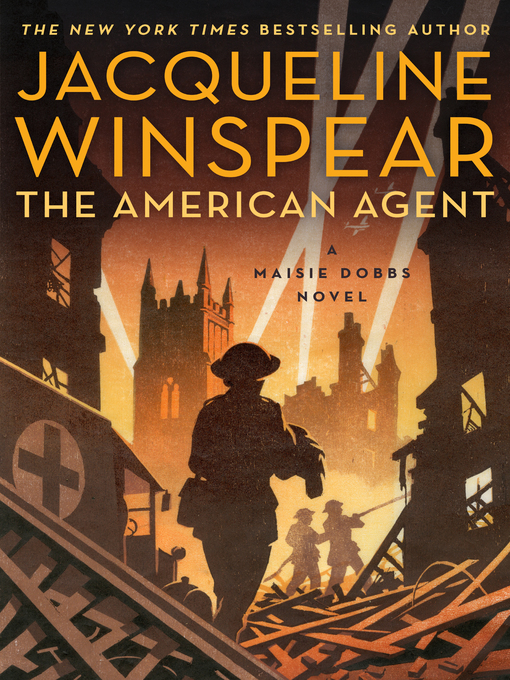 The American agent a Maisie Dobbs novel
Format:

Kindle Book

2019

2019

Adobe EPUB ebook

OverDrive Read

Availability:

Available from OverDrive

8 of 10 copies
Summary
When Catherine Saxon, an American correspondent reporting on the war in Europe, is found murdered in her London digs, news of her death is concealed by British authorities. Serving as a linchpin between Scotland Yard and the Secret Service, Robert MacFarlane pays a visit to Maisie Dobbs, seeking her help. He is accompanied by an agent from the US Department of Justice--Mark Scott, the American who helped Maisie get out of Hitler's Munich in 1938. MacFarlane asks Maisie to work with Scott to uncover the truth about Saxon's death. As the Germans unleash the full terror of their blitzkrieg upon the British Isles, raining death and destruction from the skies, Maisie must balance the demands of solving this dangerous case with her need to protect Anna, the young evacuee she has grown to love and wants to adopt. Entangled in an investigation linked to the power of wartime propaganda and American political intrigue being played out in Britain, Maisie will face losing her dearest friend--and the possibility that she might be falling in love again.

Published Reviews
Booklist Review:
"The London blitz is the backdrop to Winspear's latest as the inimitable Maisie Dobbs investigates the death of Catherine Saxon, an intrepid American journalist determined to document wartime Britain's hardships for the folks back home. Saxon and Dobbs are kindred spirits both struggle to make it in a man's world, and both are putting a brave face on their recovery from heartbreak. Dobbs' hunt for the killer, aided by the dashing agent of the book's title, is a lesson in English gentility; Winspear also offers an intriguing view of the WWII propaganda machine that sought to convince Americans to join the fray. The historical descriptions are sometimes stiff, as when characters discuss at length conditions that the other party in the conversation would already know about, but, overall, this is an immersive tale of wartime grit and grief. Fans of the series won't be disappointed; the book can also cross over to historical-mystery buffs and devotees of British detective shows.--Henrietta Verma Copyright 2019 Booklist"
From Booklist, Copyright (c) American Library Association. Used with permission.
Publisher's Weekly Review:
"As a volunteer ambulance driver in London in 1940, Maisie Dobbs aids the victims of the German blitz, in bestseller Winspear's excellent 15th novel featuring the psychologist/investigator (after 2018's To Die But Once). One night while on duty, she meets American journalist Catherine Saxon, who reports on the horrors of the blitz for radio listeners in the U.S. Maisie enjoys the company of the effervescent American, who unfortunately is found murdered in her flat the next morning. When Scotland Yard enlists Maisie's help in solving the case, she's reunited with Mark Scott, an American agent with whom she once had a brief flirtation in Munich. As the number of suspects in Catherine's murder increases, Maisie's romantic feelings grow for Mark, who's also investigating the American ambassador to the U.K., Nazi sympathizer Joseph P. Kennedy. Meanwhile, Maisie seeks to adopt a war orphan. In Winspear's capable hands, Maisie has evolved into a deeply sympathetic character. Readers will eagerly await her next outing. Agent: Amy Rennert, Amy Rennert Agency. (Mar.) © Copyright PWxyz, LLC. All rights reserved."
(c) Copyright PWxyz, LLC. All rights reserved
Additional Information