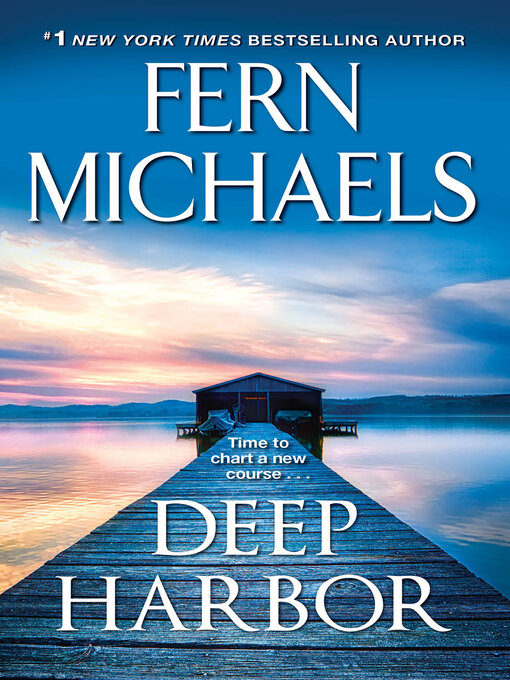 Deep Harbor
Format:

Kindle Book

2019

2019

Adobe EPUB ebook

OverDrive Read

Availability:

Available from OverDrive

5 of 8 copies
Summary
In this stirring new novel, acclaimed #1 New York Times bestselling author Fern Michaels delves into the remarkable ways in which moments of crises can lead to our greatest acts of courage . . . When Carol Ann "CJ" Jansen lost her beloved older brother, Kick, in a boating accident, she came adrift. Kick had taken on the role of caring for his little sister after their parents were killed in a car crash. Inheriting half his fortune has left CJ financially secure—yet needing a purpose. As administrative assistant to powerful congressman Snapper Lewis, she's immersed herself in the exciting and often tumultuous world of politics. But suddenly, the career that anchors her life is threatened. CJ stumbles upon information that could implicate her boss in corruption. When the congressman dies of an apparent suicide, the closer CJ gets to uncovering the truth, exposing one shocking secret after another, the more she wonders if she's also in jeopardy. Moving to a small New England town for her own protection, CJ gradually begins to engage with her new surroundings. Her blossoming friendship with the owner of a charter fishing boat offers the promise of much more. But before she can claim happiness, CJ must navigate a course through all her doubts and fears, and trust that this time, the water that took so much from her might just lead her safely home . . .

Published Reviews
Booklist Review:
"CJ Jansen's life has been defined by tragedy, having lost her parents in a car crash at a young age and then, at 29, experiencing the sudden death of her older brother, Kick, in a boating accident. Kick was her entire world, and even though she has inherited his millions and is financially secure, CJ is completely alone, with the exception of Kick's partner, Colin, who remains a good friend. To avoid her loneliness, she throws herself into her work for the powerful congressman, Snapper Lewis, who has become a father figure for her. When Snapper dies and his death is ruled a suicide, CJ can't believe he would take his own life and starts digging for the truth. After uncovering information that puts her life in danger, she enters into witness protection and relocates to a small New England town, where she discovers new friends, romance, and herself. This stand-alone book is a warm-hearted, romantic story with a touch of suspense and carries Michael's (Sweet Vengeance, 2018) trademark funny, snappy banter.--Margaret Howard Copyright 2010 Booklist"
From Booklist, Copyright (c) American Library Association. Used with permission.
Publisher's Weekly Review:
"Michaels creatively combines suspense and romance as the chief of staff to a D.C. congressman learns that her boss has killed himself under suspicious circumstances. CJ Jansen has worked for Congressman Snapper Lewis ever since she graduated from college 12 years ago. When police find Snapper's body in his parked car underneath his office building, they inform CJ that he has committed suicide. Unwilling to believe this and thinking that his death might be related to the man he recently argued with, CJ enlists the help of Colin Kelly, the former life partner of her dead brother. Together CJ and Colin discover that Snapper had hidden assets, and they seek the help of the FBI. As CJ gets closer to uncovering Snapper's secrets, she has a car accident that may be the result of foul play. Forced into witness protection in Boothbay Harbor, Maine, CJ meets Derek Wellington, owner of a fishing boat business. The romance with Derek is sweet and sexy, building trust atop mutual attraction. Michaels's highly developed skills as a storyteller are evident in the affable characters, suspenseful plot, and delightful romance. (Apr.) © Copyright PWxyz, LLC. All rights reserved."
(c) Copyright PWxyz, LLC. All rights reserved
Additional Information