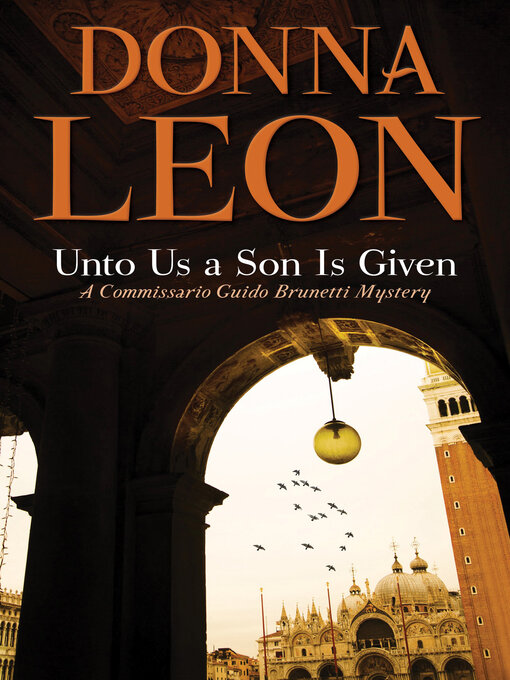 Unto us a son is given
Format:

Kindle Book

2019

2019

Adobe EPUB ebook

OverDrive Read

Availability:

Available from OverDrive

3 of 5 copies
Summary
"Your situation is always ambiguous, isn't it, Guido?", his father-in-law, Count Orazio Falier, observes of Donna Leon's soulful detective, Guido Brunetti, at the beginning of her superb 28th Brunetti novel, Unto Us A Son Is Given. "The world we live in makes that necessary," Brunetti presciently replies. Count Falier was urging his Venetian son-in-law to investigate, and preferably intervene in, the seemingly innocent plan of the Count's best friend, the elderly Gonzalo Rodríguez de Tejada, to adopt a much younger man as his son. Under Italian inheritance laws this man would then be heir to Gonzalo's entire fortune, a prospect Gonzalo's friends find appalling. For his part, Brunetti wonders why the old man, a close family friend, can't be allowed his pleasure in peace. And yet, what seems innocent on the Venetian surface can cause tsunamis beneath. Gonzalo unexpectedly, and literally, drops dead on the street, and one of his friends just arrived in Venice for the memorial service, is strangled in her hotel room—having earlier sent Gonzalo an email saying "We are the only ones who know you cannot do this," referring to the adoption. Now with an urgent case to solve, Brunetti reluctantly untangles the long-hidden mystery in Gonzalo's life that ultimately led to murder—a resolution that brings him way more pain than satisfaction. Once again, Donna Leon brilliantly plumbs the twists and turns of the human condition, reuniting us with some of crime fiction's most memorable and enduring characters.

Published Reviews
Booklist Review:
"*Starred Review* Once again, Leon transforms what might have been a straightforward mystery into something much richer and more resonant in this case, a meditation on love, loss, family, and prejudice. When Venice police commissario Guido Brunetti is asked by his father-in-law to investigate the young man whom a close family friend, 85-year-old Gonzalo Rodriguez de Tejada, plans to legally adopt and thus, according to Italian law, make the sole heir to Gonzalo's considerable wealth Brunetti is taken aback. What business is it of his or anyone's to interfere with Gonzalo's plans? And, yet, there are concerns that Gonzalo, who is gay, is being taken advantage of by the younger man, with whom Gonzalo appears smitten. Would Gonzalo's friends and family make the same assumptions if Gonzalo were heterosexual, Brunetti wonders, prompting him to doubt his own assumed freedom from prejudice. When Gonzalo dies suddenly of a cerebral hemorrhage, and his oldest friend, in Venice to organize a memorial, is murdered shortly thereafter, Brunetti is forced to investigate the crime, knowing that even finding the killer can never lessen the human tragedy that stands behind it. Many crime novels place domestic story lines alongside crime plots, but Leon masterfully blends the two, enhancing our understanding of both. It is in Brunetti's conversations with his wife and children, and in his musings on his reading (in this case, Euripides' The Trojan Women) that we come to feel the full force of how preconceived notions about gender and sexuality can erode even the seemingly strongest of relationships. Far more than whodunit, the real subject of this novel (and Leon's work in general) is what we all do to one another. HIGH-DEMAND BACKSTORY: Like Louise Penny, Leon has cultivated an utterly devoted audience, ever anxious to get to know more about her characters.--Bill Ott Copyright 2018 Booklist"
From Booklist, Copyright (c) American Library Association. Used with permission.
Publisher's Weekly Review:
"Italy's inheritance laws figure prominently in bestseller Leon's sobering 28th Commissario Guido Brunetti mystery (after 2018's The Temptation of Forgiveness). The Venetian policeman is asked by his father-in-law, Count Orazio Falier, to check out Attilio Circetti, Marchese di Torrebardo. The count's best friend, Gonzalo RodrA-guez de Tejeda, proposes to adopt Circetti and make him the heir of Gonzalo's considerable estate. As little is known about the prospective adoptee, and Gonzalo's wealthy siblings are alarmed by their aged relative's intention, the count suspects that his friend may be subject to other forces besides affection. Though Brunetti's respect for both the charming Gonzalo and his wise father-in-law places him in an awkward position, he agrees to investigate. When Gonzalo dies, followed swiftly by the murder of one of his oldest friends, it seems clear to Brunetti that Gonzalo's plans have set a nefarious plot in motion. Leon provides a sad reflection on the devastating impact of selfish desires on innumerable lives. Agent: Susanne Bauknecht, Diogenes Verlag (Switzerland). (Mar.) © Copyright PWxyz, LLC. All rights reserved."
(c) Copyright PWxyz, LLC. All rights reserved
Additional Information