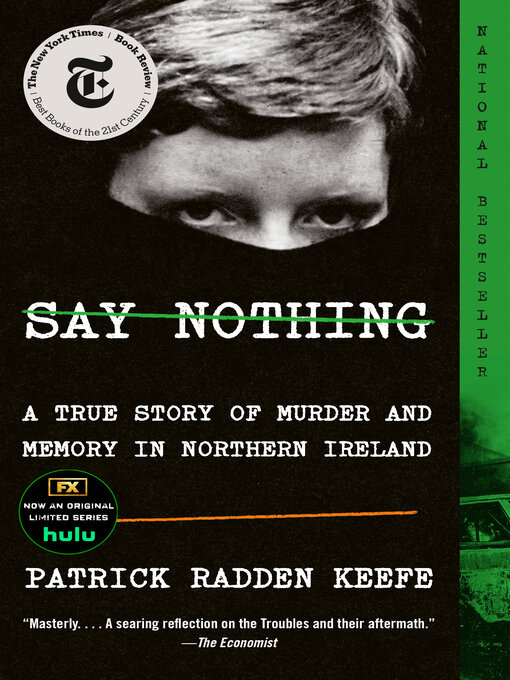 Say nothing a true story of murder and memory in Northern Ireland
Format:

Kindle Book

2019

2019

Adobe EPUB ebook

OverDrive Read

Availability:

Unavailable

0 of 30 copies
130 people on waitlist
Summary
"A stunning, intricate narrative about a notorious killing in Northern Ireland and its devastating repercussions. In December 1972, Jean McConville, a thirty-eight-year-old mother of ten, was dragged from her Belfast home by masked intruders, her children clinging to her legs. They never saw her again. Her abduction was one of the most notorious episodes of the vicious conflict known as The Troubles. Everyone in the neighborhood knew the I.R.A. was responsible. But in a climate of fear and paranoia, no one would speak of it. In 2003, five years after an accord brought an uneasy peace to Northern Ireland, a set of human bones was discovered on a beach. McConville's children knew it was their mother when they were told a blue safety pin was attached to the dress."--

Contents
Prologue: The treasure room
Book one: The clear, clean, sheer thing. An abduction ; Albert's daughters ; Evacuation ; An underground army ; St. Jude's walk ; The dirty dozen ; The little brigadier ; The cracked cup ; Orphans ; The Freds
Book two: Human sacrifice. Close England! ; The Belfast Ten ; The toy salesman ; The ultimate weapon ; Captives ; A clockwork doll ; Field day ; The bloody envelope ; Blue ribbons
Book three: A reckoning. A secret archive ; On the ledge ; Touts ; Bog queen ; An entanglement of lies ; The last gun ; The mystery radio ; The Boston tapes ; Death by misadventure ; This is the past ; The unknown.
Published Reviews
Booklist Review:
"Keefe, a New Yorker staff writer, uses the abduction of a widow and mother of 10 children, ranging in age from 20 to 6, from their squalid Belfast apartment in 1972, as the entry point for a deep-diving history of the conflict in Northern Ireland and its immense aftershocks. The secrecy that fueled all aspects of the conflict is emphasized throughout, starting with the prologue, in which Keefe details how detectives from the Northern Ireland Police search the Boston College Library in 2013 for secret files relating to the murder of Jean McConville, the long-ago abducted woman. Keefe spent four years researching this book, traveling seven times to Northern Ireland and conducting more than 100 interviews. The book is an extensive and often wrenching view of this bloody patch of history, especially fascinating in the way Keefe shows how indoctrination worked at the family level. While he identifies it as narrative nonfiction, the writing here is more straight historical account, rather than an immersive exploration, but it will definitely draw those interested in the Irish ""Troubles.""--Connie Fletcher Copyright 2010 Booklist"
From Booklist, Copyright (c) American Library Association. Used with permission.
Publisher's Weekly Review:
"New Yorker staff writer Keefe (Snakehead) incorporates a real-life whodunit into a moving, accessible account of the violence that has afflicted Northern Ireland. The mystery concerns Jean McConville, a widowed mother of 10, who was snatched from her Belfast home by an IRA gang in 1972. While Keefe touches on historical antecedents, his real starting point is the 1960s, when advocates of a unified Ireland attempted to emulate the nonviolent methods of the American civil rights movement. The path from peaceful protests to terrorist bombings is framed by the story of Dolours Price, who became involved as a teenager and went on to become a central figure in the IRA. While formal charges were never brought against republican leader Gerry Adams in McConville's murder, Keefe makes a persuasive case that McConville was killed at his order for being an informer to the British-and the author's dogged detective work enables him to plausibly name those who literally pulled the trigger. Tinged with immense sadness, this work never loses sight of the humanity of even those who committed horrible acts in support of what they believed in. Agent: Tina Bennett, WME. (Feb.) © Copyright PWxyz, LLC. All rights reserved."
(c) Copyright PWxyz, LLC. All rights reserved
Additional Information