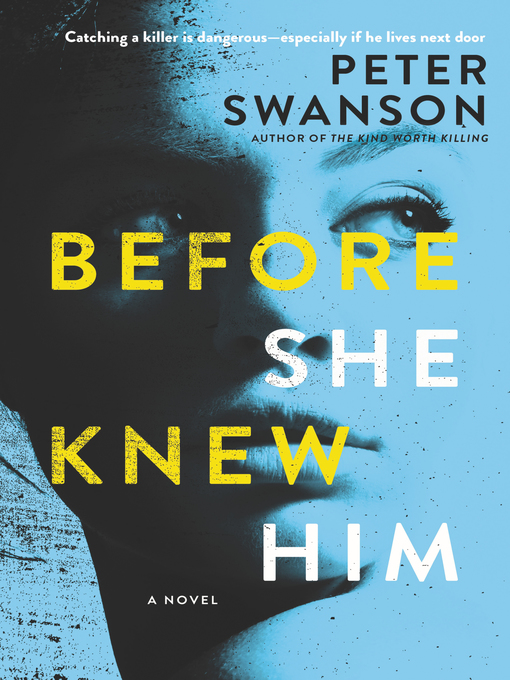 Before she knew him a novel
Format:

OverDrive Read

2019.

Adobe EPUB ebook

Kindle Book

Availability:

Unavailable

0 of 11 copies
50 people on waitlist
Summary
Catching a killer is dangerous--especially if he lives next door
From the hugely talented author of The Kind Worth Killing comes an exquisitely chilling tale of a young suburban wife with a history of psychological instability whose fears about her new neighbor could lead them both to murder . . .



Hen and her husband Lloyd have settled into a quiet life in a new house outside of Boston, Massachusetts. Hen (short for Henrietta) is an illustrator and works out of a studio nearby, and has found the right meds to control her bipolar disorder. Finally, she's found some stability and peace.
But when they meet the neighbors next door, that calm begins to erode as she spots a familiar object displayed on the husband's office shelf. The sports trophy looks exactly like one that went missing from the home of a young man who was killed two years ago. Hen knows because she's long had a fascination with this unsolved murder--an obsession she doesn't talk about anymore, but can't fully shake either.
Could her neighbor, Matthew, be a killer? Or is this the beginning of another psychotic episode like the one she suffered back in college, when she became so consumed with proving a fellow student guilty that she ended up hurting a classmate?
The more Hen observes Matthew, the more she suspects he's planning something truly terrifying. Yet no one will believe her. Then one night, when she comes face to face with Matthew in a dark parking lot, she realizes that he knows she's been watching him, that she's really on to him. And that this is the beginning of a horrifying nightmare she may not live to escape. . .
Published Reviews
Booklist Review:
"What would happen if a serial killer met the perfect confidant, someone who would never be believed if they revealed his or her secrets? Nothing good. Hen and Lloyd Mazur's move to the suburbs is meant to be a fresh start; Hen has recently been released from a psychiatric hospital after a manic episode sparked a dangerous obsession with the murder of her neighbor, Dustin Scott. Their first dinner with new neighbors Matthew and Mira Dolamore is going smoothly until Hen recognizes a fencing trophy in Matthew's office that she knows was taken from Scott's murder scene. Certain that Matthew is Scott's killer, Hen begins following him and soon wins a hollow victory when she witnesses him killing another man. Matthew, however, has seen her, too, and confident that Hen's mental-health challenges make her an unreliable witness he seizes the opportunity to unburden himself. Instead of relieving pressure, though, this dangerous connection sends Matthew spiraling out of control, leaving only Hen to stop him. Swanson has crafted another bar-raising psychological thriller with this tense, unexpected spin on serial killers and those obsessed with them.--Christine Tran Copyright 2010 Booklist"
From Booklist, Copyright (c) American Library Association. Used with permission.
Publisher's Weekly Review:
"At the start of this exceptional psychological thriller from Swanson (All the Beautiful Lies), bipolar Hen "Henrietta" Mazur and her husband, Lloyd Harding, have dinner one night at the suburban Boston home of neighbors Mira and Matt Dolamore, with whom they've recently bonded over their mutual childlessness. At one point, Hen spots a fencing trophy on their hosts' fireplace mantel that she believes was won by Dustin Miller, a college student who was murdered two years earlier and who attended the high school where Matt teaches history. Matt claims that he bought the trophy at a yard sale, but Hen, who's become obsessed with Dustin's case, suspects that Matt killed Dustin. The next day, when she visits the Dolamores, the trophy is missing, reinforcing her suspicions. However, Hen gets little support from Lloyd or the police because of her history of mental health problems and of falsely accusing others of murder. An uneasy relationship soon develops between Hen and Matt, whose traumatic childhood adds emotional heft to the narrative. Surprising twists help keep the suspense high to the end. Agent: Nat Sobel, Sobel Weber Assoc. (Mar.) © Copyright PWxyz, LLC. All rights reserved."
(c) Copyright PWxyz, LLC. All rights reserved
Additional Information