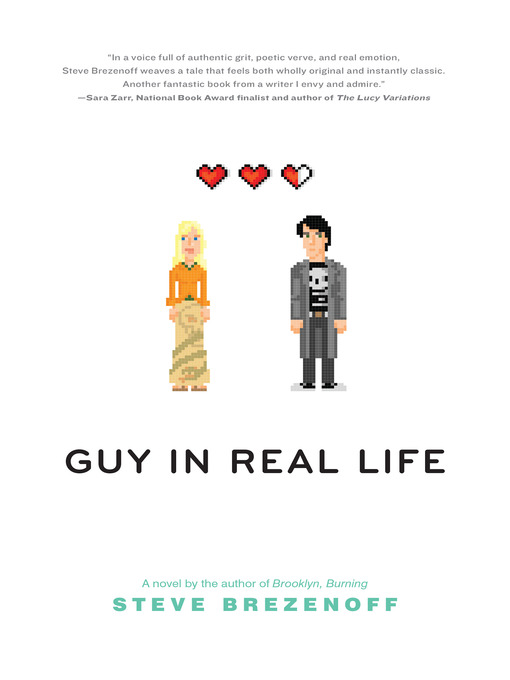 Guy in real life
Format:

Kindle Book

2014

2014

Adobe EPUB ebook

OverDrive Read

Availability:

Available from OverDrive

1 of 1 copy
Summary
From the acclaimed author of Brooklyn, Burning comes Guy in Real Life, an achingly real and profoundly moving love story in the vein of Rainbow Rowell and John Green, about two Minnesota teens whose lives become intertwined through school, role-playing games, and a chance two-a.m. bike accident. It is Labor Day weekend in Saint Paul, Minnesota, and boy and girl collide on a dark street at two thirty in the morning: Lesh, who wears black, listens to metal, and plays MMOs; Svetlana, who embroiders her skirts, listens to BjOrk and Berlioz, and dungeon masters her own RPG. They should pick themselves up, continue on their way, and never talk to each other again. But they don't. This is a story of the roles we all play'at school, at home, online, and with our friends'and the one person who might be able to show us who we are underneath it all.

Published Reviews
Booklist Review:
"Lesh wears a black trench coat and listens to heavy metal. Svetlana embroiders her flowing skirts and blasts Bjork. Lesh, with his bad-boy persona, appeals to Lana in a way she would have never anticipated. And Lesh's attraction to Lana is so intense that he creates an elf princess, Svetlana, in a MMO game with Lana's same long blond hair and lithe body. Soon Lesh finds that he can't wait to play the game and assume a female persona. In the swift, action-­filled chapters that describe Lesh's game, Lana grows in strength and integrity and gains an admirer. Meanwhile, IRL, Lana copes with her disintegrating after-school gaming club, which plays tabletop RPGs. As with Lesh's online-gaming adventures, Lana's game scripts play out in engaging stories. The overall effect of the novel, then, is of marvelous fantasy sequences interspersed with the messiness of real-life romance. Lesh's predicament that he loves becoming Svetlana as much as he loves Lana is presented sweetly and believably. Like his easy evocation of gender-free characters in his Brooklyn, Burning (2011), Brezenoff deftly handles one teen's experience of gender dysphoria.--Colson, Diane Copyright 2010 Booklist"
From Booklist, Copyright (c) American Library Association. Used with permission.
Publisher's Weekly Review:
"Ever since sophomore metalhead Lesh Tungsten collided with geeky 17-year-old outsider Svetlana Allegheny on the street, he can't get her out of his head. When she begins to join him at lunch to thwart a classmate's lecherous advances, focusing on anything but her becomes nearly impossible. Meanwhile, Lesh is being drawn into a multiplayer online RPG, but the avatar Lesh most enjoys playing as a buxom elf he names Svvetlana-doesn't exactly distract him from her real-life counterpart, who is struggling to keep her Dungeons & Dragons-style gaming club afloat. Brezenoff (Brooklyn, Burning) successfully immerses readers in the characters' progression from awkward acquaintances to adorably besotted teens. In addition to alternating between their perspectives, he also spends time within both the digital and analog RPGs, exploring sexism and gender stereotypes, while highlighting the way that both types of games are often driven by a novelistic kind of storytelling (even if some gamers skip past those scenes). An idiosyncratic romance that offers plenty of cultural food for thought. Ages 14-up. Agent: Edward Necarsulmer IV, Dunow, Carlson & Lerner. (June) (c) Copyright PWxyz, LLC. All rights reserved."
(c) Copyright PWxyz, LLC. All rights reserved
Additional Information