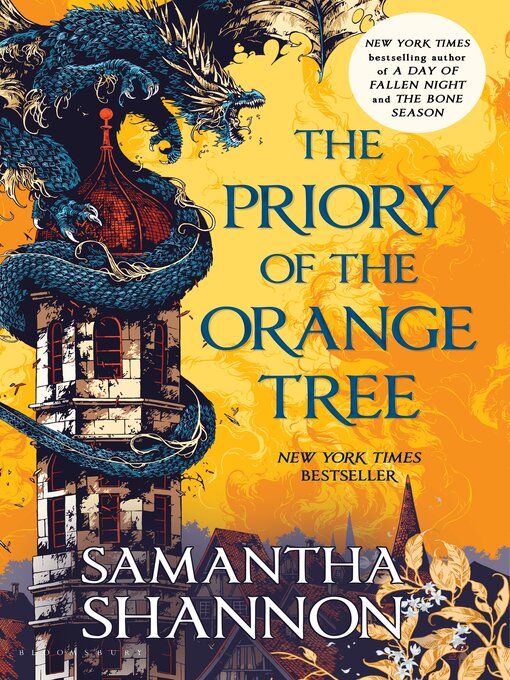 The priory of the orange tree
Format:

Kindle Book

2019

2019

Adobe EPUB ebook

OverDrive Read

Availability:

Unavailable

0 of 10 copies
18 people on waitlist
Summary
The House of Berethnet has ruled Inys for a thousand years. Still unwed, Queen Sabran the Ninth must conceive a daughter to protect her realm from destruction--but assassins are getting closer to her door. Ead Duryan is an outsider at court. Though she has risen to the position of lady-in-waiting, she is loyal to a hidden society of mages. Ead keeps a watchful eye on Sabran, secretly protecting her with forbidden magic. Across the dark sea, Tané has trained to be a dragonrider since she was a child, but is forced to make a choice that could see her life unravel. Meanwhile, the divided East and West refuse to parley, and forces of chaos are rising from their sleep.

Published Reviews
Booklist Review:
"*Starred Review* In a departure from her best-selling Bone Season series (starting with The Bone Season, 2013), Shannon's spellbinding standalone historical fantasy draws from the legend of George and the dragon and the courts of the sixteenth century. A thousand years ago, a world-destroying dragon known as the Nameless One and his allies were banished by a knight of House Berethnet, never to return as long as the Berethnet queens rule in the western realm of Inys, the seat of an antidragon religion. But the current queen lacks an heir, and her court is divided. Evil dragons are appearing once more throughout the world, even as their good counterparts in the east wane in strength. Through four narrators Ead, a member of the secret sisterhood of mages known as the Priory of the Orange Tree; Arteloth, an Inysh nobleman; Niclays, a disgraced alchemist; and Tané, a dragon rider of Seiiki Shannon deftly explores the divides between religion, custom, and territory. This extraordinary saga includes heroism, romance, friendship, pirates, plague, diplomacy, and, of course, dragons. A well-drawn feminist fantasy with broad appeal for fans of the epic and readers of Zen Cho, Naomi Novik, and V. E. Schwab. Highly recommended.--Anna Mickelsen Copyright 2018 Booklist"
From Booklist, Copyright (c) American Library Association. Used with permission.
Publisher's Weekly Review:
"Shannon (The Bone Season) satisfyingly fills this massive standalone epic fantasy with court intrigue, travel through dangerous lands, fantastical religions, blood, love, and rhetoric. Ead, undercover as a lady-in-waiting in a court analogous to that of Elizabethan England, must protect the queen from lurking assassins; the queen, Sabran IX, theoretically belongs to a magical bloodline whose existence binds the huge and abominable dragon, the Nameless One, at the bottom of the ocean. Half a world away, young TanAc, the rider and companion of a more benevolent sort of dragon, breaks her country's strict ban on allowing seafarers through its borders. This sets in motion a chain of events that reveals that Sabran's ancestry may not be the true source of the Nameless One's bindings, and that tests all three women profoundly in their attempts to keep humankind safe from the beast. Unfortunately, so much time and effort are expended on setting up the world and the principal conflicts that the denouement gets rather short shrift. The difference in tempo is very noticeable and hampers (although it does not destroy) the emotional effectiveness of an otherwise well-planned and well-executed ending. Nonetheless, this is a very capable epic fantasy. (Feb.) © Copyright PWxyz, LLC. All rights reserved."
(c) Copyright PWxyz, LLC. All rights reserved
Additional Information