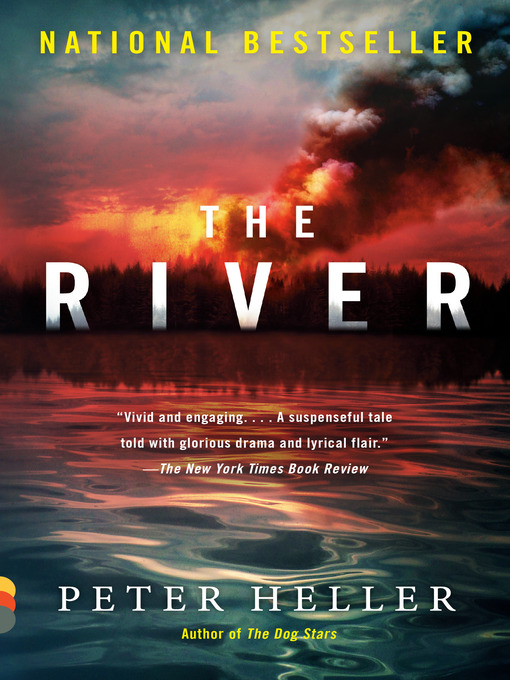 The river a novel
Format:

OverDrive Read

2019.

Adobe EPUB ebook

Kindle Book

Availability:

Unavailable

0 of 8 copies
45 people on waitlist
Summary
A NATIONAL BESTSELLER

"A fiery tour de force... I could not put this book down. It truly was terrifying and unutterably beautiful." -Alison Borden, The Denver Post

From the best-selling author of The Dog Stars, the story of two college students on a wilderness canoe trip--a gripping tale of a friendship tested by fire, white water, and violence

Wynn and Jack have been best friends since freshman orientation, bonded by their shared love of mountains, books, and fishing. Wynn is a gentle giant, a Vermont kid never happier than when his feet are in the water. Jack is more rugged, raised on a ranch in Colorado where sleeping under the stars and cooking on a fire came as naturally to him as breathing. When they decide to canoe the Maskwa River in northern Canada, they anticipate long days of leisurely paddling and picking blueberries, and nights of stargazing and reading paperback Westerns. But a wildfire making its way across the forest adds unexpected urgency to the journey. When they hear a man and woman arguing on the fog-shrouded riverbank and decide to warn them about the fire, their search for the pair turns up nothing and no one. But: The next day a man appears on the river, paddling alone. Is this the man they heard? And, if he is, where is the woman? From this charged beginning, master storyteller Peter Heller unspools a headlong, heart-pounding story of desperate wilderness survival.
Published Reviews
Booklist Review:
"Taking time off from jobs and classes, Dartmouth pals and consummate outdoorsmen Jack and Wynn, "diehards nostalgic for the days of the voyageurs," undertake a weeks-long canoe trip in Northern Canada. Colorado rancher's son Jack is the quicker-witted, tougher of the two, while Wynn's sensitive connection to nature stems from his Vermont youth spent steeped in art and literature. The boys' fluency with one another and the rugged landscape is quickly tested, though, by an encroaching wildfire and their unknowing entry into an argument between the married couple they try to warn about it. Disasters, growing in severity, eat away at their provisions and their sanity. Heller (Celine, 2017) once again chronicles life-or-death adventure with empathy for the natural world and the characters who people it. He writes most mightily of the boys' friendship and their beloved, uncompromising wilderness, depicting those layers of life that lie far beyond what is more commonly seen: the fire's unapologetic threats, the wisdom of the birds and animals seeking their own safety, and the language of the river itself.--Annie Bostrom Copyright 2019 Booklist"
From Booklist, Copyright (c) American Library Association. Used with permission.
Publisher's Weekly Review:
"Heller (Celine) explores human relationships buffeted by outside forces in his suspenseful latest. The central friendship is between two young men, Wynn and Jack, students who have taken a leave of absence from Dartmouth to explore the Canadian wilderness. Their late summer canoe trip, however, finds them pursued by two dangerous natural foes-a rapidly advancing wildfire and the equally swift approach of freezing temperatures. Their trip is further complicated when the two men's intervention in a domestic drama results in the addition of a deeply traumatized woman, Maia, to their traveling party. Short on supplies, racing against disaster toward civilization, Jack and Wynn's loyalties to one another are repeatedly strained. Jack and Wynn-who are both effortlessly erudite while also seemingly adept at virtually every skill of the outdoorsman-may be too well-rounded to be entirely believable. Their motivations are convincing, however, especially when nature's violence rekindles Jack's memories of his mother's accidental death years earlier. Maia, conversely, can at times feel more like a plot device than like a woman with an inherently dramatic story of her own. Nevertheless, with its evocative descriptions of nature's splendor and brutality, Heller's novel beautifully depicts the powers that can drive humans apart-and those that compel them to return repeatedly to one another. (Mar.) © Copyright PWxyz, LLC. All rights reserved."
(c) Copyright PWxyz, LLC. All rights reserved
Additional Information