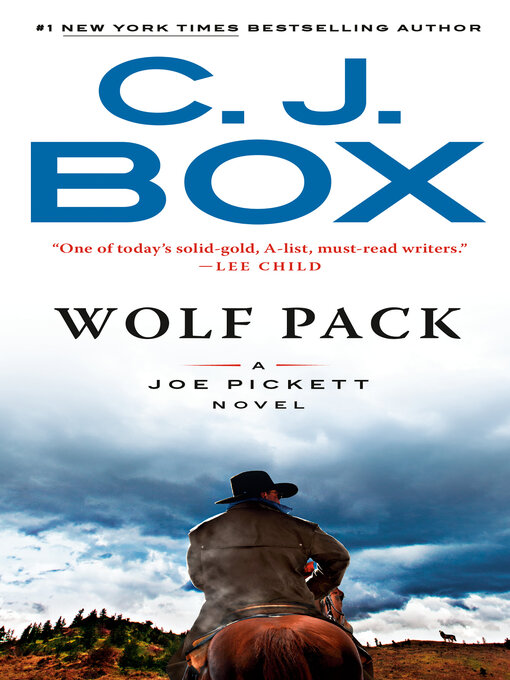 Wolf pack a Joe Pickett novel
Format:

OverDrive Read

2019.

Adobe EPUB ebook

Kindle Book

Availability:

Unavailable

0 of 10 copies
30 people on waitlist
Summary
Wyoming game warden Joe Pickett encounters bad behavior on his own turf--only to have the FBI and the DOJ ask him to stand down--in the thrilling new novel from #1 New York Times -bestselling author C.J. Box.

The good news is that Joe Pickett has his job back, after his last adventure in The Disappeared . The bad news is that he's come to learn that a drone is killing wildlife--and the drone belongs to a mysterious and wealthy man whose son is dating Joe's own daughter, Lucy.

When Joe tries to lay down the rules for the drone operator, he's asked by the FBI and the DOJ to stand down, which only makes him more suspicious. Meanwhile, bodies are piling up in and around Joe's district in shocking numbers. He begins to fear that a pack of four vicious killers working on behalf of the Sinaloa cartel known as the Wolf Pack has arrived. Their target seems to be the mystery man and everyone--including Joe, Nate, and others--who is associated with him.

Teaming up with a female game warden (based on a real person, one of the few female game wardens at work in Wyoming today) to confront these assassins, Joe finds himself in the most violent and dangerous predicament he's ever faced.
Published Reviews
Booklist Review:
"Wyoming game warden Joe Pickett, last seen in The Disappeared (2018), has his old badge and district back, a brand-new pickup truck, and is happy to be out in the field tracking an illegal trapper. Across the mountains, a colleague has an uncomfortable encounter with a drone that is spooking wildlife. As they track the violators, they have no idea they're about to collide with aggressive FBI agents and a Sinaloa cartel hit squad that's about to unleash a shocking level of violence in Twelve Sleep County. Joe's old friend Nate Romanowski may be back on the grid, running a business and actually planning for the future, but Joe's going to need Nate's killer instincts this time. As always, Box takes familiar elements of his long-running series the upstanding Joe, the renegade Nate, a daughter in danger (this time it's Lucy), and a threat from outside and seamlessly combines them into a read that makes your heart race, even though you won't leave the couch until you've turned the last page. Half mystery, half thriller, totally worthwhile. HIGH-DEMAND BACKSTORY: You can just about set your watch by a Joe Pickett novel in March; the number-one-best-selling author's legion of fans will be counting down the minutes.--Keir Graff Copyright 2019 Booklist"
From Booklist, Copyright (c) American Library Association. Used with permission.
Publisher's Weekly Review:
"When game warden Katelyn Hamm observes a herd of elk being stampeded by a drone in Edgar-winner Box's excellent 19th novel starring Wyoming game warden Joe Pickett (after 2018's The Disappeared), she enlists Joe's aid in tracking down the drone's owner. It turns out to be Bill Hill, who lives with several bodyguards in an upscale compound. After Hill scoffs at being fined by Joe for tormenting the elk, Joe tries to research Hill online, only to find him devoid of any background history. Meanwhile, Joe's old friend Nate Romanowski offers to take down the drone with his trained falcons, and Nate's falcon attack on the drone leads to a pair of arrogant FBI agents warning first Hamm and then Joe not to hassle the drone owner again, on pain of prosecution. But when dead bodies begin turning up showing clear signs of torture, Joe realizes that his county has been infested with something far more dangerous than a drone: a team of professional killers, sent by a Colombian cartel to eliminate a witness. The action-packed final quarter of the book ranks among Joe and Nate's best and bloodiest confrontations. Box is the king of contemporary crime fiction set in the West. Author tour. Agent: Ann Rittenberg, Ann Rittenberg Literary. (Mar.) © Copyright PWxyz, LLC. All rights reserved."
(c) Copyright PWxyz, LLC. All rights reserved
Additional Information