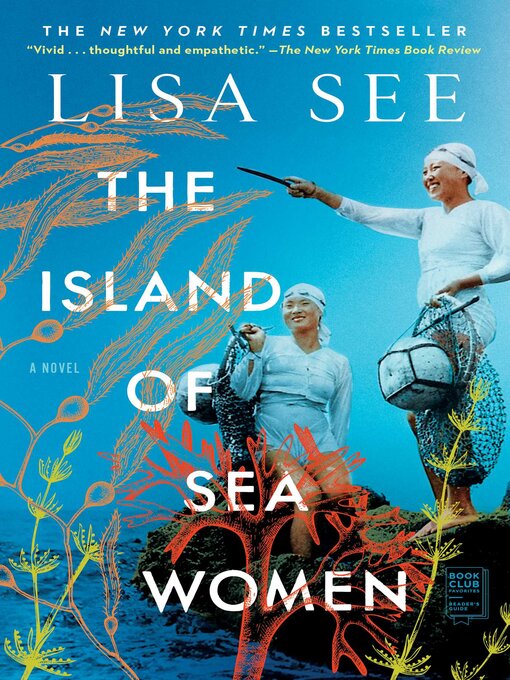 The Island of sea women
Format:

Kindle Book

2019

2019

Adobe EPUB ebook

OverDrive Read

Availability:

Unavailable

0 of 16 copies
39 people on waitlist
Summary
"A new novel from Lisa See, the New York Times bestselling author of The Tea Girl of Hummingbird Lane, about female friendship and family secrets on a small Korean island. Mi-ja and Young-sook, two girls living on the Korean island of Jeju, are best friends that come from very different backgrounds. When they are old enough, they begin working in the sea with their village's all-female diving collective, led by Young-sook's mother. As the girls take up their positions as baby divers, they know they are beginning a life of excitement and responsibility but also danger. Despite their love for each other, Mi-ja and Young-sook's differences are impossible to ignore. The Island of Sea Women is an epoch set over many decades, beginning during a period of Japanese colonialism in the 1930s and 1940s, followed by World War II, the Korean War and its aftermath, through the era of cell phones and wet suits for the women divers. Throughout this time, the residents of Jeju find themselves caught between warring empires. Mi-ja is the daughter of a Japanese collaborator, and she will forever be marked by this association. Young-sook was born into a long line of haenyeo and will inherit her mother's position leading the divers in their village. Little do the two friends know that after surviving hundreds of dives and developing the closest of bonds, forces outside their control will push their friendship to the breaking point. This beautiful, thoughtful novel illuminates a world turned upside down, one where the women are in charge, engaging in dangerous physical work, and the men take care of the children. A classic Lisa See story--one of women's friendships and the larger forces that shape them--The Island of Sea Women introduces readers to the fierce and unforgettable female divers of Jeju Island and the dramatic history that shaped their lives"--

Published Reviews
Booklist Review:
"*Starred Review* They meet at age seven. Young-sook and her mother are working their garden; Mi-ja crouches among the sweet-potato plants, desperate to eat. They are on Korea's Jeju Island, known for its Three Abundances of wind, stones, and women, it was also acknowledged for lacking three other things: beggars, thieves, and locked gates. Mi-ja is a city transplant living with relatives, who consider her a servant. She is also the village pariah because her late father was a collaborator with the brutal Japanese colonizers. Ironically, this becomes Mi-ja's best day since being orphaned because she leaves Young-sook's with a full belly, a surrogate mother, and a best friend. Trained together as haenyeo Jeju's renowned sea women who free dive for sea life Young-sook and Mi-ja share intimate joys and survive debilitating hardships into adulthood, wifehood, and motherhood, until an unfathomable tragedy sunders their closer-than-sisters bond. Sixty years later, Young-sook is a national treasure, a world-traveled octogenarian haenyeo. On her shoreline appear Mi-ja's granddaughter and her American family; Young-sook's initial denials acquiesce to reveal a past driven by love, loss, betrayal, perhaps even forgiveness. A stupendous multigenerational family saga, See's (The Tea Girl of Hummingbird Lane, 2017) latest also provides an enthralling cultural anthropology highlighting the soon-to-be-lost, matriarchal haenyeo phenomenon and an engrossing history of violently tumultuous twentieth-century Korea. A mesmerizing achievement. HIGH-DEMAND BACKSTORY: See's accomplishment, acclaim, and readership continue to rise with each book, and interest in this stellar novel will be well stoked.--Terry Hong Copyright 2019 Booklist"
From Booklist, Copyright (c) American Library Association. Used with permission.
Publisher's Weekly Review:
"See (The Tea Girl of Hummingbird Lane) once again explores how culture survives and morphs in this story of a real-life Korean female diving collective. Young-Sook and Mi-Ja meet as young girls in 1939 in Hado, a village on the island of Jeju, where traditionally the women earn a living while their husbands care for the children and home. The two girls begin training as haenyeo, divers who harvest oysters, sea slugs, and octopi from the sea. But after WWII when American occupation of southern Korea begins, the two grow apart. While Young-Sook struggles to make ends meet for her family, Mi-Ja's husband's role in the government spares her the economic suffering endured by most of the country. But after Mi-Ja's family betrays Young-Sook, Young-Sook struggles for decades to reconcile her anger with fond memories of her friend, even after their families cross paths again. Jumping between the WWII era and 2008, See perceptively depicts challenges faced by Koreans over the course of the 20th century, particularly homing in on the ways the haenyeo have struggled to maintain their way of life. Exposing the depths of human cruelty and resilience, See's lush tale is a wonderful ode to a truly singular group of women. (Mar.) © Copyright PWxyz, LLC. All rights reserved."
(c) Copyright PWxyz, LLC. All rights reserved
Additional Information