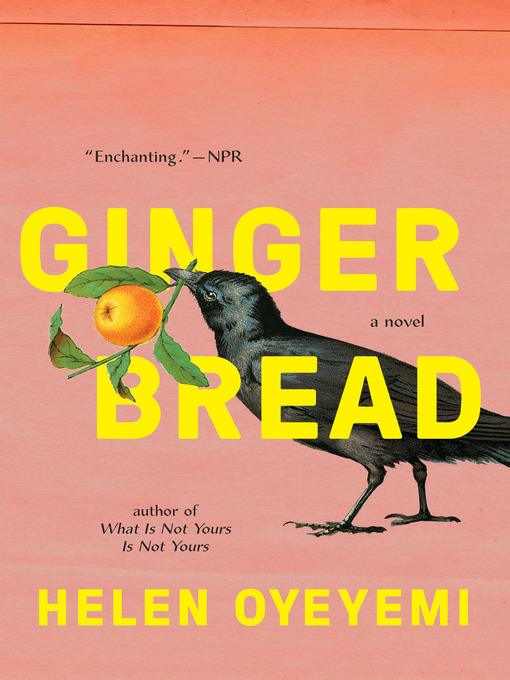 Gingerbread a novel
Format:

OverDrive Read

2019.

Adobe EPUB ebook

Kindle Book

Availability:

Unavailable

0 of 9 copies
51 people on waitlist
Summary
"Exhilarating...A wildly imagined, head-spinning, deeply intelligent novel." - The New York Times Book Review
"[W]ildly inventive...[Helen Oyeyemi's] prose is not without its playful bite." - Vogue

The prize-winning, bestselling author of Boy, Snow, Bird and What Is Not Yours Is Not Yours returns with a bewitching and imaginative novel.

Influenced by the mysterious place gingerbread holds in classic children's stories, beloved novelist Helen Oyeyemi invites readers into a delightful tale of a surprising family legacy, in which the inheritance is a recipe.

Perdita Lee may appear to be your average British schoolgirl; Harriet Lee may seem just a working mother trying to penetrate the school social hierarchy; but there are signs that they might not be as normal as they think they are. For one thing, they share a gold-painted, seventh-floor walk-up apartment with some surprisingly verbal vegetation. And then there's the gingerbread they make. Londoners may find themselves able to take or leave it, but it's very popular in Druhástrana, the far-away (or, according to many sources, non-existent) land of Harriet Lee's early youth. The world's truest lover of the Lee family gingerbread, however, is Harriet's charismatic childhood friend Gretel Kercheval --a figure who seems to have had a hand in everything (good or bad) that has happened to Harriet since they met.

Decades later, when teenaged Perdita sets out to find her mother's long-lost friend, it prompts a new telling of Harriet's story. As the book follows the Lees through encounters with jealousy, ambition, family grudges, work, wealth, and real estate, gingerbread seems to be the one thing that reliably holds a constant value. Endlessly surprising and satisfying, written with Helen Oyeyemi's inimitable style and imagination, it is a true feast for the reader.
Published Reviews
Booklist Review:
"Like her Boy, Snow, Bird (2014), Oyeyemi's latest is a clever subversion of fairy tale tropes to expose the secrets, entanglements, and estrangements within a family. Harriet Lee lives in England with her teenage daughter, Perdita, but no matter how much gingerbread Harriet makes, she can't seem to win over the haughty parents at her daughter's school. And then Perdita falls victim to what seems like an overdose. When Perdita awakens, she reveals that she was trying to reach Druhastrana, the mythological land of her mother's youth. This inspires Harriet to unspool her own story, telling Perdita about her childhood in a land based on financial inequality, her mother Margot's marriage to a poor farmer, and the family's eventual involvement with the wealthy Kerchevels. That turned Harriet's life upside down, introducing her to the whimsical, magical Gretel and paving the way for her and Margot's move to England. Both a scathing indictment of capitalism and a tribute to the maddeningly inescapable endurance of family bonds, this enchanting tale will resonate with literary fiction lovers.--Kristine Huntley Copyright 2019 Booklist"
From Booklist, Copyright (c) American Library Association. Used with permission.
Publisher's Weekly Review:
"In Oyeyemi's idiosyncratically brilliant latest (following Boy, Snow, Bird), she spins a tale about three generations of women and the gingerbread recipe that is their curse and their legacy. In an effort to understand her heritage, precocious British schoolgirl Perdita Lee recreates her family's famed gingerbread recipe-but with additional ingredients that have near-fatal consequences. When she slips into a coma, her mother, Harriet, is forced to tell her the truth of their family. To do so, she must recount her upbringing in the mysterious country DruhA¡strana and the arduous journey that finally brought her and her mother, Margot, out of it. Harriet's account is an astonishing tale of rigged lotteries, girls in wells, and the mystifying and meddling Gretel Kercheval, a childhood friend of Harriet's who seems to have an awful lot to do with Harriet's fate. Though Harriet and Margot do eventually manage to leave DruhA¡strana, they realize that it's not quite as easy to master the outside world, especially not when there are more Kerchevals around to complicate things. Oyeyemi excels at making the truly astounding believable and turning even the most familiar tales into something strange and new. This fantastic and fantastical romp is a wonderful addition to her formidable canon. (Mar.) © Copyright PWxyz, LLC. All rights reserved."
(c) Copyright PWxyz, LLC. All rights reserved
Additional Information
Subjects
Fairy tales -- Adaptations.
Electronic books.
Fantasy fiction.

Publisher

[Place of publication not identified] :Penguin Publishing Group2019.



Contributors
OverDrive, Inc.

Language

English



System Details

Mode of access: World Wide Web.




Format: Adobe EPUB eBook




Format: Kindle Book




Format: OverDrive Read




Requires Adobe Digital Editions or Amazon Kindle



Description

1 online resource



ISBN
9780525539087
9780525539087

Other
Classic View