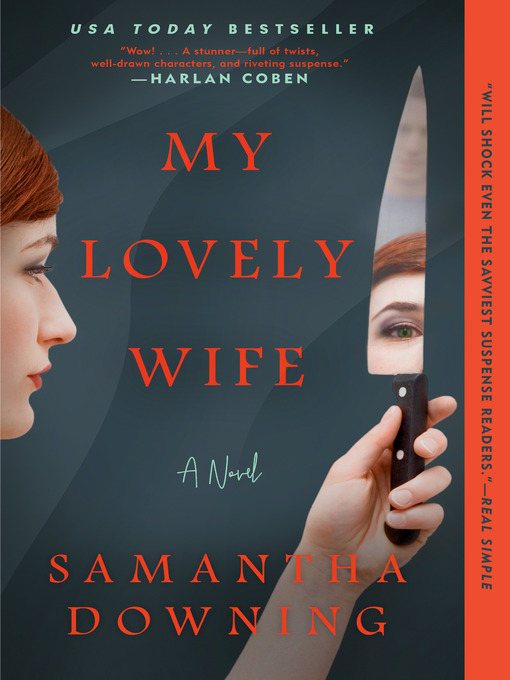 My lovely wife
Format:

Kindle Book

2019

2019

Adobe EPUB ebook

OverDrive Read

Availability:

Unavailable

0 of 16 copies
18 people on waitlist
Summary
Dexter meets Mr. and Mrs. Smith in this wildly compulsive debut thriller about a couple whose fifteen-year marriage has finally gotten too interesting... Our love story is simple. I met a gorgeous woman. We fell in love. We had kids. We moved to the suburbs. We told each other our biggest dreams, and our darkest secrets. And then we got bored. We look like a normal couple. We're your neighbors, the parents of your kid's friend, the acquaintances you keep meaning to get dinner with. We all have our secrets to keeping a marriage alive. Ours just happens to be getting away with murder

Published Reviews
Booklist Review:
"Downing's debut thriller offers a chilling look into the marriage of two psychopaths. Our unnamed narrator (known mostly by an alias, Quentin) likes to pick up women in bars while pretending to be deaf. His wife, Millicent, is perfectly fine with this because he brings them home for her to torture and murder. When the freshly killed body of a young woman is found, nearly a full year after Millicent was supposed to have dumped her, Quentin realizes that Millicent is apparently playing a different game than he thought. They think they're safe, though, because she planted several clues that match the MO of a serial killer who has been on the loose for over a decade. Things start to unravel best-laid plans and all that and the couple's relationship quickly spirals into a cat-and-mouse game. Whom can you trust when your spouse is a lunatic? Meanwhile, the couple's two (seemingly normal) children know nothing of their parents' extracurricular activities. Readers will be fascinated by the abject coldness of Millicent, the odd and unreliable narrator, and the almost unbelievable denouement.--Rebecca Vnuk Copyright 2019 Booklist"
From Booklist, Copyright (c) American Library Association. Used with permission.
Publisher's Weekly Review:
"The discovery of a corpse in an abandoned Woodview, Fla., motel kick-starts Downing's taut debut. Police identify the victim as Lindsay, a young woman who went missing a year earlier and was apparently held captive for months before being strangled. This revelation shocks the book's 39-year-old unnamed narrator, since he and his wife, Millicent, were the ones who abducted Lindsay as part of a ploy to spice up their marriage. Millicent was supposed to have immediately killed and dumped Lindsay in a swamp, but she now claims that in order to distract the authorities, she changed their m.o. to match that of Owen Oliver Riley, a notorious local serial killer who escaped conviction. Millicent's husband initially relishes the idea of a suspicion-free killing spree, but quickly learns that resurrecting the local bogeyman has consequences. Downing's tale unfolds slowly and sinuously, building tension about the couples' fate while revealing the origins of their homicidal hobby. The first-person, present-tense narration makes readers feel uncomfortably complicit in all that transpires, underscoring the plot's grim and twisted nature. Readers will eagerly await Downing's next thriller. Author tour. Agent: Barbara Poelle, Irene Goodman Literary. (Mar.) © Copyright PWxyz, LLC. All rights reserved."
(c) Copyright PWxyz, LLC. All rights reserved
Additional Information