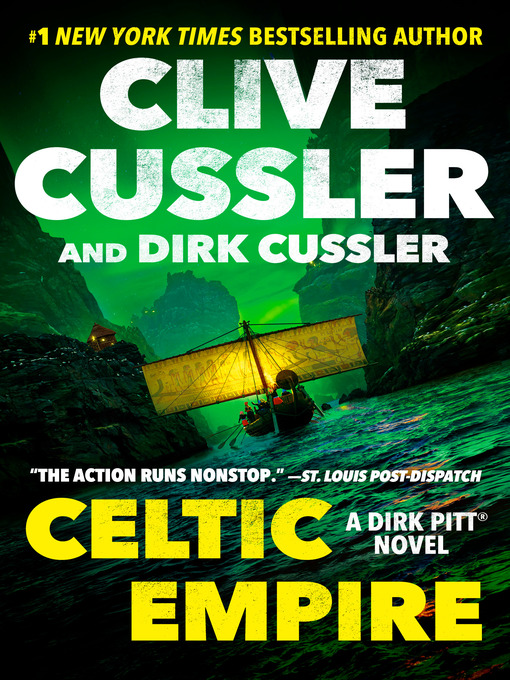 Celtic empire
Format:

Kindle Book

2019

2019

Adobe EPUB ebook

OverDrive Read

Availability:

Unavailable

0 of 7 copies
Summary
"Clive Cussler, "The Grand Master of Adventure," sends his intrepid heroes Dirk Pitt and Al Giordino on their wildest, boldest mission into the ancient world, unlocking extraordinary secrets and solving hideous crimes. Another fabulous read from the most beloved series from the #1 New York Times-bestselling author. The murders of a team of United Nations scientists in El Salvador. A deadly collision in the waterways off the city of Detroit. An attack by tomb raiders on an archaeological site along the banks of the Nile. Is there a link between these violent events? The answer may lie in the tale of an Egyptian princess forced to flee the armies of her father three thousand years ago. During what was supposed to be a routine investigation in South America, NUMA Director Dirk Pitt finds himself embroiled in an international mystery, one that will lead him across the world and which will threaten everyone and everything he knows--most importantly, his own family. Pitt travels to Scotland in search of answers about the spread of an unknown disease and the shadowy bioremediation company that may be behind it. Meanwhile, his son and daughter face a threat of their own when the discoveries they have made in an Egyptian tomb put killers on their trail. These seemingly unrelated riddles come together in a stunning showdown on the rocky isles of Ireland, where only the Pitts can unravel the secrets of an ancient enigma that could change the very future of mankind"--

Published Reviews
Booklist Review:
"In the latest Dirk Pitt adventure, the twenty-fifth in the long-running series, the director of the National Underwater and Marine Agency (NUMA) discovers that a biotech company's motives might not be as altruistic as the head of the company wants people to believe. The authors throw a lot into the mix here: murders in El Salvador, environmental disaster near Detroit, mayhem in Egypt, and a virulent disease of unknown origin. With all this going on, there's not a lot of time for character development, but the Cussler brand isn't known for rich characters anyway. They are known for action and adventure, and this book surely delivers the goods. Nitpickers will find things to criticize the dialogue, as usual, tends toward the clunky but Cussler's legion of fans are not known for picking nits, at least where their favorite author is concerned. Expect high demand, as usual.HIGH-DEMAND BACKSTORY: Formula sells, and for anyone who doubts that, check Cussler's sales figures.--David Pitt Copyright 2019 Booklist"
From Booklist, Copyright (c) American Library Association. Used with permission.
Publisher's Weekly Review:
"In bestseller Cussler and son Dirk's rousing 25th Dirk Pitt adventure (after 2016's Odessa Sea), a series of maritime disasters catch the attention of Pitt and other members of the National Underwater and Marine Agency. Where these attacks have occurred, a deadly outbreak of a cholera-like illness has followed. BioRem Global Limited, a bioremediation company ostensibly using bioengineered bacteria to clean up these so-called accidents, has instead orchestrated them to revive an ancient disease, genetically enhanced to cause an evolutionary genocide, for which there is no modern cure. Pitt's son and daughter, Dirk Jr. and Summer, discover the source: an ancient Egyptian plague still viable in the DNA of royal mummies. Fortunately, there's hope for a treatment. In 1334 BCE, Maritaten, an Egyptian princess, fled her homeland across the seas to Ireland, bringing along an extinct herbal curative. The authors overly rely on convenience to get Pitt and company out of jams, but then again, that does keep the plot barreling along toward its satisfying finish. This series remains as fresh as ever. Agent: Peter Lampack, Peter Lampack Agency. (Mar.) © Copyright PWxyz, LLC. All rights reserved."
Additional Information